"V-Wars" is Taking the World by Storm
Released on December 5th, 2019, the new Netflix original series "V-Wars" took the world by storm. With ten episodes in the first season, many people all around the world are binge watching the show as fast as they can, as they can't get enough. With the series being a drama, science, and horror fiction, the first season is generally about a doctor who is pitted against his best friend when an ancient disease turns people into vampires.
"V-Wars" is mainly about vampires. For a lot of people, this is very exciting based off the actors in the show. Dr. Luther Swan, the main character, is portrayed by actor Ian Sommerhalder. For the people that love Sommerhalder and follow and watch his work, they know that Sommerhalder played the main character in the TV series "The Vampire Diaries" for a total of eight seasons over the span of eight years. In "The Vampire Diaries," Sommerhalder played vampire Damon Salvatore, the brother of Stefan Salvatore, and involved in the love triangle with Elena Gilbert. Despite Sommerhalder portraying a vampire in "The Vampire Diaries" for eight seasons, he will portray a human doctor in "V-Wars." However, Sommerhalder's fans are still happy that he is involved in the vampire world again.
With only being a couple episodes in, I prefer to take my time watching series instead of binge watching them. However, this show makes anyone want to binge it. Right from the first episode, it is exhilarating in the way it portrays vampires. In most shows or movies like "Twilight" or "The Vampire Diaries," producers decide to portray vampires as dangerous, yet captivating. They are not ugly and disgusting monsters, they are attractive, manipulative immortals. In this series, vampires are vicious monsters; when they change, they are not completely aware of what they are doing and are just driven towards blood. Their faces turn disgustingly ugly with all their teeth being sharp, not just their canines. Also, in addition to them being straight up monsters, no one is drawn to them but rather just petrified of them. In addition to this, their special effects in this show is amazing. The special effects artists do a super job of making every scenario seem so realistic.  
Something else that makes this show is the acting. With the only super well known actor being Sommerhalder, the other supporting actors and actresses do a fantastic job. Adrian Holmes, who plays Michael Fayne, Swan's infected best friend, does an amazing job on portraying an evil vampire but also Swan's best friend. Another cool addition to this show is that Sommerhalder's wife, Nikki Reed, is featured in half the episodes. Reed, who portrays Rachel Thompson, Swan's ex-wife, does an excellent job acting with Reed and Sommerhalder being married with kids in real life, it provides the perfect amount of chemistry.
Overall, this series is a must watch. If anyone is even relatively interested in vampires or even the genre of science fiction, this show is perfect for them. Everything about it is great; it provides the perfect amount of horror, science, and drama. "V-Wars" is available on Netflix to binge and was already renewed for its second season to be released around December of 2020.
View Comments (3)
About the Writer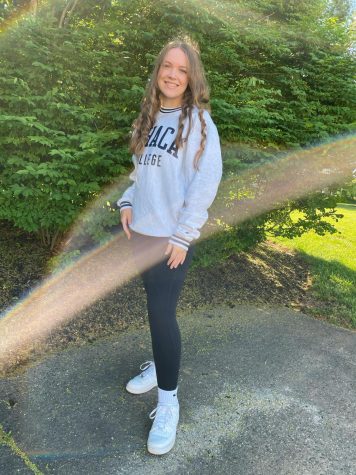 Keely Crane, Editor-in-Chief
Hi, my name is Keely Crane, I am in twelfth grade, I am a journalism VI, and I am the Editor-in-Chief! I have been involved in Patriot Press since my freshman...