Joe Burrow, Striving for Greatness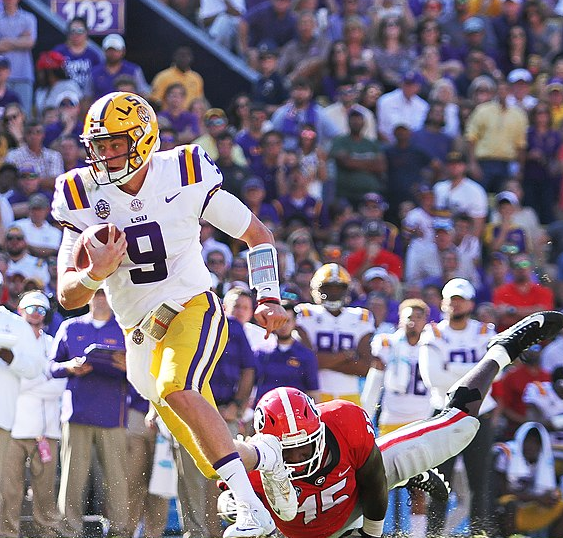 Considering that Joe Burrow had little to no expectations it is hard to accept the fact that he won the Heisman Trophy, broke the SEC record for most passing touchdowns in a single season with 45, and broke the NCAA FBS record for most touchdowns in a single season with a total of 60. On top of all that, he lead his team to win the National Championship. 
The senior LSU quarterback had a historic season that many sports personalities believe is among the best in the history of college football. 
Burrow was not always a star, His first few years of playing college football took place at Ohio State. 
Ohio State, who is known for having no problem with recruiting quarterbacks over the past recent years, had Burrow as their third string quarterback. Burrow did not see hardly any playing time during his time with Ohio State. 
There was one coach that saw something in this quarterback at Ohio State, coach Ed Orgeron. He saw that there was talent in Burrow so he gave him a shot at LSU for his final season.
"I thought that Joe Burrow would do pretty good considering all of the weapons that LSU had on offense, but he really blew my expectations out of the water with how he performed this season," said senior Niko Salinas.
"If you are great, you are going to do great things. He took advantage of his opportunity as the starter and made the most of it. Winners win man and no one did it better than Joe Burrow," said senior Fred Harris.
There were big expectations for the LSU Tigers heading into the College Football Playoff as the number one overall seed. They would have to play an Oklahoma team that was used to the atmosphere of the playoff games.
Burrow would end up torching the Oklahoma defense throwing seven touchdown passes and rushing for another, seven of those eight were in the first half. The game was a lopsided affair from the start and ended in a 63-28 victory for the Tigers. Joe Burrow could have not played any better in that game than he did.
With the Clemson Tigers winning against the Ohio State Buckeyes on the other side of the playoff, Joe Burrow and his LSU team would have their work cut out for them as they prepared to take on the defending National Champions. Sophomore Clemson quarterback, Trevor Lawrence, had started the past two seasons and had not lost a game in his career. Despite the rankings, many sports personalities had picked the defending champion Clemson Tigers to come out victorious in the National Championship.
Clemson had a very good football team, but Burrow and the LSU offense proved to be too potent for coach Dabo Swinney and his Clemson team.
"Joe Burrow I think is one of the best quarterbacks I have seen throughout football in recent memory and I think that he is going to be special at the next level," said senior Jarvis Turnipseed.
Burrow proved his worth with a six touchdown performance in a 42-25 convincing win over the Clemson Tigers to win the National Championship.
The story of Joe Burrow is an excellent lesson that anyone can learn from even if you are not a huge sports fan. It could have been very easy for him to give up, lose hope, and continue to be a backup at Ohio State, but he kept working hard and he was blessed with an opportunity of a lifetime. Now Burrow has completely redefined who he was and is the favorite to be drafted first overall in the 2020 NFL draft. 
"Burrow is so talented it is just hard to see him go to one of the bad teams in the NFL because he is that good," said junior Colin Cooper.
View Comments (2)