Practice Pays Off for Wrestlers to Win First Place
On January 17, 2020, Liberty wrestling took first place in their match at Strasburg bringing them one step closer to the state tournament. As the wrestlers are about half way through their 2019-2020 season, working hard at practices and learning new techniques is important. At these tournaments, the wrestlers have multiple matches in one day. By the training they do at practice, it prepares them to win their matches. 
Wrestlers work on and off season to stay in shape and to stay in the same weight class that they have been in before. 
"I prepare for the season by working out in the off-season and during the season working hard at practice to get better and to stay in shape each day," said senior Jovon Mitchell. 
Jovon Mitchell, Caleb Swinson, Mason Barrett, and Bryan Contreras all won their matches on Friday in their different weight classes putting them closer to their big goals. 
"My end goal is to place at the state tournament and to be team state champions," said senior Caleb Swinson. 
Practices have changed to help the wrestlers achieve their goals of winning a state title. They are learning new techniques to better themselves and the team.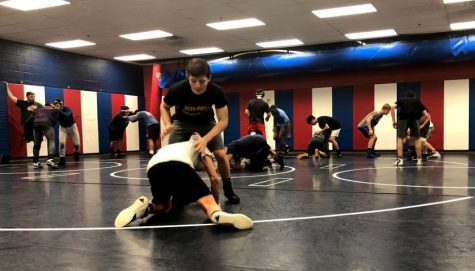 "Practice has changed by the coaches giving us new techniques and warm-ups to withstand head injuries and to become better everyday. I always learn something new everyday at practice," said junior Mason Barrett. 
The wrestlers work hard, practicing Monday through Friday right after school to about 6p.m. to prepare for their matches. 
"When I win, it feels like all my hard work is paying off," said senior Bryan Contreras. 
Every wrestler has a different way to warm-up before a match. The coaches give them warm-ups to stretch and then they all do what they have to do to get in the zone to win. 
"Before every match I have, I like to chill out and listen to music that will get me in the zone and  I like it very quiet," said sophomore Royce Hall. 
"I like to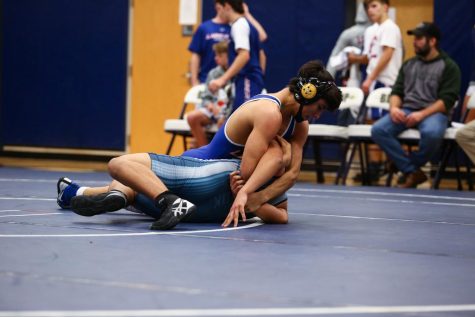 listen to music and I tell myself that no one can beat me which gets me pumped up and ready to do my best and hopefully win in my matches," said Swinson. 
Wrestlers put in a lot of work to win their matches when they have to wrestle a variety of different opponents multiple times in one day. Every wrestler wants to put all their strength in a match to get their hand held by the ref to know that they put their all into that match and their hard work has paid off. 
"It feels great when I win. Knowing I gave it my all and still came out on top, but not as much when I know I could've done better." said senior Austin Harris. 
"It feels good to win because I know it is getting me one step closer to my goal to be a state champion. I am very happy with my record of 29-3, and I am going to keep working hard to win states." said Mitchell. 
As the wrestlers keep practicing and learning new things they will achieve more, like winning this tournament placed them a step closer to being team state champions. 
View Comments (7)