Psychology Honor Society is for Giving Back to the Community
In the beginning of the 2019-2020 school year, Liberty added a bunch of new clubs including the Psi Alpha National Honor Society in Psychology, better known as the Psychology Honor Society. 
The honor society was officially created back in the fall with the main objective to promote the field of psychology by engaging in activities that utilize psychological concepts. Psychology Honor Society is also dedicated to charitable causes.
"I wanted to add Psych Honor Society because I have had many students who are passionate about psychology and wish to pursue a career in the field. I wanted to open this experience up to all students who wish to   explore this field even more," said sponsor and psychology teacher Ashley Gustafson.
"When Mrs. G told me about the idea of this club, I was super excited. I wanted to be a part of the Psych Honor Society so I have a part in making a difference for the individuals around me. This society means everything to me and I think it is very important for others to be involved. Helping one another with any struggle their facing is what I enjoy most," said president Lilly Wingo.
"I automatically wanted to join the honor society when I first heard about it because I enjoyed taking Intro and AP Psychology with Mrs. G and learning about everything that goes with the topic along with it and getting talked about more," said senior Julia Gleason.
Applications will be held twice a year, one during the fall and another one during the spring. For students to join the Psychology Honor Society they must have completed either Intro to Psychology or AP Psychology with an A or B, have an overall GPA of 3.0, and fill out a short application.
"I think students should join Psychology Honor Society because it is a great opportunity to give back to our community and promote a great cause. It also helps get students involved in a new subject area and it isn't overwhelmingly demanding either!" said Gustafson. 
The members who applied in the fall were inducted on October 7, 2019. Officers of the honor society are as follows: President Lily Wingo, Vice President Bailey Simpson, Executive Officer Aaliyah Wright, Treasurer Hannah Kroetz, Secretary Cyan Marek, Historian Emma Miller, and Event Chair Emma Casey. 
"As of right now, we have currently 29 members, but I am hoping that number grows more over time," said Gustafson.
Applications for spring induction are now available. If anyone has the qualifications, they can visit Mrs. Gustafson in room 212 for more information, a brief application to fill out, and any questions they may have. Applications are due back to Mrs. Gustafson by February 7th.
"I try to encourage students to join because everything we do is to help benefit and make donations to communities and organizations around. It also spreads mental health awareness and it's a great way to be involved," said vice president Bailey Simpson.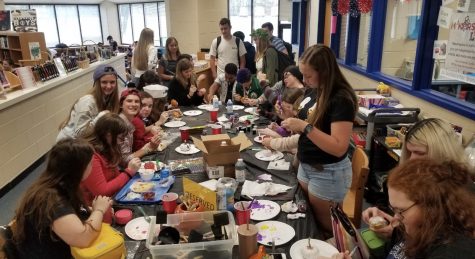 "I encourage other students to join because it's important to advocate mental health, as well as inform others things they're able to do to help others," said Wingo.
The Psychology Honor Society has hosted many different types of fundraisers and, in addition, collabs with other organizations at LHS and around the community.
Some of the previous fundraisers the honor society hosted in the fall include: "Exam Survival Kits," "Pumpkins for a Purpose" which was a way to collect money to purchase cleaning supplies for social services, "Thankful Turkey Treats," and the making of Christmas ornaments for Old Dominion Humane Society where their crafted ornaments were displayed at Dog Krazy Animal Rescue tree in downtown Fredericksburg.
"I think my favorite fundraiser we have done so far is the 'Pumpkins for a Purpose.' So many people showed up, it was a lot of fun, and knowing the proceeds were going to a good cause made it the best time," said Gleason.
A "Winter Bracelet Making" was held on Tuesday, January 21st during one lunch in the Library's makerspace. There was a $2 donation and all proceeds went to the LHS Eagle Aid Program to purchase supplies. In case students missed it the first time or would like to make more, another bracelet making will be held the week of Valentine's Day.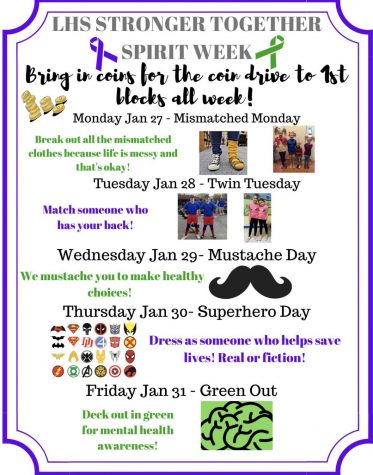 This week, January 27th-31st, there is so much exciting things happening that involves the Psychology Honor Society.
The Psych Honor Society has teamed up with the Herren Project in the "Change for Change Drive." Donations are to be collected in students first blocks, all loose change and any amount dollar bills are accepted. The first block class with the most money wins a Chick-fil-A breakfast. Proceeds will benefit After Prom and Psych Honor Society.
Along with the coin drive, they are also hosting a "LHS Stronger Together Spirit Week." Monday: Mismatched Monday, Tuesday: Twin Tuesday, Wednesday: Mustache Day, Thursday: Superhero Day, Friday: Green Out.
"We have been striving to promote more mental health awareness around LHS.  Stronger together week is just one way we are hoping to reach the LHS community," said Ms. Gustafson.
Friday, January 31st is a home double varsity header basketball game vs Fauquier High School. The theme of the game is a "green out" for mental health awareness. The Psychology Honor Society will be hosting a bake sale to benefit the Mental Health Association of Fauquier County where they will also sell mental health bracelets for $1 and heart shaped lollipops for $1, which are on sale January 27th through February 14th.   
The next upcoming fundraiser the Psych Honor Society has in store is an egg decorating day during lunch on March 30th.
View Comments (10)