"HSMTMTS": The Spinoff Everyone Needed
With Disney+ being released in early November of 2019, old Disney shows and movies became available to watch with also many new shows and movies being released too. Amongst these new shows and movies was the new series called "High School Musical: The Musical: The Series" but many abbreviate to "HSMTMTS."
Even though the show takes place still at East High School like in the original "High School Musical" movies, there is a whole new cast and plot for the series. Throughout the ten episodes in the first season, new friendships are made, conflicts occur, and amazing music is performed. Nini Salazar-Roberts, the main character who is portrayed by Olivia Rodrigo, is stuck in a love triangle with Ricky, who is played by Joshua Bassett, and E.J., who is played by Matt Cornett. 
At the start of the show, which takes place at the beginning of the school year, it is decided that the theater program will put on a show based on the first "High School Musical" movie. After attending a theater camp over the summer where she met E.J. and landed the lead role in one of their plays, Nini wants to try out for the lead role of Gabriella. However, before she left for her camp, she had been previously in a relationship with Ricky which ended with her heartbroken. 
When auditions came over, Ricky knew he had to audition to try and impress Nini despite him never being a fan of musicals. Showing up late, Ricky lands the lead role of Troy over E.J. and will accompany Nini, who lands the role of Gabriella. Throughout the rest of the series, Nini has to deal with the fate of the show, her past feelings for Ricky, her new feelings with E.J., and the stress of everything around her. However, it provides fun times for all the characters with a musical being produced, new friends bonding over common interests, and great songs being sung.
This show exceeded way past my expectations. I remember when I first saw the trailer for the series before it aired, I never thought I would've liked it. I love the original "High School Musical" movies and I was upset that they were trying to make a spinoff. However, after hearing many people talk about the show and hearing some songs, I became too curious to not give the show a try and believe me, I do not regret it. With each episode being about thirty minutes long, it was very entertaining to watch and with it taking place in high school, it was easy to connect with the characters.
Another thing I love about the show was that scenes in the show were relatable and was also able to tug on people's emotions. For instance, in a specific instance late in the series, Gina, portrayed by Sofia Wylie, shares an emotional moment with her mom that is terrifically well acted and is able to make many people shed tears over the scene. 
Lastly, this show provides amazing music. The characters in the show have amazing voices and are able to sing with a huge range of vocals. They can definitely blow anyone away with their talent. Throughout the series, many songs are sung and right when I heard them, I instantly added them to my playlist. A couple of my favorite songs are "All I Want" by Olivia Rodrigo, "Wondering" by Olivia Rodrigo and Julia Lester, and "I Think I Kinda, You Know" by Olivia Rodrigo and Joshua Bassett. To anyone reading, I strongly recommend listening to these songs; they are touching and unbelievably good. 
Overall, I definitely give this show a ten out of ten. It is a must watch to anyone that loves the "High School Musical" movies but also an audience is able to watch it even if they have not watched those movies. It connects to any age but is perfect for kids in middle school, high school, and even college. The series is well-acted and the talent these kids have is amazing. Also, the series is renewed for a second season which will start filming in the first half of 2020. "HSMTMTS" is available on Disney+ and the first season, which consists of the first ten episodes, is available to anyone who has the app
View Comments (17)
About the Contributor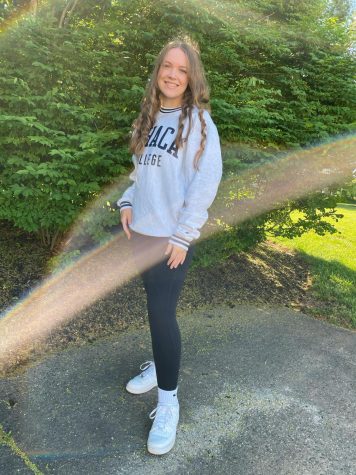 Keely Crane, Editor-in-Chief
Hi, my name is Keely Crane, I am in twelfth grade, I am a journalism VI, and I am the Editor-in-Chief! I have been involved in Patriot Press since my freshman...