"The Lion, The Witch and The Wardrobe" Opens Tonight!
Liberty High School's theatre department has been working hard since mid November on their fifth production this year: "The Chronicles of Narnia: The Lion, The Witch and the Wardrobe." 
This fantastic show is directed by seniors, Lainey Carroll and Zachary Wood with help from their theatre teacher, Ms. Otte. Lainey has been in countless productions here at Liberty and directed Alice in the winter of last year.  Zachary has also been in countless productions, but this is his first time directing! Lainey and Zachary casted a group of about 32 students in early November of 2019. 
This hardworking cast consists of senior Cora Sheppard as Susan, sophomore Jacob Hurley as Peter, sophomore Liz Wolfert as Lucy, freshman Alex Huff as Edmond, senior Nathaniel Huff as the White Witch, Kyle Kniskern as Aslan, junior Myles Blue as Mr. Beaver, sophomore Jocelyn Tyree as Mrs. Beaver, freshman Jackson Wood as Tumnus, sophomore Emily Johnston as Fenris Elf, sophomore Gavin Standish as Dwarf, sophomore Kiana Lewis as Centaur, senior Niko Salinas as Father Christmas, senior Kaleigh Phelps as Elf, freshman Maia MacMahon as White Stag, and freshman Sammantha Wiles as Unicorn. Along with sophomore Rachel Fernandes, junior Evan Worley, sophomore Arlo Neidich, sophomore Samara Brooks, freshman Kyleigh Brown, freshman Emmy Beach, senior Ngozi Alia, freshman Abby Pearson, junior Carlos Ferrufino, sophomore Elijah Ivas, and sophomore Ami Litchford in the ensemble. 
"This show is magical, exciting, and whimsical," as described by Liz Wolfert, who plays the lead role of Lucy. 
Come see this fantastic, family-friendly show February seventh and eighth at 7:00 in the Liberty High School Auditorium. The doors open at 6:30, so I would recommend going early, so you can get a great seat! General admission is $7.00, but for students and veterans it is only $5.00. You can also support the theatre department by buying a memorable program for only $1.00. There will also be an intermission in between acts where there will be concessions. Don't miss Liberty's "Narnia: The Lion, The Witch, and The Wardrobe" this Friday and Saturday night at 7:00. See you there!
View Comments (10)
About the Contributor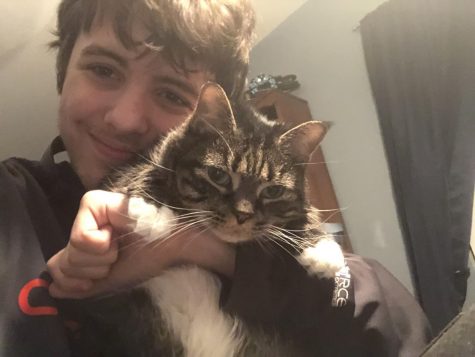 Nick Kroetz, Assistant Editor
Hi! My name is Nick Kroetz. You might know me from Patriot Press Live, our online news show last year. I am in tenth grade, taking Journalism II, and I...