Time Out, Playoffs are Near
 The Liberty High School boys varsity basketball team has come to the end of their regular season. The boys finished with a record of 13-9 and have a lot to say about the end of their season games and their game plan for playoffs.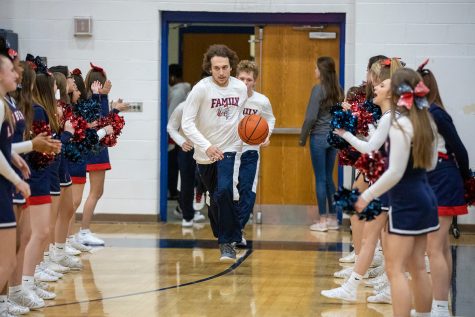 On Wednesday, January 29, the team took a hard loss away at Brooke Point with a score of 55-79. The boys didn't let that affect them as they came back strong to receive a big win on Friday January 31st, against rival team Fauquier High School. 
Defeating the Falcons 86-79, the boys had some players that contributed to the game efficiently like Derrick Brooks Jr who scored 17 of his 19 points in the second half. As well as Bryan Barnes who scored 15 of his 19 after halftime. It was a big win for the Eagles as junior guard number 24 Russell Morton helped bring his team to victory as they trailed the Falcons 14 points in the half. Morton had a total of 29 points with 18 in just the fourth quarter all while paying his tributes to his favorite player Kobe Bryant by honoring him with a big scoring game. 
"Kobe's passing had me hurt because my idol is gone so soon, but Kobe would want me to have that Mamba Mentality to keep moving forward. So when we played FHS we started off slow, and when the third quarter came Derrick was going off his game so that got me going. My team then just kept feeding me the ball at the right time and we came away with the big win," said junior Russell Morton. 
The team is very close and feels like they have a strong chemistry as most of them have played together since middle school, or younger. Coach Frazer has also expressed how he loves how the team has accepted the younger players on the team with open arms. 
"We have good chemistry because most of us have been playing together for years so we easily bond as a team," said senior Bryan Barnes.
"Our sophomores, Dakota Lindsay and Coy Shepard, adjusted to the varsity level a lot faster than we expected.  They have really done a nice job for us," said Head Coach Pat Frazer.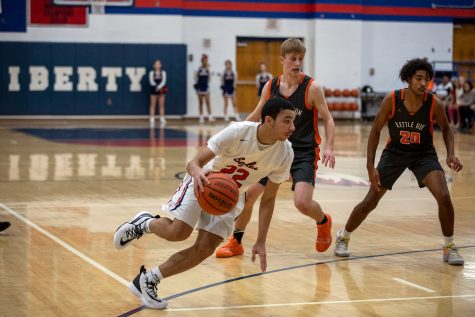 Some of that chemistry is built off of the hard work that is put in during practices.
"We are a strong team and we all bond together. We have amazing chemistry and push each other to our limits. We get on each other to push ourselves harder at practice and in the game. We continue to push one another whether we lose or win," said Morton. 
On February 4th, the team faced James Wood home and received a tough loss of 40-55. The Eagles once again proved to not let losses affect them as they traveled to James Wood two days later for a scheduled make up game. The team worked hard on the court and won 56-50 with great assistance from senior guard Bryan Barnes who had 24 points.  
"After losing on Tuesday to them we were determined to beat them at their court. We are focused on getting home court advantage for our first playoff game so knew we had no other option but to win," said Barnes. 
The following day on February 7th, the boys were determined and kept that same energy as they traveled to Culpeper to play their last regular season game. The Eagles defeated the Blue Devils 78-65 and were pleased that their hard work had brought them great success. Leading scorers were Russell Morton with 18 points and teammate Derrick Brooks Jr who slightly trailed with 17 points. 
"I feel like winning is what we are capable of every night. I think it was good how the starters came out with the right energy and how the bench came in with the same energy as the starters," said Brooks.  
With those two fantastic wins, Liberty boys gained home court advantage for their first playoff game. The team is more focused than ever now that playoffs are here. The boys will play at home Thursday, February 13th, vs Fauquier High School @6pm. The team has high expectations as a team for Thursday and for the remainder of their playoff season. 
"We will come in more focused knowing that our season could be over. We will also be able to focus on each individual team and game plan against them," said senior Sean Doores.
(update) The Liberty boys finished there season with a record of 13-10 due to a tough loss to Fauquier of 67-42. The team worked very hard this season and everyone in Eagle nation is proud of them, great season boys!
View Comments (5)