J. Lo and Shakira Rock Superbowl LIV's Halftime Show
Held on February 2nd at the Hard Rock Stadium in Miami Gardens, Florida, Jennifer Lopez and Shakira performed one of the best halftime shows that the Superbowl has had in awhile. With their show being a little over 14 minutes, these two talented ladies gave an extravagant performance with lights, singing, and great dancing. 
The halftime show featured J. Lo and Shakira as their main performers with special guests J Balvin, Bad Bunny, and Emme Muñiz performing with them periodically throughout the show. Beginning with Shakira, she gave an excellent performance, singing many of her hit songs like "Empire," and one of her most popular, "Hips Don't Lie," which was really able to get the audience fired up at the stadium and even at home. While watching her opening which lasted about six minutes, I was very entertained with how much dancing she incorporated into the performance. It made the performance very lively and exciting, not to mention she and her dancers were in sync and danced to perfection.
With J. Lo entering the show at around the six-minute mark, she really swept the crowd away. With multiple outfit changes and amazing dance breaks, J. Lo did not come to mess around. She was able to keep the crowd fired up with performing many of her hits like "On the Floor." When Shakira joins her again, she joins by playing the drums while J. Lo continues to sing. I personally loved this part of the performance because it shows how talented these two women actually are. 
The ladies then came together and performed "Let's Get Loud" as the show was surely nearing its end. With this song also being performed as the last song, it was interrupted by Shakira's song for the 2010 FIFA World Cup, "Waka Waka." This was my favorite moment of the performance overall because originally when "Waka Waka" came out, I was an instant fan of the song. Seeing the song performed many years later was exhilarating because I also was not expecting that song to be performed and Shakira did an excellent job.
Wrapping up the show, J. Lo and Shakira performed "Let's Get Loud" again to really leave the crowd fired and hyped up. 
Some of the songs that I enjoyed the most being performed was firstly "Waka Waka," as stated before, and also I enjoyed J. Lo's performance of "On The Floor." With this song being released in 2011,  I had loved the song automatically when it was released. Hearing it many years later made me super excited during the show and it definitely made the show more amazing in my opinion. 
The final aspect that I loved about the show was the culture that it brought to America. With J. Lo's parents being from Puerto Rico and Shakira being from Colombia, they were able to incorporate a lot of their Latino culture into the performance that people around America, including me, loved. With this seemed to be one of their main goals of the performance, they were really able to give a unique and exciting performance that a lot of people won't forget for a long time. 
Overall, I really enjoyed this halftime show. Despite me being at home watching it, the performance was able to really draw me in which some performers are not able to do successfully. Both J. Lo and Shakira interacted with the crowd beautifully and there was never a dull moment in the show.
View Comments (10)
About the Writer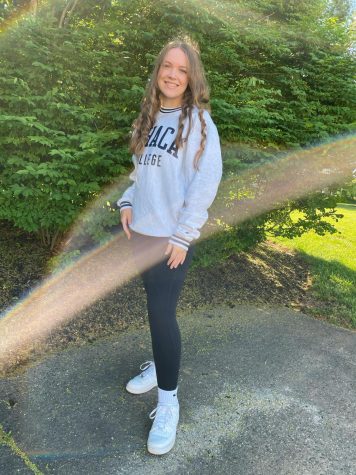 Keely Crane, Editor-in-Chief
Hi, my name is Keely Crane, I am in twelfth grade, I am a journalism VI, and I am the Editor-in-Chief! I have been involved in Patriot Press since my freshman...