Lady Eagles Hoop It Up
The Liberty High School girls varsity basketball team is coming to an end of the regular season. The girls finished with  a record of 8-14 and hope to go strong through the playoffs. The girls have their first playoff game on February 13 at Fauquier High School. 
The last time the girls played the Falcons they only lost by a few points, making this game a real exciting one. The girls are hoping to come out on top this Thursday against the Falcons. Liberty's strong Quarter, the last time they played Fauquier, was the 3rd only letting Fauquier score 8 and letting Liberty gain 20.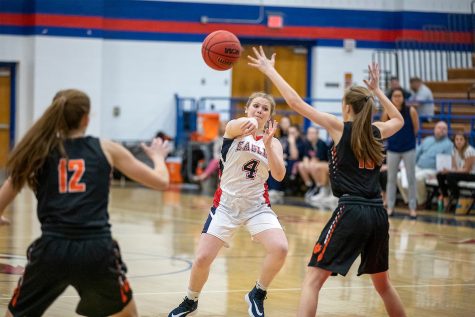 Liberty is hoping that the starters for the team will be smart on offense and make good decisions on the court. They also hope they will be confident to take smart shots and pass down the court.
"I think we will hopefully be stronger and put our skills together so we can do better as a team and actually be able to do something in the first round of the playoffs," said head coach, Coach Nguyen.
Liberty girls' varsity basketball works very well and they have a good defense. The girls average about 37 points a game.
"Liberty is definitely a defensively strong team. Going into the playoffs the team is confident in our offense and our shooting as well. Although it will be a difficult game I believe we can beat the Fauquier rivals and win unlike we did last time but this time the team is more confident. We are more confident because we barely lost and this time Fauquier is coming to our house," senior Jewel Reynolds.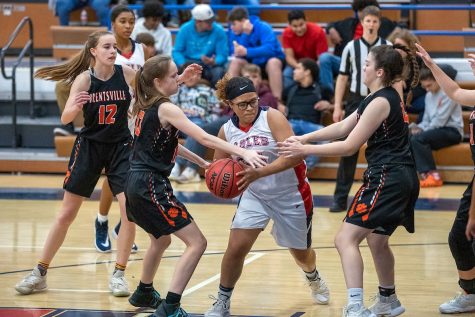 Though the girls basketball team does not have a perfect offense, its defense is unstoppable. The  players are really aggressive and are always ready for any chance they get to dribble the ball down the court. 
"Our team has an amazing defense. Our defense is aggressive and successful. We create a lot of turnovers for the other teams. So our team can get a lot of fast breaks and easy points on offence. So this time we will beat Fauquier as long as our defense follows through," senior Makenzie Willis.
The players on the team are hard-working athletes, they understand how the sport is supposed to be played, and how to find connections between each other. The Lady Eagles have an amazing connection in the game and even at practice. 
"The team has amazing chemistry. I knew most of my teammates all my life and we really bond in the game. We understand each other and how we play as a team. So we have good communication and confidence in each player. So we also have faith when a team member is making a play or has a break away down court," senior Kaitlyn Strayer.
(update) The Lady eagles had a hard working season and took a hard loss away @FHS of 22-41. Great job ladies!
View Comments (14)