Being a Travel Student: The Benefits and Pitfalls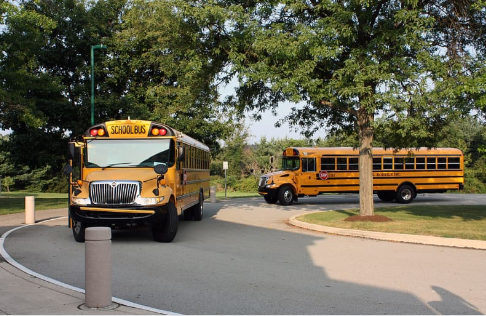 Being a travel student opens new opportunities in different schools across the county, but do the downsides outweigh the advantages?
Some examples of classes that are offered outside of Liberty are the Auto Tech and Auto Body classes as well as multiple other trade classes such as Electricity 1 &2, Build Trades 1&2, and Fire Science.  Liberty offers unique courses in Military Science 1-8 and Cosmetology 1-3. Students from the 3 high schools are able to travel daily to a different school for part of the day if they wish to take a class that is not offered in their building.
Typically morning LHS travel students catch a bus at Liberty around 7:30, and return to LHS by bus around 11:05. This causes them to arrive almost halfway into their third block classes. Afternoon travel students from LHS leave their second block classes early to accommodate travel time.
The largest and always present issue for travel students is this time lost, with a 30 minute early release from class and arriving 30 minutes after class, means that travel students don't have as much time for two of their other classes. This has caused many opinions to form around these pros and cons. 
"I honestly think the travel student system needs to be improved. Living in Bealeton and traveling to Fauquier is about a 25 minute to 30 minute drive, which causes students to have to wake up earlier to get to school on time to catch the bus.  For students like myself that drive, I have to beat the bus there by about 10 minutes. (students who drive have to be there by 7:30 or it is a tardy). Another thing that the system could change is the tardies. The system doesn't care what the reason is, even if you're only five minutes late, or if you were stuck at a light or in traffic. Being forced to get to Liberty or Fauquier can cause students to speed, which is not safe, for not only us, but for others around us as well," explained senior Will Velasco. 
Will travels to Fauquier each day to take classes in nursing. "I am at FHS for an extensive nursing class that goes for two blocks. I am learning so much to help me with attaining my future career goals, and I will be a CNA, or certified nursing assistant when I finish up. I want to eventually work at a hospital," explained Will.
While the travel system has problems, it can be very worthwhile. If there is a class you really want to take at another school it may well be worth it. The major deciding factor might be where you live or how you commute, but if you really want the class, the hassle may be worthwhile.
"It's too long of a commute, but it's enjoyable to take new classes," said sophomore Jacobe Masters.
Jacob travels to Fauquier high school for an auto body class.
"I like auto body very much. It's individual and oriented towards your competency level and understanding," added Jacob.
"It's nice to sleep on the bus,"said sophomore Addison Peck.
Addison travels to Mountain Vista, for general classes. "MVGS has challenging classes that I enjoy. I am engaged in the content and it offers many future possibilities,"  said Addison. 
"For trade programs, it's a great opportunity for certification, however I think it's important that they (students) spend their freshman year at Liberty first, before traveling to a new school," said counselor Mrs. Vicki Lillard. 
"It's alright sometimes but other times it's annoying waking up 20 minutes early to catch the bus on time," said senior at Kettle Run, Nathan Dost.  Nathan also travels to Fauquier High School to take the class Intro to Auto Tech. 
If you are interested in exploring your options for travel classes next year, see your guidance counselor soon!
View Comments (16)