Food Wars: The Showdown of Shakes
For this edition of food wars, I decided to compare milkshakes from two well known and popular fast food chains. In this battle, I will be comparing milkshakes from Chick-Fil-A and Dairy Queen. From each place, I will purchase one small chocolate milkshake to use for comparison.
Starting with Dairy Queen, I traveled to the local one located right in Bealeton on a Saturday afternoon. Since I was ordering only one milkshake, I decided to go through the drive thru instead of eating inside. Pulling into the drive thru, it really was that not busy, so I did not have to wait in line. The worker was quick to answer over the intercom for the drive thru and I was able to place my order easily without any problems. After ordering my milkshake which only cost a little over $3, I pulled up to pay and receive my drink.
Since it was not very busy, I did not have to wait long for my milkshake. However, I know from my previous visits to this specific Dairy Queen, I usually would have to wait a decent amount of time to receive my food. When the worker handed me my drink, they were very sweet and friendly and I did not have any issues with the service provided.
Pulling away, I parked in one of the spots to take a sip of my chocolate milkshake which I was very excited for. Even though I have had milkshakes from Dairy Queen before, I typically do not buy them frequently so it was exciting to treat myself to this one. 
Taking my first sip, I was honestly caught off guard; the milkshake was delicious. When I have had the milkshakes in the past, I remember them being alright but not that good, however, this one really hit the spot. The milkshake was very creamy and not too thick so I really enjoyed it. Honestly, it reminded me a lot of the chocolate ice cream they served at Dairy Queen in the first place. Overall, I had a good experience with Dairy Queen's milkshakes. 
Since Chick-Fil-A is closed on Sundays, I had to wait until Monday afternoon to go get a milkshake from their establishment. Heading to the Chick-Fil-A in Warrenton, I once again decided to go through the drive thru to order my milkshake. 
The drive thru was not that packed but I did have to wait in line for a minute. However, the worker was quick to the intercom and I was able to place my order quickly, which cost a little under $3. After ordering, I went to the next window to pay which I had no problems whatsoever and the service was great. Receiving my milkshake, I pulled through and went to go park in one of the parking spots.
Having had Chick-Fil-A milkshakes before, I was excited to get one because I always love to get one whenever I eat there. Taking my first sip, I was not let down in any way. The chocolate milkshake tasted as amazing as it always does. It was the perfect texture and there was nothing to hate about it.
That Monday night, I had a lot to think about. Thinking hard, I had come to a conclusion about which milkshake would be crowned victor. For this edition, I decided that Chick-Fil-A's milkshake would win over Dairy Queen's. At both fast food restaurants, I experienced great service so it came strictly down to what the milkshakes taste like. Even though Dairy Queen's milkshake was amazing, Chick-Fil-A's milkshake was just made a little bit more perfectly to my liking. Despite Chick-Fil-A winning over Dairy Queen, I would still recommend drinking milkshakes from both these establishments.
View Comments (29)
About the Contributor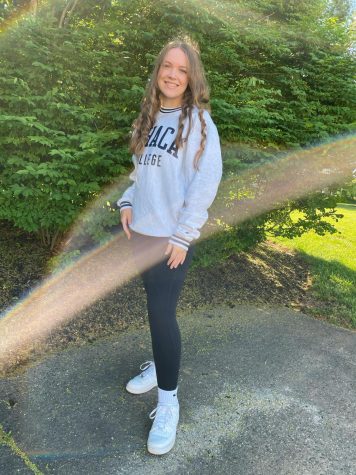 Keely Crane, Editor-in-Chief
Hi, my name is Keely Crane, I am in twelfth grade, I am a journalism VI, and I am the Editor-in-Chief! I have been involved in Patriot Press since my freshman...