To All the Boys: P.S I Still Love You, Movie Review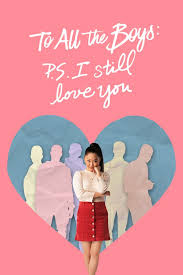 After the first production of "To All The Boys I've Loved Before" that was released August 17, 2018 the cast would star in the perfect teen romantic comedy sequel. The hour and forty-one minute film "To All The Boys: P.S. I Still Love You" is a drama and romance that was broadcasted onto Netflix on February 12, 2020. 
In the first movie Lara Jean Covey (Lana Condor) writes detailed love letters to all the boys she has once felt love towards and then locks them away in her closet like a forbidden fruit. Her little sister Kitty (Anna Cathcart) sneaks into her room while Lara Jean is sleeping and mails the letters out to each boy. Throughout the film you see Lara Jeans relationship develop with some of the recipients of the letters which all leads to the beginning of the second film, her relationship with Peter Kavinsky.
The new film shows main character Lara Jean excited as she is investing herself more into boyfriend Peter (Noah Centineo). Just as Lara Jean and Peter's relationship is starting to blossom, unexpectedly John Ambrose comes into the picture. Portrayed as John Ambrose, actor Jordan Fisher may put a runt into Lara Jean and Peter's promise to never break one another hearts. 
John Ambrose is another recipient of the love letter and sends Lara Jean a letter in return with some words that surprise her greatly. It's when Lara Jean decides to volunteer at Belleview Retirement Home that she surprisingly finds out John Ambrose is volunteering at Belleview as well. They then talk about the letter and John Ambrose even lets Lara Jean read the letter again as long as she returns it. From that moment on, Lara Jeans mind races because she can not shake the thought of John Ambrose all while being committed to Peter. 
Throughout the film you see the insecurities Lara Jean has in her and Peter's relationship start to peek. She begins to always compare herself to Peters ex girlfriend Gen (Emilija Baranac). Her emotions throughout the movie sway back and forth as she gets confused on who her heart leans toward. 
The movie was entertaining and caught my full attention as soon as the movie started. At times the movie seemed slow and like an exciting event was being prolonged. It is obvious the film is directed towards a younger audience like teenagers and high school students. It gives the movie a vibe of relation as the younger audience can relate to the plot and setting more. I would overall rate the film an 8/10 as its not the best movie I have ever seen, but yet is still worth the watch. There are rumors of another movie soon to come to add onto the series. Hopefully the rumors are true and I get the joy to watch another good movie. 
View Comments (20)