Uzi Evokes Glamour on That Way
Lil Uzi Vert is sort of an implacable icon in hip-hop right now. The anticipation for new music from the Philly rapper is at its highest point ever, despite drops being few and far in between. His last full length project, LUV is Rage 2, the long sought-after sequel to his breakout hit Luv is Rage, was released all the way back in August of 2017. The anticipation has made an undeniable return for his latest full length endeavor, Eternal Atake, which is out as of writing. With all of that in mind, it isn't crazy to assume that Uzi has the most dedicated following in the entire hip-hop landscape right now.
To build hype for Eternal Atake, Uzi released a surprise single from the album on March 1st, titled That Way; a clear-cut reference to the Backstreet Boys song of similar namesake, whose hook is actually interpolated into the track. Uzi has never been shy about wearing his influences from outside his genre on his sleeve, but how does that affect the track itself musically?
The song starts with the hook from the aforementioned Backstreet Boys song I want it that way, being interpolated over some dreamy subbasses that act as a welcoming differentiator from the original tracks Dance-Pop roots. When Uzi starts rapping, his inflections fall in line with his doubtlessly iconic style, as his vocal delivery is high pitched and nasal, and his flow is uniquely infectious, pulling you into the first verse of the track.
Lyrically, Uzi has always been clever. His flows always tie in with his bars seamlessly and "That Way" is no exception. Uzi is veritably as clever as he's ever been, and his wordplay is contagiously memorable. Moreover, his boastful attitude adds to the topical brilliance of the track. Some call it overbearing, but I would call it apt, acute execution of lyrical material that is a mainstay in the hip-hop space.
As far as the production is concerned, Uzi elects for a more tranquil and carefree vibe rather than a lively or jaunty one. The beat is produced by Supah Mario, who has notably worked with Uzi in the past, and there are also contributions from producers Yung Lan and Felipe Spain. Uzi is, as is typical, distinguishably confident as he tiptoes over some mutated guitar plucks and sparse hi-hats. The beat finds itself somewhere in between the hazy accents of phonk or cloudrap and the high energy, fervent intensity that is characteristic of archetypal trap. It has an energy to it, but it doesn't feel heavy-handed. 
In summary, That Way is probably the best single Uzi could have dropped to promote the kind of musical progression we would get on Eternal Atake. All of the pieces come together methodically and elegantly to create a track that excels at a simple objective. "That Way" is, at its core, a feel-good track, and it excels in this area with a sort of serene grace people wouldn't necessarily expect from Uzi out of the gate. It's excellent as a teaser track and even better as a standout from Uzi's established catalogue.
You can currently stream the song as well as Eternal Atake on Spotify, Tidal, and Apple Music.
View Comments (3)
About the Contributor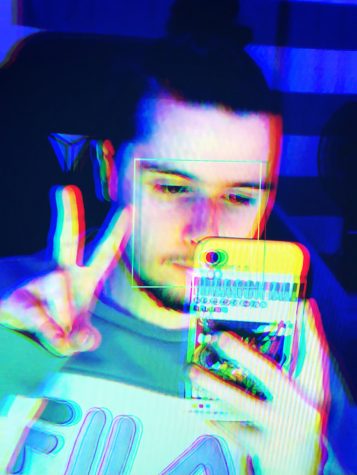 Braeden Meadows, Contributer
Braeden Meadows is a 2021 Graduate of Liberty High School and former Managing Editor for The Patriot Press. They are now a part-time journalist for upcomer.com,...