Quarantine Creativity: Students Use Time To Inspire and Create
Due to COVID-19, or the Corona Virus, everyone was quarantined inside their homes for all of the spring and summer months. While that was a huge bummer, students have been able to make light of a bad situation and took the time inside to find a new hobby, or practice a talent while we all waited for the new school year.
Because of the sudden end to the 2020-2021 school year, many students were cut short learning their instruments in classes like Band and Orchestra. Because of this, many students have used their newfound free time to further improve musically and hone their skills while being stuck at home. Some students have even taken this time to diversify their skill sets, venturing into unknown territory for them to try something completely new.
"I did practice my cello a lot since I had more free time. I'm also signed up for the marching band so over the summer I was working on playing a new instrument which hopefully will come in handy soon. I've also started to teach myself the electric bass since that's always something I've had an interest in and why not start now you know? Something I did A LOT over quarantine was talking to my friends. It's kind of funny how we've all been so distanced, but I feel like I've grown closer with my friends. I also got a job that has helped me stay occupied. It sounds weird, but through quarantine, I've found myself branching out a lot more than I would have at school. I find myself taking more risks or just not thinking about the ifs or buts because who knows how long we'll be stuck like this," explained senior Ashley Garber.
"I ordered an instrument called a Kalimba off of Amazon one day on impulse, so I've been learning how to play that. I bought the Kalimba for the sole reason of playing the "Avatar: The Last Airbender" theme song, which is one of the shows I binged during the quarantine. I think learning how to play it gave me something to do and challenged me a bit. I would definitely recommend finding a new hobby during quarantine outside of sports or school, something that's just for fun and not necessarily productive," said senior Sam Rodman.
While some students have been learning new skills for fun and their own enjoyment, some students have been using their time to learn a new valuable life skill.
"Well, ever since I was five years old and got my first console, I was always infatuated with computers. I was always fascinated by how the little components inside a box could make amazing things happen through programs and whatnot. Because of quarantine, I finally had the time to learn to code. I bought a course on Udemy and started watching the videos and trying to learn how to program. With the help of my current intro to computer math class, I can take my learning even further, and I hopefully make a career out of it in the process," said sophomore Ernesto Calderon.
Students have also been taking this time to enhance their creative skills. While at home, you can have a lot of freedom to explore new interests and learn a subject, language, or much more. Some students took advantage of this time to harness their artistic capabilities, such as learning to paint or redesigning their rooms.
"I have always been indecisive about everything and with quarantine, it didn't help at all that I had so much time to do essentially, whatever I want. My family started doing bigger projects like redoing our house, which included redoing the bathroom and two bedrooms- mine and theirs. We ended up redoing everything in the bedrooms, for mine at least. I put in brand new hardwood floors, painted it, and rearranged it all by myself. It took about 4 days altogether and when it was done I was hurting from all the work, but the end result was amazing and I loved what I did,"  explained Ali Wright, senior.
"Since being in quarantine, a lot of what I've previously been doing has stopped. I occasionally read a couple of books, draw, and mostly just go on walks or runs. Something I have taken up though, is painting. Not just the typical canvas or paper type, but on a record. I've come to also realize painting isn't necessarily the easiest, which is why I think art should be taken more seriously. It came to be that I would spend 5 hours working on a record, only for it to be of something simple. It made me realize that artists don't receive all the credit they deserve for hours upon hours of work they put into their pieces," said senior Lilly Wingo.
Being stuck inside all summer certainly isn't the most ideal scenario. However, when LHS students are determined and put their minds to something, they can do anything, despite the conditions.
View Comments (5)
About the Writer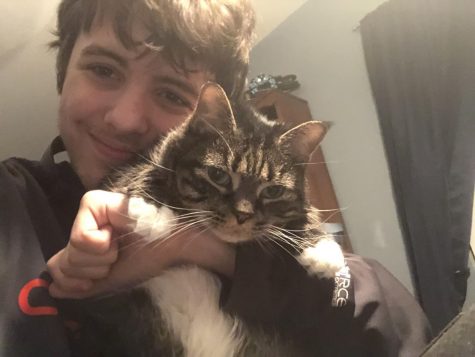 Nick Kroetz, Assistant Editor
Hi! My name is Nick Kroetz. You might know me from Patriot Press Live, our online news show last year. I am in tenth grade, taking Journalism II, and I...