LHS Wins the VDOE Second Year-Innovation Grant
Despite starting off the 2020-2021 school year in the midst of a pandemic, Liberty High School worked extremely hard to receive the opportunity to bring light and new opportunities into what seems to be a rocky start. On August 11th, the Superintendent of Public Instruction, James Lane, announced that Fauquier County, specifically Liberty High School, is one of the thirteen school divisions that will receive a state grant to develop or implement innovative programs that promote Virginia's 5 C's (critical thinking, creative thinking, collaboration, communication, and citizenship). While five school divisions will receive a $50,000 first-year innovation planning grant, Liberty specifically will be amongst four other school divisions that will receive a $ 50,000 second year-innovation implementation grant, while the other four school divisions in this specific category will split a fifth of a $50,000 grant.
According to the state press release from VDOE, here is an outline of what Liberty will be implementing: "Fauquier County will provide teachers at Liberty High School with autonomy to present interdisciplinary instruction affording students opportunities to apply content knowledge through authentic, real-world projects. Students will take part in a school wide service-learning and forge strong community and higher education partnerships connecting juniors and seniors with mentors to ensure engagement."
To receive this grant, Liberty's administration had to put forth a lot of hard work and effort. They have been working diligently ever since last year to receive this grant for the school community.
"We applied for the first part of the grant a little over a year ago and when we were selected, we were super excited because it is pretty competitive. Dr. Acors, the FCPS1 Director of Instruction, helped our admin team write the grant for the first part as we had to include a lot of background information. That was the planning part of the grant. This year, we were able to apply for the second part of the grant, which is the implementation part. We were, again, really excited because of the competitive nature of the grant. It is oftentimes given to entire school divisions, not just an individual school, so that was cool that our school won it," said vice principal Ms. Lauren Milburn.
There are many purposes of this grant, but one of the key purposes is making an effort to promote innovation in the Commonwealth's public schools. As a result of Liberty receiving this grant, there will be many new programs and opportunities provided for the students that could greatly impact their futures.
"I believe one of the main goals in education should be to provide opportunities for students to either begin to discover (learn about and develop) their talents and then figure out how to serve the world using their talents. Students should have some idea of what they want to do before leaving high school and if we can provide an opportunity for them to get a head start before graduating then we are on the right track. Equally as important should be providing students with the opportunity to serve their community in some capacity," said head principal Mr. Samuel Cox.
Keying deeper into the new opportunities that will be implemented at Liberty, there is an abundance of new programs that are being brought to the community. To highlight one in particular, the Eagle Innovation Team, lead by guidance counselor Sandra Harris and history teacher Katherine Waddle, is going to be tasked with continued work on the HS Innovation Grant and move forward the ongoing conversation and idea-building surrounding innovation.
"The Eagle Innovation Team will consist of a few faculty and student members who will all work together to come up with current, relevant, innovative, community supportive ideas within the LHS community," said Ms. Harris.
Alongside the other programs, the Eagle Innovation is specifically exciting because it will provide students that are interested a hands-on approach to implementing change at LHS and the community as a whole. This program is going to give students the opportunity to be involved on a much larger scale.
"The main purpose of the school is to serve our students' needs and interests. What better way to make this change than to bring students in to have a voice in that process?" said Ms. Waddle.
In addition to this program, there are so many more programs that provide amazing opportunities to students that would take forever to list. To highlight a few, some more programs that will be implemented at LHS are Global Studies, Essentials of Algebra and Geometry (AlgGeo), Unified P.E., Music, and Theatre, Digital Applications course, English 12: The Senior Experience, Department Internships, Empower: Innovation and Open Source Learning, Personal Training course, Peer tutoring/writing lab, and Eagle Entrepreneurship. To see a full list of all the new programs, click on the link at the end of the article.
Receiving this grant is a huge step forward for Liberty. With a lot of new and exciting opportunities to come for the students of LHS, this has definitely became a highlight of Liberty's 2020-2021 school year. After working hard for so many years, Liberty's admin team has numerous programs to implement and they are just getting started, diving head first into these inspiring times.
"It is exciting to see that the work we have done with the innovation over the last six years is being recognized. We already planned to move forward on a lot of of the innovations we wrote about in the grant, however, this definitely makes it a lot easier to have the money that comes along with the grant. Planning and innovation costs money so knowing we have some resources is very helpful," said Ms. Milburn.
"I am really looking forward to what students are interested in studying and then allowing them the freedom of exploring. I am also excited about the service opportunities embedded within our opportunities. It is so important that all of us understand that we should always seek to be inclusive, to be seeking ways to help one another when possible. I think that if we are providing opportunities to help more of us learn about empathy and compassion, we are on the right course in making the world a better place," said Mr. Cox.
Below are the links to the VDOE state press release and the 2020-2021 list of Liberty's new programs.
State press release: VDOE State Press Release
2020-2021 new programs: Innovation Programs
View Comments (11)
About the Contributor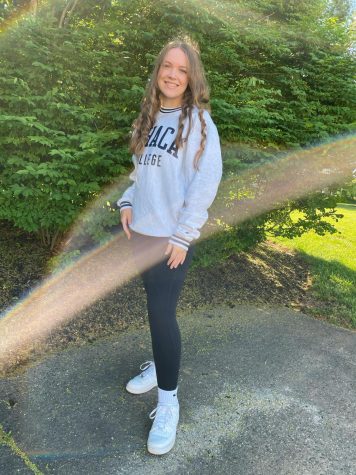 Keely Crane, Editor-in-Chief
Hi, my name is Keely Crane, I am in twelfth grade, I am a journalism VI, and I am the Editor-in-Chief! I have been involved in Patriot Press since my freshman...