Joji Articulates His Grief on Hit Single, Run
The Japanese sensation continues to evolve.
Relationships are complicated. No matter how you spin it, that sentiment rings true one hundred percent of the time. There are so many different feelings invoked by all different stages of romance, and it sometimes feels like they all come together at once, clawing and biting at one another; and tearing away at the very fabric of your sanity as a result. It is this feeling of hopeless disarray that Joji writes about on his recent February single, titled Run.
The song was released on February 6, 2020 as a single to his then forthcoming sophomore album, titled Nectar. At the time, Joji hadn't released a song since Sanctuary in June of the previous year. Run ended up being one of the lead singles for the album, along with the aforementioned Sanctuary, and two new tracks titled Gimme Love and Daylight, released in April and August respectively. The full album was released through 88rising, the independent label on which Joji is signed, on September 25th, 2020.
Near instantaneously after pressing play, it becomes clear that Run is a stark change of pace for Joji. While it still radiates his signature melancholic woe, it is distinctively less depressive than the majority of his musical catalogue. The song opens to bellowing guitar plucks drowned in reverb and atmosphere, accompanied by a high pitched hum to compliment the harmony. It gives off an energy that is especially vindictive, in a way that's palpably more aggressive relative to the vast majority of Joji's past work. If you're familiar with his musical history, it's a tremendous breath of fresh air. Run in relation to Joji's musical dialect is the difference between soft, reserved sniveling and violent, erratic sobbing; and it only gets better the deeper you go.
Soon after the first verse kicks off the song, Joji breaks out into an ardent falsetto in the chorus. As the pitch of his voice rises, the song gets more zealous with him firing off bar after bar in a tone that can only be described as aggrieved; his falsetto carrying him across the suddenly powerful percussion. Lyrically, Joji is seemingly reflecting. Out of an emotion found somewhere between resentment and regret, his words spill out fiercely and vigorously – "I know that I'm stuck in this misery, guess I'm not enough like you used to think, so I'll just run"
The song runs its course in a very reasonable 3:15, ending with a tasteful guitar solo with the backing vocals slowly phasing out as the song closes. Lyrically speaking, the song is downright simple, although this makes the lyrical content feel a little one-dimensional. The overt simplicity aside, the story told through the lyrics is very easy to both digest and sympathize with. Joji tiptoes his way through this track outwardly in anguish over his feelings for a former lover, who has evidently found confidence in someone new. The song follows Joji coping with these feelings, as he feels his only viable option is to "run" from them.
Joji's discography is known to take a lot of influence from hip-hop and it's subgenres like lofi, and even from standout genres like vaporwave. On Run, this doesn't seem to be the case; not nearly to the extent you would predict based off of his track record alone. Run is a decidedly rock-inspired track, as if the abundance of guitars and lack of triplet flows hadn't painted that picture already. It's an obvious departure from the style that made his music so popular in the first place.
The production on Run is defined by it's grunginess. The track wears the badge of a rogue, while still managing to be subdued in its own right. It's a sound that draws inspiration from Gospel, Hardcore, Grunge, Punk, and Jazz Pop; and manages to find itself somewhere in the middle of all of them.
Run, in essence, signals an evolution for Joji musically. The song is an outcast among not only his contemporaries, but also relative to his own discography. It's somewhat poetic how that same idea of outcastedness is something that defines Joji artistically. Among all of his peers, Joji is carving a path all his own that is entirely unique, in spite of when he chooses to wear his influences on his sleeve. Only time will tell how this evolution will continue to define Joji as a musician in the coming years.
Nectar is next. Stay tuned for the full review.
Stream Run along with Joji's Album, Nectar, here.
View Comments (12)
About the Writer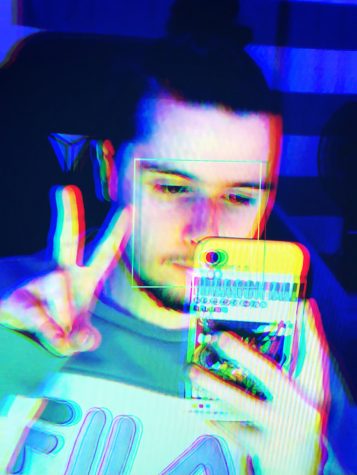 Braeden Meadows, Contributer
Braeden Meadows is a 2021 Graduate of Liberty High School and former Managing Editor for The Patriot Press. They are now a part-time journalist for upcomer.com,...