Get a Head Start on Halloween 2021 with These Safe, Stay at Home DIYS
Everyone was put into shock after Covid-19 shut down the entire country. Seeing how everyone already lost St. Patrick's Day, Easter, 4th of July, and more holidays that are loved and celebrated, there's no reason anyone shouldn't make the best of Halloween; safely, of course. 
One quick and easy DIY is spooky hand soap. All you need is plastic spiders, eyeballs, or any other small decorations of choice. Just put them into some clear or light colored hand soap and you're done! Simple and a great addition to your bathroom or kitchen.
Another super simple DIY is a bubbling witch cauldron. Just mix dry ice and a little water inside a cast-iron dutch oven and it's complete. 
Who doesn't love spiders around the house to get you into the Halloween spirit? Just blow up one medium balloon and one smaller balloon. Tie the two ends together to create the body. Then, hot glue pipe cleaners to the bottom to make the legs. Now, you have little balloon spiders around the house!
Want some creepy company you don't have to stay six feet apart from? This phantom presence is perfect. Just draw a figure on the back of a frosted window film sheet. Cut out the figure, including eyes and a mouth. Put the film on a mirror and smooth down. 
Next is a scarily delicious Halloween decorated cake. After buying, or baking, a cake of your choice, put white frosting in a frosting pipe with a small tip. Pipe on a random pattern to resemble spider webs. Put black frosting into a separate pipe with another small tip. To create the body of the spiders, make a medium circle and then a smaller circle for the head. Then, make eight little lines connecting to the body to make the legs. 
For the next DIY, all you need is a light fixture, glue, a sponge, black construction paper, and tan paint. On the inside of the light fixture, use a sponge to blot on tan paint to resemble a moon. Next, cut out a flying witch figure from the black paper. Glue it on the light fixture and you're done!
The final DIY takes a little bit extra hard work, but in the end is worth it. You can get most of the supplies for this hanging cage DIY at your local dollar store. You'll need two laundry baskets, one to three plastic chains, zip ties, black spray paint, and scissors. First, cut the rims off of the baskets and spray paint them black. Next, put whatever statue or figure you want in the basket, for example, a plastic skeleton, jack-o-lantern, a vase of black roses, etc. Secure your object with zip ties connecting to the bottom of the first basket. Cut a little down the side of the second basket starting from the rim, only enough to fit it over the first basket's rim. Secure the two baskets with more zip ties around the rim. Finally, poke more zip ties through the top of the cage and connect the plastic chain. Hang it from wherever you feel needs a touch of decoration, and you're finished! 
All these simple DIYs are a great way to get into the Halloween spirit, even if you can't go out trick-or-treating. Even though you can't have your annual Halloween get together this year, you can still make the most of the season and have some fun. Remember to stay safe, and Happy Halloween!
View Comments (2)
About the Contributor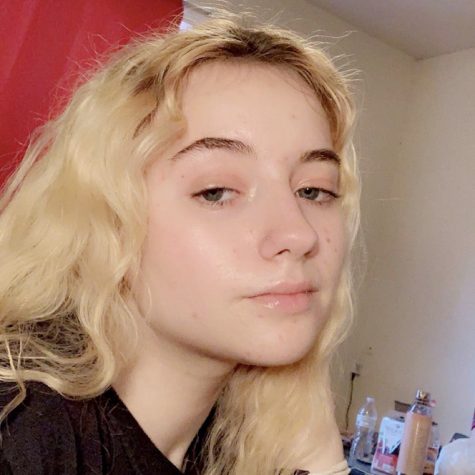 Alexis (Lexi) Cecil, Staff Reporter
Hey everyone! My name is Lexi and I'm in 11th grade. I am a staff reporter as a volunteer but I have taken journalism before and will again soon. I'm in...