"Enola Holmes" Captivates and Enchants Viewers
Recently Netflix has been releasing lots of movies, one of the most recent among them is called "Enola Holmes." Enola Holmes has a 91% on rotten tomatoes, a 6.6/10 rating on IMB, and the runtime is about 121 minutes. Enola Holmes came out on Netflix on September 23, 2020, and was instantly loved by most who watched it! It's not only an inspiring movie, but the cast and crew are inspiring as well. Millie Bobby Brown is only 16 years and she has already done so many inspiring things, including starring in the Netflix original series "Stranger Things" as the character called Eleven. She also played Madison Russell in "Godzilla: King of the Monsters," and has another movie coming out soon called "Godzilla V.S. Kong" Where she will resume her role as Madison Russell.
Millie Bobby Brown played as Enola Holmes and was even one of the producers! The cast is mostly made up of well-known actors including Louis Partridge (Lord Tewkesbury), Henry Cavill (Sherlock Holmes), Sam Claflin (Mycroft Holmes), Helena Bonham Carter (Eudora Holmes), Claire Rushbrook (Mrs. Lane), and many more.
Enola Holmes was set in the late 1880s. Enola Holmes's mother went missing and didn't return. Her brother is the great detective Sherlock Holmes. Enola's brothers, Sherlock Holmes and Microft Holmes, come to town, and Microft tries to send her off to Mrs. Harrison's finishing school for ladies. But before she can go, Enola runs away to find her mother. As she is running she gets on the train and there is a Commotion. She meets a boy named Viscount Tewkesbury, the Marquess of Basilwether, and Immediately doesn't like him. But she can't seem to get him out of her mind. She helps him and they go their separate ways, and as she keeps looking for her mother Enola realizes that she has to be in a Disguises, and does the unthinkable. She dresses like a lady.
Sherlock has taken on the task of finding Enola as well as his mother. As Enola is looking for her mother she learns a dark secret about her. Her mother was involved in something, but what? She figures out where her mom might be, or is it another clue? While she is there, she is attacked by a man. While reading the newspaper in her room, Enola decides she needs to go find Vicound Tewkesbury and help him. She becomes intent on finding him, and once she does, she takes him back to her lodging house. They get caught, but thankfully she sends Tewkesbury away and she gets caught by Instructor Lestrade and gets sent to Miss Harrison's finishing school for ladies. Her brother Sherlock comes to visit her and give her a piece of advice. Eventually, She gets recused from the school, but by who? She goes back to Basilwether to find out who is trying to kill Tewkesbury. Who tried to kill them? Why did they try to kill them? Where did Enola's mother really go? Are they going to be able to find her mother and save Vicount Tewkesbury? What is going to happen to Enola and Viscount? Does Sherlock help or is he part of the other team?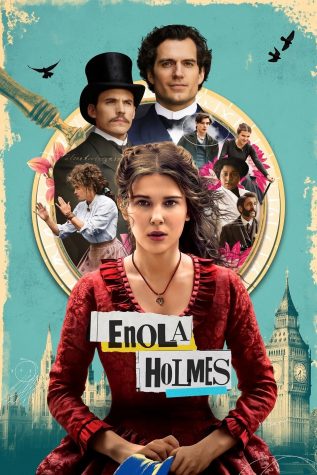 "Enola Holmes is smart, fun, witty, exciting, and empowering. It's an encouraging and engaging coming of age journey of a young lady in a time in history that does it's best to not allow her independence, yet women young and old will find Enola's journey and obstacles extremely relatable. The story is extremely well-written, the cinematography is attention-grabbing, and the many overlapping mysteries keep you guessing. I really can't say enough great things about this movie. If you haven't seen it yet – you should!" said Crystal Moyer, a teacher at Liberty High School.
Enola Holmes was originally a book series written by Nancy Springer. There are six books in the series that were written from 2006 through 2010. She was going to write Enola Holmes as the daughter of Sherlock, but the idea got rejected by the editor, Michael Green. He said the idea was good but they didn't like the daughter aspect. So she reconsidered another option, a sister. Green likes the idea of giving Sherlock and Mycroft a little sister.  And from that, there were six books, The Case of the Missing Marquess, The Case of the Left-Handed Lady, The Case of the Bizarre Bouquets, The Case of the Peculiar Pink Fan, The Case of the Cryptic Crinoline, The Case of the Gypsy Goodbye.
Enola Holmes is an amazing movie, anyone who has watched it can tell you that. It has adventure, mystery, danger, and much more. It is a very powerful movie that really focuses on woman's rights, while still being an action-filled movie.
View Comments (5)
About the Contributor
Kayla Moyer, Sports Editor
Hello! My name is Kayla Moyer and I am a junior. I have been at liberty High School for 2 years and I love the environment it provides. I have previously...