'Tis the Season With These Holiday Cookies!
With the holidays approaching fast, the season of giving is here. With generosity and happiness in the air, what is not better than to gift a family/friend with baked goods! Even though there are hundreds of different recipes and baked goods people can make around the holiday season, cookies in specifics are going to be highlighted this time. With that, let's kick it off with the first cookie recipe that is perfect for the holidays.
To get it rolling, let's start with this signature cookie that does not take barely any time to make, Peanut Butter Blossoms! These cookies are also easily recognizable by the Hershey Kiss that is placed right in the middle of each cookie. To make these from scratch, the following are the ingredients that will be needed to make around 30 cookies: 1 3/4 c. all-purpose flour, 1 tsp. baking soda, 1/2 tsp. kosher salt, 1/2 c. softened butter, 1/2 c. smooth peanut butter, 1/2 c. packed brown sugar, 1/4 c. granulated sugar (plus extra for rolling), 1 egg, 1 tbsp. of milk, 1 tsp. pure vanilla extract, and Hershey Kisses.
To begin, start with preheating the oven to 375 degrees and have the nonstick baking sheet(s) or baking sheet(s) with parchment paper out and ready. Next, whisk the flour, baking soda, and salt into a small bowl until it is all mixed together. In a larger bowl, preferably using a hand mixer, beat the softened butter and peanut butter together until smooth. Following this, add the sugars and beat until the mixture is fluffy and light in color. After the sugars, beat in the egg and then add in the milk and vanilla extract and mix. Finally after this, slowly add the flour to the mixture, stirring on low, until the flour is fully mixed together.
After the mixture, which should now be dough, is complete, take a tablespoonful of the dough and roll it into a ball. Next, roll the ball in sugar. Place the ball on the baking sheet and continue with the rest of the cookie dough. Also, make sure to spread each cookie about 2″ apart on the baking sheet. When done, place the cookies in the oven for about eight to ten minutes. Make sure to bake the cookies until they poofed up; do not cook them until they are brown! A tip for making these delicious cookies is to unwrap the Hershey Kisses while the cookies are in the oven because right when they come out, each cookie needs to be immediately topped with a Hershey Kiss.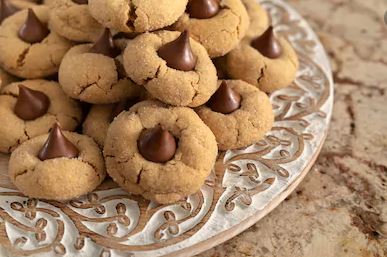 With that, the Peanut Butter Blossoms are complete! These cookies are perfect to give out to any family or friends for the holiday season. A helpful tip to finish off these cookies is that they are able to last around two to three days at room temperature, however, if needed to be stored in case anyone was making them ahead of time, these cookies are able to be frozen! If choosing to freeze them, make sure to place them in an air-tight container or in a resealable plastic bag. However, always remember that these cookies have the best texture the day they are baked.
Moving on to the next cookie, this type of cookie is perfect if the oven does not want to be particularly used. Milano Reindeer Cookies are such an easy make and perfect for the holiday season. Also, these cookies are perfect for little kids to chip in and help with! To make these, the following ingredients will be needed to make around 15 cookies: 15 pretzels, 1/4 c. marshmallow fluff, 15 Milano cookies, 1 tsp. powdered sugar, 1 can of store-bought vanilla frosting, 30 brown mini M&M's, and 15 red full-size M&Ms.
To begin, make sure again to have a parchment paper-lined tray or sheet ready. Next, begin by cutting each pretzel in half down the center. After this, dip the edges of each pretzel half in the marshmallow fluff and then press onto the top of each Milano cookie. Each Milano cookie should have two pretzel halves on the top that resembles antlers. Following this, dab a little powdered sugar on top of the marshmallow fluff so it doesn't stick. Flip the Milano cookies over and place them onto the baking sheet or tray.
Next, place the vanilla frosting into a piping bag with a No. 3 sized round piping tip. If that isn't available, a resealable plastic bag with a corner snipped off works too. With the frosting, make three circles on each circle: two for the eyes and one for the nose. Press a mini brown M&M in the center of each white frosting circles at the top of the Milano cookie for the eyes and press a red M&M into the last frosting circle for the nose. Make sure when each M&M is pressed down, the M&M is facing downward so the "M" does not show. Repeat this with each cookie.
With that, the cookies are complete. Again, this is another cookie that is perfect for the holidays and is so simple to make! These cookies can be a lot of fun to make with the family and can also be decorated to anyone's pleasing!
To wrap it all up, the last cookie that will be described is such a festive cookie that will get anyone in the mood for the holidays. Red Velvet Crinkle Cookies is a super jolly and joyous cookie that does not take long to make! To make these, the following ingredients will be needed to make around 24 cookies: 2 c. all-purpose flour, 2 tbsp. unsweetened cocoa powder, 1 1/4 tsp. baking powder, 1/4 tsp. baking soda, 1/2 tsp. kosher salt, 1/2 c. (1 stick) butter baking stick, 3/4 c. granulated sugar, 2 large eggs, 2 tsp. pure vanilla extract, 1 tbsp. red food coloring, and 1/4 c. powdered sugar.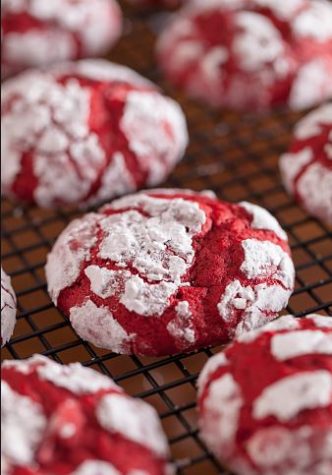 To begin, start with preheating the oven to 325 degrees and have the nonstick baking sheet(s) or baking sheet(s) with parchment paper out and ready. Next in a medium-sized bowl, whisk together the flour, cocoa powder, baking powder, baking soda, and salt. With a larger bowl, next, beat the butter baking stick and sugar together using a hand mixer if able to; beat until the mixture light and fluffy. Following this, add each egg one at a time and beat after each addition. After the eggs are beaten, add the vanilla extract and red food coloring. Next, add in all the dry ingredients from the medium-sized bowl and mix until fully combined.
After the dough is complete, roll about 1 tablespoon of dough into a ball and then roll the ball in powdered sugar. Repeat this step with all of the dough and it has been completed, reroll each ball in the powdered sugar again. Place the balls on the baking sheet about 1″ apart and bake for around 10-12 minutes, or until the cookies have flattened and set in the middle.
All these recipes can be found on delish.com along with many other recipes for delicious holiday cookies! Also, don't be limited to this one site or these couple recipes that have been described today; go out and find different recipes that may not even be for cookies to get into that holiday spirit!
View Comments (4)
About the Contributor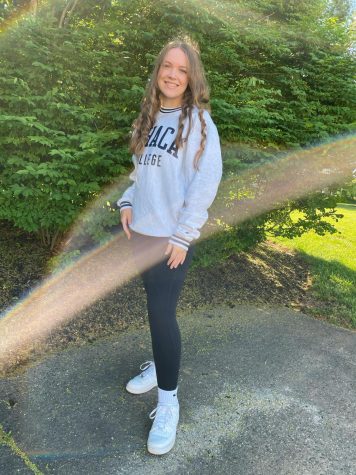 Keely Crane, Editor-in-Chief
Hi, my name is Keely Crane, I am in twelfth grade, I am a journalism VI, and I am the Editor-in-Chief! I have been involved in Patriot Press since my freshman...