Will Cheer Stay Cheerful?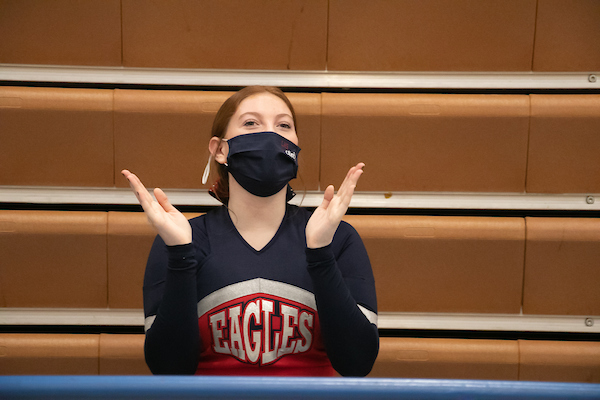 The COVID-19 pandemic has affected everything from academics to sports. However, sports have arguably been impacted the most, since there is no way of ensuring COVID protocol for the players. Many sports are being affected, but there is one sport that is year-round, and involved with almost every other sport, and that's Cheerleading. Some of the cheerleaders depend on this season as their way of social fun exercise. Sadly, administration has had to keep postponing the season until a clear solution that preserves everybody's safety is found.

The cheerleading squad is the most active sport all year long since they are the school spirit. They attend all rallies, football games, basketball games, competitions and furthermore. Due to COVID-19 pushing them back a lot, many of them have fallen of the track of their normal routines.
"I forgot most of our chants and got really rusty at other skills like stunting. My weight stayed relatively the same but my schedule did change," said Kira Thomas.
"When I heard that cheer was pushed back, I was a little upset by the fact that I was looking forward to it. During cheer, I used to work out to stay in shape, but when it was pushed back my routine changed. I started to gain weight but now that the season is starting again my routine is slowly going back to normal," said Dianaily Poot-Salazar.
The change of the season also impacted the girls' mentality and physical strengths.
"It changed me physically because I'm not in the same shape as I used to be. It's definitely messed up my normal routine because I have been going to sleep and waking up later. I've gained some weight since COVID started and I hate that I let myself gain the weight that I worked so hard to lose during last year." said Kiana Zanders.
"The time I was away from cheer definitely made me lose some of my previous flexibility and mentally made me pretty down. I love to be around those girls because they make cheer really fun, I miss it," said Hailey Marquise.
During this time many of the cheerleaders started thinking Cheer was not going to start up again. They thought it was going to be canceled and left till next year, leaving the seniors devastated with no memories of their last season. Many girls reacted to the news differently and resulted in them finding new ways to cope during this pandemic. Some of them even picked up new things to do to try to fix their schedule.
"It made me feel concerned that we might not have a chance to cheer this year. I was also sad because I might not be able to enjoy my senior year. It changes my senior year because we haven't gotten to really enjoy and experience what seniors before me had like spirit week for homecoming, prom, jiffy lube for graduation, etc. It makes me sad because this is the last year I'll be in high school and I wanted it to be the best and the most fun year. I wanted to make those fun memories with friends, but instead, we might not get the chance. After they pushed it back before Christmas break I thought they were going to just end up canceling the whole season too." said Kiana Zanders. 
"Cheer being pushed back made me really depressed. I started to work out at home to cope.  At first, when the season got pushed back, I just brushed it off. Though it kept getting pushed back making me more and more anxious. The more time that passed the more I just wanted to be back at cheer. In my free time, I went to tumbling classes and got more skills," said Kira Thomas.
Even though the cheerleaders had lost some important things pertaining to their routine, they managed to replace the lost time with other things.
"I was a little sad because I'm almost done with high school and now I have only one more cheer season left. The push back changed my schedule a lot because I had a lot more free time than I usually do. However, I got a job that helped me manage my time better and fill my schedule more. I was obviously still disappointed that the cheer season was basically canceled but it was the safest option for everyone," said Ashlyn Cooper.
"I wasn't exactly too worried, I understood that it was all for safety reasons. Physically I lost quite a bit of muscle throughout quarantine and mentally it's was lonely not being able to see my teammates. It was really hard being alone and not able to socialize. My sleep schedule was definitely out of wack since cheer was canceled. I was so used to waking up early to start working out. As far as my senior year, it's just unfortunate that I can't experience my cheer year normally as in the past years," said Jenna Jensen.
After a first semester of no news for games, the cheer coaches have been informed that basketball games are starting again. Soon after, football will start too in the spring, leaving everything out of order. Even though the pandemic messed up the beginning of their season, the girls still found ways around it. This whole year of sports has been difficult, but in every corner, everyone is trying to make it normal again.
View Comments (8)
About the Contributor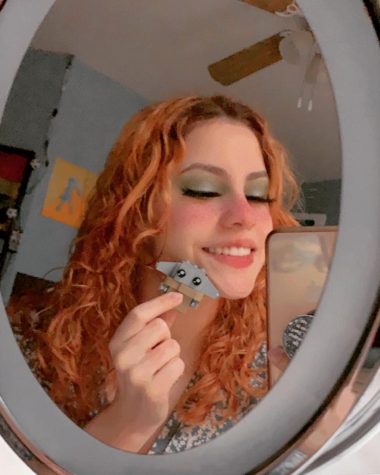 Arianah Borja, Staff Reporter
Hi! My name is Arianah Borja, I am a senior, and this is my first time taking journalism. For this semester, I plan and hope to write about sports, entertainment,...