New Year, New Binge Watches?
2020 was one of those years people just wanted to get rid of as soon as possible. Though it feels like 2020 was a constant struggle, hopes are high for 2021. Many new shows and movies have been popping up in folks "What's New Today" recommendations.
Whether it be horror, comedy, romance, or anime, everyone has a unique genre to call their own. Some students enjoy horror films, while others prefer to stick with comedy and have themselves a little laugh while lying in bed, sitting on the couch, or even on a car ride. The variety of Apps and Websites available to access and watch our favorite programs is like being able to look upon the stars. Everyone knows the most popular ones: Netflix, Hulu, HBO Max, Disney+, Crunchyroll, Peacock, and so on.

Since technology is so accessible, the television isn't the only way to stream movies or shows. Lots of people prefer to consume shows and movies on a phone, laptop, or tablet. Finding a device to watch on isn't the problem, though, often times the issue is finding something good to watch.
Freshman Cornelius Okai-Brown claims to have started watching Attack on Titan after being interested in the show because of his friends talking about the final season. He usually watches anime or other shows on Hulu and Crunchyroll where he has started watching another show named Jujutsu Kaisen,which he says is pretty good as well.
"Attack on Titan is about humans who are being hunted by huge human things called titans. For about a hundred years the humans have been scared to the point where they had to hide in walls until a colossal titan takes down the wall where the characters Eren, Mikasa, and Armin were living in," he says.
Sophomore Melanie Ventura has been watching a teen drama romance show the majority of us have probably seen or heard of, in the form of The Vampire Diaries.  Melanie is also a fan of other teen romance shows she watches on Netflix, which she usually watches on her phone or TV.
"The Vampire Diaries reminds and helps me believe that true love still exists even after a broken heart, I've been binge-watching The Vampire Diaries for the 7th time now. I love to watch it over and over because it contains romantic drama that my mind needs to be able to continue with life. It's also easy to watch on portable devices like my phone or a laptop because I can take it with me anywhere and everywhere, especially my phone. I can be on my bed or in the car and still watch my favorite shows," she says.

Junior Kyliah Starr claims to love horror-themed movies and shows. Though she has been watching a lot of dance and cheer shows, she has decided to combine her interests in both horror and dance. Tiny Pretty Things is a show that caught her attention because it is a series of ballerinas with hints or horror and murder mystery.
"I love watching horror movies or shows, it is my favorite genre to watch. I love horror films because I really enjoy the adrenaline rush each jump scare gives off when a scary clown appears or when a ghost pops up. But recently I've been watching a lot of dance and cheer shows. On Netflix, I've been binge-watching the show Tiny Pretty Things which popped up in my For You section." she says

The Mandalorian is a new-ish 2019 series on Disney+, which according to senior Andrew Yates is pretty cool. He claims to have watched the finale season of it after watching the first season's episodes as they came out.
"I really enjoy this show because it is an extension of the Star Wars Movies with small teasers of them throughout the show. Though I was never really a big fan of Star Wars I really was intrigued with this show, and it was pretty cool seeing Disney with the help of Dave Filoni and Jon Favreau figure out how to make/ create new content that lives up with the original trilogy with a modern vibe instead of continuing the same concept," he says.

Sometimes, a simple comedy or sitcom is enough to keep someone entertained for extended periods of time. These are the type of shows senior Lalana Kraiwan has recently been watching.
"I also really enjoy watching sitcoms, and friendly comedies such as Friends, and The Secret Life of Walter Mitty which is a comedy  that I've been watching on Hulu, but I usually watch on Netflix" she says.

Junior Victor Zimmer says The Rookie is a good show if you want something exciting that will last you a little while. He says he got into the show because it has some comedy in it and because some of his friends recommended it.
"I usually watch action, sci-fi, or Comedy based shows or movies, which is why I got interested in watching The Rookie. The show is about three rookie cops starting off their police careers in LA, and I find it pretty nice to watch when I just want to relax." he says

Clearly, many people enjoy watching different genres from their peers, but that's what makes each of them unique. There's certainly a lot of diverse taste surrounding shows and movies at LHS. Considering the pandemic has increased the demand for entertainment exponentially, it stands to reason that a lot of shows and movies, both new and old, are being enjoyed and discovered by so many.

View Comments (9)
About the Contributor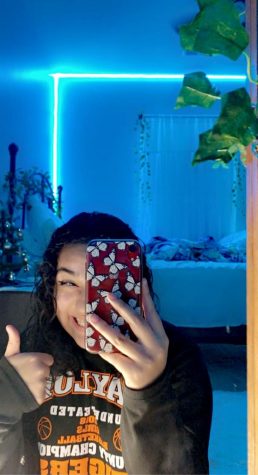 Nathaly Ventura, Staff Reporter
Hi everyone! My name is Nathaly Ventura and this is my very first year being involved in journalism. So far, it is super fun and exciting! I hope to write...