Olivia Rodrigo's "Drivers License" Drives Her Up the Charts
How does a 17-year-old musician and actress top numerous charts such as the Billboard Hot 100 Chart, Apple Music, Spotify, and even the Billboard Global 200? Well, with Olivia Rodrigo's musical talents, all she had to do was write, sing, and release one song. Released on January 4th, "Drivers License," instantly received the recognition it deserved by breaking the Spotify record for the most single-day streams for a non-holiday song only four days after its release. With that record just being one of the many she has broken, many fans can tell she is on her way to becoming an accomplished, notable artist.
"With only being 17, Olivia Rodrigo has accomplished so much in such little time with being in the limelight. For me, I think she is definitely going to go down in history with Ariana Grande and Taylor Swift as a legendary female artist. I am so excited to see what the future has in store for her," said senior Kali Black.
Looking past the awards and appreciation Rodrigo has received for her debut single, the song itself is just a masterpiece. Rodrigo's song could be referred to as strong, passionate, and heartfelt that people from ages ranging anywhere from 14 to 32 could relate to. Not only is the tune powerful, but what really makes the song is the lyrics. Truly, Rodrigo was a lyrical genius when writing this song. With "Drivers License" being based on heartbreak, teenagers around the world find themselves relating to the emotions and pains that Rodrigo expresses in her song.
"When first listening to the song, I found the rhythm super catchy and that is first drawn me in. However, after really listening to the song, I fell in love with the lyrics that Rodrigo wrote. "Drivers License" is able to tell a story and fans can truly feel the emotions that Rodrigo wanted to portray," said senior Jazmyn Reynolds.
"Even though I love the song as a whole, my favorite part is when the song shifts and it starts with 'red lights, stop signs.' In addition, I really love the story behind the song and how much emotion and thought Rodrigo put into it," said senior Amber Beverley.
Not only did this single become insanely popular over it just being an incredible song, but the drama that surrounded "Drivers License" made it a topic of discussion for fans for many weeks. Despite this drama being well-known, it is based on a love triangle between Rodrigo herself, Joshua Bassett, and Sabrina Carpenter, and believe it when I say, it is so much to unpack.
Rodrigo and Bassett were rumored to be dating in real life as they were in the series they starred alongside in, "High School Musical: The Musical: The Series." However, after a while, Bassett has been spotted with Carpenter on many occasions, the most popular one being a Tik-Tok they posted together during Halloween of last year having a couple costume as Shark Boy and Lava Girl.
After this happened, it was rumored that Bassett had left Rodrigo for Carpenter. However, none of this has ever been made clear to fans; it has always been speculation. Fast forward to Rodrigo's release of "Drivers License," there were multiple hints and snippets in the music video that made fans believe she was singing about her heartbreak with Bassett. In addition, the lyrics, "And you're probably with that blonde girl/ Who always made me doubt/ She's so much older than me/ She's everything I'm insecure about," really pushed fans to believe Rodrigo was expressing her emotions towards Bassett and Carpenter together.
Ten days later, Bassett releases his song, "Lie Lie Lie." At first, fans were skeptical and believed that he was basing the song off of Rodrigo. However, it has been said that he wrote the song long before any of this drama occurred and fans can infer it is not based on Rodrigo. Although, this also drove some fans to believe that this is a publicity stunt, with Bassett releasing his song after Rodrigo's song so it could receive more attention.
Recently, the drama still continues. On January 22nd, Carpenter released her song, "Skin." However, Rodrigo fans are not reacting kindly to this song. The opening lyrics can suggest the Carpenter was singing about Rodrigo when she sang, "Maybe you didn't mean it. Maybe blonde was the only rhyme." However, as the song went on, fans thought Sabrina was being a little harsh with lyrics such as, "don't drive yourself insane," and "I'm not asking you to let it go, but you been tellin' your side so I'll be tellin' mine."
With so much drama carrying on throughout the whole month of January, many fans have come up with their own conclusions on how they believe what is happening and which side they are on, that is if they decide to choose a side.
"The whole drama circulating the love triangle is interesting to me. However, I still love Joshua and Sabrina so much. I think it is wrong for fans to hate on them when no one knows the full story themselves," said senior Emma Dodson.
"Joshua and Olivia definitely have a lot of chemistry that I cannot deny, but I don't think that he or Sabrina deserves the hate they are getting. It was Olivia's first heartbreak and it is really cool that she turned it into art," said Black.
Despite the drama, "Drivers License" is a masterpiece with or without the dramatization. Fans can stream "Drivers License" on numerous platforms and without a doubt, it is a great listen and deserves to be on every playlist.
View Comments (11)
About the Contributor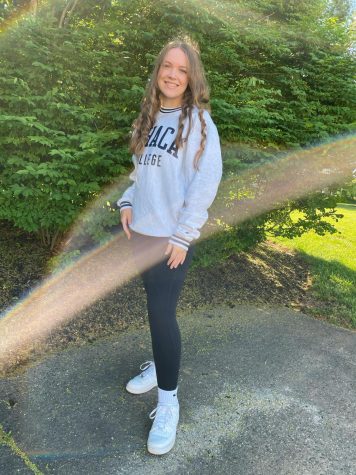 Keely Crane, Editor-in-Chief
Hi, my name is Keely Crane, I am in twelfth grade, I am a journalism VI, and I am the Editor-in-Chief! I have been involved in Patriot Press since my freshman...