Competition Cheer Perseveres Through Tough Pandemic Restrictions, Continues Competition
An abundance of the sports teams that expected to play during 2021 were abruptly canceled due to the crisis posed by COVID-19. Many of these sports, such as basketball, did not even reach finals. This has made competition cheer the next sport in line to see if they will be able to participate in states and beyond. The guidelines, for now, are set on competitions being COVID safe and applying new restrictions. However, to the cheer team, these strict rules to follow are better than having no season. 
Many of the girls thought they would not be having a competition year since their regular sideline cheer was on and off. Yet, the competition guidelines are constantly changing with new safety rules, allowing them to have a chance to compete.
"I think I will be able to compete. As a team, we're being very careful and safe, in and out of practice," said senior Kiana Zanders.
"I do think we will be able to compete, as long as we follow everything to make sure our season goes from the start to finish," added senior Jessalyn Robinson.
Some new precautions sports are taking on are making athletes take health tests and temperature checks before practices to ensure everyone's safety. With competition cheer, if one person gets sick, the whole team is out. Therefore, the team is setting up more sanitizing routines in order to achieve COVID-free interactions and closing their friend groups in.
"If one of us were to get sick, our whole team would have to quarantine for 2 weeks. Right now we are trying to keep our circle as small as possible which means we are trying not to hang out with anyone outside of our team," explained senior Emma Duncan. 
"Our team is staying safe by wearing masks, sanitizing, and keeping our social circles small. We are only allowed to hang out with people on our cheer team," said senior Gracie Rodney.
Before and after practices, they spray the mats down with sanitizing solutions and make the girls sanitize their hands.
"Our team is constantly sanitizing before water breaks, wearing our masks 24/7, and staying 6 feet apart during breaks," said junior Joyce Quintela.
Another precaution they are taking is setting up everyone in their own section, with tape marks every 6 feet to ensure they are properly distanced. The team constantly wears their masks during practice to ensure everyone's safety as well.
"We wear our mask throughout the whole practice and have frequent sanitation breaks. We stay socially distanced the best we can considering our sport is a close contact sport. Our coaches, before every practice, spray down our mats as well," said senior Jessalyn Robinson.
Some of the new cheer guidelines this year include that certain stunts are not allowed, and outside spectators cannot attend. Luckily, they have the competitions recorded and shown online so fans can always watch!
"We aren't allowed any spectators for our competitions. We are restricted on the type of stunts and we aren't allowed to cradle coming down from the stunts," said senior Gracie Rodney.
"No one will be allowed to spectate our performance at the competition; there will be a live stream and maybe one or two of our coaches can be in the room while we perform. We are no longer allowed to do pyramid or basket tosses for stunting, the highest level of stunting we're allowed to do are one-legged stunts," said junior Joyce Quintela.
Jenna Jensen also adds that hopefully in the future, family members will be allowed to attend their competitions. "At the moment, during competitions, no one except the judges is allowed to spectate, but we're working on changing it so hopefully, parents can watch the performance," said the senior.
It's really sad for the seniors to have their last year without being cheered on by their parents and loved ones.
"No spectators for our competition team, which is one of the worst feelings… but I'd rather compete than have  spectators," said senior Jessalyn Robinson.
Hopefully, the competition year will go as planned and the guidelines will keep them safe. Their first competition is on Saturday, March 13th, which means that they are on their way to competing.

View Comments (15)
About the Writer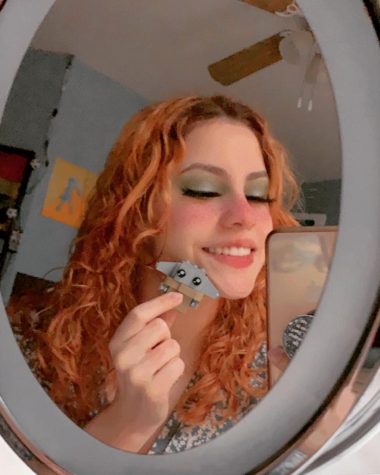 Arianah Borja, Staff Reporter
Hi! My name is Arianah Borja, I am a senior, and this is my first time taking journalism. For this semester, I plan and hope to write about sports, entertainment,...