Field Hockey Players Stay Positive, Prepare for Pandemic-Era Competition
Due to last year's hit with COVID-19, many fall sports had to be canceled, one of them being field hockey. This season, though, the team is ready to go out and play their best games. Even without a junior varsity team, Coach Norman has not let that effect or bring down the team. While players still have to wear masks and maintain precautions, many of them are pumped and ready to start off the season.
"Considering it is my last season of field hockey at Liberty, I am so grateful that we are getting to play this year, even if it was pushed off and the season is shortened. It is so great to be out playing with the girls again and seeing them every day," said senior goalie Keely Crane.
Players are required to wear masks, but evidently, they're just happy to be able to play!
"I don't really care about having to wear masks, especially since they don't bother me, I'm just so happy that we get to play! I honestly didn't think we would be able to play this season. I really love the sport and the teams because we are all so close and I really want us to return to the states again, especially since we made it last year and it would be awesome to accomplish that once again!" said senior center defense Jazmyn Reynolds.
"I honestly feel a little sad because it won't be the same as it usually is, but I am still at least happy and thankful that there is at least a field hockey team this year and that we can at least play and have the chance to see each other. But being completely honest, it's not that bad wearing the masks during practice, but sometimes it can get a little hard to breathe" said sophomore Katie Kotulla.
Many things are different this year and season for field hockey. For starters, their season is being shortened to include fewer games, their conditioning time is also less than usual, and they have to adjust to playing in the spring season rather than in the fall. But the field hockey team players still have their own personal goals they would like to achieve this season, in spite of all of these changes.
"Originally, my goal this season was to be the first team all-district goalie. However, those accolades will not be presented this year. In addition, I want the team to make it to States again this year and I would also love to beat my shutouts record this season if possible," Crane explained.
"My personal goal this season is to improve my defensive skills as well as my skills with my stick, especially to become a better player overall even with a short season," said junior defensive player Sydni Smith.
"For this season, my personal goal is to at least once be able to score during a game. I will make sure I prepare myself to accomplish this goal," said sophomore Gabby Downey.
Now, the real question is, are the field hockey team athletes ready for this season? Are they fully prepared for the challenges and changes ahead?
"The team is definitely ready to play and they are prepared for this season, especially since they are in the correct mindset, and all of them have great potential," said Coach Norman.
"I for sure feel ready because it's not like I really stopped playing sports throughout the year, especially since I had other teams that continued to go on, and we still had practice outside of school," said junior goalie Ellie McGee.
"I am [ready] and I know the team is beyond ready," said Sydni Smith.
View Comments (15)
About the Contributor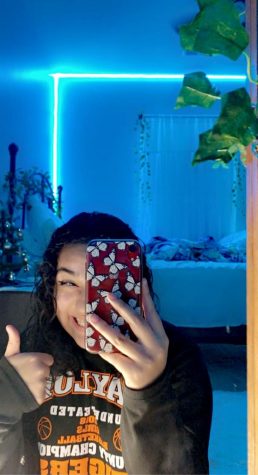 Nathaly Ventura, Staff Reporter
Hi everyone! My name is Nathaly Ventura and this is my very first year being involved in journalism. So far, it is super fun and exciting! I hope to write...