Football Players Adapt and Persevere Through COVID Afflicted Season
Football games have always been a signature highlight of every school year. However, now that the COVID pandemic has struck, what's happened to the games we all know and love? What has changed, and how did everyone adapt? Even though the season got pushed back from the fall to spring, football players found a way to follow COVID guidelines and play. The football players have begin to follow these protocols to ensure that their season can go on without anyone getting sick.
"We are wearing masks during practice while on our water breaks and when we are doing anything but in a drill practicing", said senior Sammy Marouse. 
"We wear masks the second we step out of our vehicles all the way to the Locker room. Once you put on your helmet then you can take your mask off. On the field if you have your helmet off then you have to wear a mask," said senior Michael Baldwin.
"When we walk up to the field we always have our masks on, once we put on our helmet we take them off though, some of the boys have face shields built-in but not all of us have them," added senior Tyler Demers.

The football season has not changed logistically, which is great for the players.
"We are playing teams that are participating in our district, so not just schools that are close," said senior Hunter Humphries.
A lot of sports teams thought they would be playing with only close schools due to COVID, but  since everything relating to COVID seems to be improving, they are allowed to play far.
"We are playing against both close and far away schools, 2 of our 6 games are teams an hour+ away," said senior Sammy Marouse.
The stands, where many high school memories are made, have also changed. The stands are small now due to COVID restrictions, which makes it weird not having the usual huge crowds and loud sounds.
"The games suck not having the big roar when you score," said senior Tyler Demers.
"I would say the games are very different with less of a crowd," senior Collin Cooper said.
Football is the most popular spectator sport at our school, and everyone wants to go see it; sadly this has changed.
"The games are a lot smaller and it's way different having 1/3 of the stadium filled vs. being sold out and having a full student section… it's sad," said Senior Sammy Marouse.
Having their football season pushed back may have changed the way they played or practiced. Some players agree playing football in the cold is better than the heat due to all their protection and helmets.
"Playing in the cold isn't fun, but neither is the steaming heat, somewhere in the middle is nice," said senior Hunter Humphries. 
"It feels weird to start football in the spring, it really didn't give us more time to practice because we couldn't do a team session with coaches- only individual, and instead of going from playing in the heat to the cold at the end of the season, we went from the cold to the heat," said senior Sammy Marouse.
Even though COVID changes and setbacks impacted their season, the players managed to get some of their goals in and viewed things differently.
"I planned on focusing and working on myself trying to better myself every day," said senior Sammy Marouse.
"Covid (and the extra time it allowed) helped me reach better route running and catching", said senior Colin Cooper. 
"Covid has helped me see the world differently and reminded me that life is precious and to live today like you wouldn't get a tomorrow", said senior Michael Baldwin.
Though the football season changed in many ways, the players still got to enjoy and participate in the sport they love, even if they do not have a crowd and a designated time set during the season. The football players still managed to do their best during this harsh pandemic, which is truly astonishing.
So how did the actual 6 game season go?
Football started really rough for the Eagles. They started with a target on their backs knowing they were going to have competition, but there wasn't enough preparation. The team got cleared to play 3 weeks before the season, through social distancing and wearing masks, but they just struggled. The players performed every time, they were in close games and just couldn't pull the game away. Football fought their hardest in every game, they just needed that 4th quarter spark. That spark is coming next year, Liberty football is going to be great.
"I love football and always have. Me and my brother have been playing since we were 7. Just like me and my brother, most of the kids on the team right now have played with us in pewee. I expected the season to be better, but the only thing we can do is keep working and working, and come back stronger next year. Liberty football is the best family I have been a part of," said sophomore wide receiver Joey Triplett.
The season was an average season for Liberty football, the boys in blue had a building year this year. Week 1 of the season they played Fauquier and lost by a touchdown with a final score of 21-14. Next, was week 2 and Eagles were playing Culpeper and the team brought it to them, winning 38-21.  Sammy Marouse threw 2 touchdowns and the defense played amazingly well. Now, week 3 Liberty football played Goochland, the defending 3a state champs. Liberty played an amazing game, but just couldn't pull it out and lost 14-12. After, they moved on to Kettle Run, Liberty was playing a winning the game 7-0 until halftime, when the Cougars drove and scored. When it was tied at half, they came back out strong, but couldn't make it to the end zone.  Kettle Run did, and Liberty ended up losing 26-7. The following week the boys went to John Handley to try and get back on a winning steak, playing their hearts out, winning the game 13-7 going into the 4th, but ultimately ended up losing 14-13 on a blocked extra point. Finally, the last game of the season, the Bird Bowl, had Fauquier showing up thinking they were going to win. They thought wrong. With Keegan Shipe with 2 interceptions, a touchdown pass by Dylan Bailey, and 70 yard touchdown run by Sammy Marouse, the Eagles dominated. Fauquier thought they would win but they got shut out 22-0 to finish the season on a win for the Liberty boys.
"Football is something I have always loved to do, I had to work hard to get to where I am at now, but I'm going to keep working and continue playing with this family and try to go all the way next year. Football gets better and better every year and next year it will be amazing," said junior line backer Noah Chinault.
"This is my freshman year at liberty and football was great I loved the environment, we had an amazing season besides the virus but we will work this offseason to prepare for next year and keep playing until we can't anymore. This is my second season of football ever and these coaches made it possible for me to learn and play for them," said freshman wide receiver Johnathan Reynolds.
"It felt great to play on the freshman team because we get to work before we go up to the next level, before we are really expected to compete and prove our skills. On the freshman level we get to work into our playbook and adjust our skills and abilities to how Liberty football works. Once we figure it all out we work and just keep working until we can´t and then show the coaches on JV and varsity what we can do," said freshman safety Christopher Robinson
View Comments (8)
About the Contributor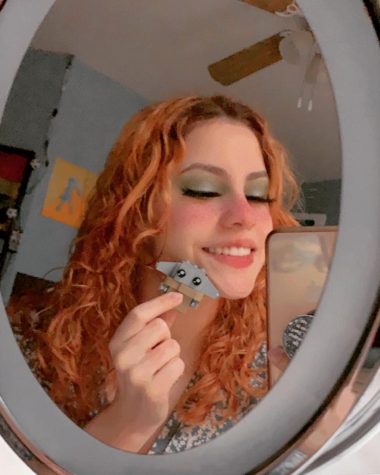 Arianah Borja, Staff Reporter
Hi! My name is Arianah Borja, I am a senior, and this is my first time taking journalism. For this semester, I plan and hope to write about sports, entertainment,...