Grammys 2021 Recap: Taylor Swift, BTS, Billie Eilish, Poppy, Megan Thee Stallion and More
The season for the Recording Academy's annual Grammy awards ceremony has come and passed once again. It's the music industry's time to reflect on the past year of music and decide who really went above and beyond, in all aspects from creative to influential. If music is your career, a Grammy is probably something you're either shooting for, or have at least thought about doing so in the past. It's one of, if not the most momentous and sought-after distinctions in all of music. The 63rd annual Grammy awards were held on March 14, 2021 at the Los Angeles Convention Center in Los Angeles, CA.
There were many notable performers this year, from the likes of Billie Eilish and Finneas O'Connell, Harry Styles, DaBaby, Dua Lipa, Poppy, Taylor Swift, Megan Thee Stallion, Post Malone, BTS, and many more to boot. The Premiere Ceremony was notably highlighted by genre-defining singer and former internet self-satire Poppy as she debuted a new song, EAT, during her performance. With some heavy nu-metal influence akin to something off of her acclaimed 2020 LP I Disagree, it made for an electrifying performance and served as another display of Poppy's fervent musical versatility.
Somewhere along the line, internationally recognized and acclaimed K-pop group BTS also stepped up for a performance which captured the eyes of diehard fans and casual onlookers like. They performed their hit single "Dynamite" to much fanfare, featuring a signature dance set to accompany the singing as is traditional with most K-pop groups. With on point choreography and spectacular vocal performances across the board, it was definitely a standout among the performances this year.
Billie Eilish also returned this year to perform "everything i wanted" alongside her brother and collaborator, Finneas O'Connell. The performance featured a dark, gloomy atmosphere with Eilish singing on top of a car veiled in smoke.
As far as awards go, the results weren't nearly as polarizing as they were last year. Billie did end up taking home another award this year, this time for the aforementioned "everything i wanted," winning Best Record.
Taylor Swift surprised many this year when she dropped "Folklore" in July, and it ended up being one of her most well received albums in a long time, being praised almost unanimously by critics. That being said, it was almost equally as surprising when she took home this year's award for Best Album; one of, if not the most prestigious Award the Recording Academy dishes out every year.
Song of the year is an award that's actually surprisingly overlooked by the general public. This year, the award went to young R&B singer H.E.R. for her song "I Can't Breathe," which is a song positioned in response to police brutality and systemic racism in America in the wake of George Floyd's murder by Minnesota police in 2020.
Hip-Hop sensation Megan Thee Stallion took home the award for best new artist after a record-breaking 2020 and a spot on XXL's freshman cover in 2019. It's surprising how quickly Megan's managed to achieve total mainstream success. She's one of Hip-Hop's most influential female artists right now, making the award well deserved as she only continues to grow.
Nas ended up taking home the award for Best Rap Album with his release "King's Disease," to the ire of many rap fans. The consensus was that Gary, Indiana's Freddie Gibbs was deserving of the award for his acclaimed album "Alfredo," but was ultimately snubbed in the end. This one only one of many controversies the Recording Academy faced this year.
The award for Best R&B album is probably the most controversial of the year. At just 31, Abel "The Weeknd" Tesfaye has cemented himself as one of R&B's heavyweights in the past few years. His latest project, 2020's "After Hours," despite being universally praised and being one of the most successful albums of that year, wasn't even nominated for an award. This is probably one of the most consequential Grammy snubs in recent memory, as it caused a large public outcry and began a movement to boycott the Grammys entirely.
Other notable winners include Harry Styles, who won the award for Best Pop Solo Performance for "Watermelon Sugar," Megan Thee Stallion, who won the award for Best Rap Song for "Savage" featuring Beyoncé, and Fiona Apple, who won the award for  Best Alternative Album for her project titled "Fetch The Bolt Cutters."
All in all, this year's Grammys, while not as spectacular as years past, were definitely consequential in more ways than one. A lot of questions are being raised (and will likely continue to) about the validity of the Academy's influence in music with the passing of time. One thing is for sure though, and that's the fact that the sheer prestige and spectacle of the Grammys probably isn't going anywhere any time soon.
View Comments (17)
About the Contributor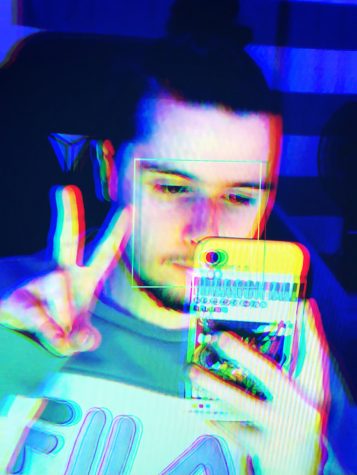 Braeden Meadows, Contributer
Braeden Meadows is a 2021 Graduate of Liberty High School and former Managing Editor for The Patriot Press. They are now a part-time journalist for upcomer.com,...