"Moxie" A Familiar Take on Feminism
Amy Poehler's new Netflix film "Moxie" is a movie that covers the topic of feminism in teen years. The movie is based on a book written by Jennifer Mathieu. The story introduces a 16-year old named Vivian, portrayed by Hadley Robinson, becoming fed up with how mistreated the girls in her school are and she plans to do something about it. She learns that when her mother was her age, she was a hardcore feminist figure in her school. She realizes that in order to make a voice for the girls, she needed to make a big statement.
Along with these issues she was facing, she developed a romance with her first-ever boyfriend Seth, played by Nico Haraga. She also started falling out with her childhood best friend, Claudia (Lauren Tsai), because Claudia has had a strict upbringing and isn't so used to Vivian being bold. Vivian sees the new girl, Lucy (Alycia-Pascual-Pena), standing up for herself and it inspires her to be like her mother was.
Vivian decides she wants to make a change by starting a movement called Moxie. This is heavily inspired by her mother's high school movement, the punk girl group Bikini Kill, and her new friend Lucy, a strong and outspoken feminist.  She goes on to put her self- written Moxie magazines (printed at the local print shop) in the girls' bathroom anonymously, which holds up for a while, although later on people find out it was Vivian.
Girls find these magazines inspiring, and begin to stand up for themselves more due to the motivation of Moxie. Breaking the school's male stereotype, Vivian's love interest, Seth, is astonished by her work and he supports everything she's doing.
The girls of the school continue to spread this message by wearing what they please and doing it with confidence. The insensitive males of the school have an infamous "list" that ranks girls and puts them in objectifying categories. For the first time, Vivian was on this list and it gave her a different perspective on it. She realized how gross the list actually is and how the girls who are included on it often must feel. The stereotypical jock, Mitchell (Patrick Schwarzenegger), who is also the villain of the film, is the guy who constantly made fun of the women and felt he was entitled to judge them on what they wear. The girls start to notice how much people, including teachers, in their school really over-sexualize everything girls do, but not so much the boys.
The film mainly focuses on dress codes and how the girls are affected as a group. Sadly, they do not go into detail on how much sexism affects women of color, transgender women, and women with different body types. While watching, I noticed the lack of representation for plus-sized girls and how the immature rules of the school affect them. While being a young woman in high school is already tough, these parts of a woman's life heavily affect the pressure of being a girl. Being a woman isn't just about the gender a person identifies as, it's about what makes them who they truly are, and how those things make them an individual together.
While being somewhat unoriginal, the film does a good job at distributing a mix of politics, romance, drama, nostalgia, and maintains a pretty cliché feel. I think this film is really informative to people struggling with sexism in high school. It's nothing monumental, more of an entertaining film than a political one. Overall, this movie might not be for everyone, but it is a good watch when movie lovers are looking for a teen film that includes female empowerment with a majority female cast.
View Comments (11)
About the Contributor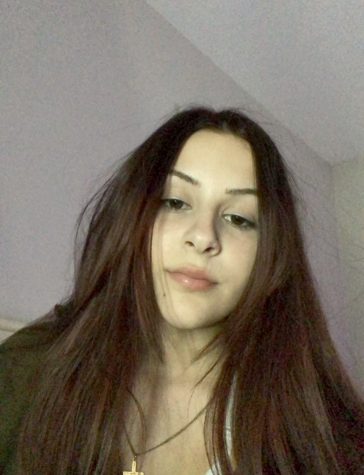 Emma Carter, Staff Reporter
Hi everyone! My name is Emma Carter and this is my first year taking journalism. I have always loved to write so I wanted to be a part of the Patriot Press....