HOSA Students Dominate Virtual Competition Amidst Pandemic Changes
From March 12th to March 14th, the HOSA virtual competition took place. Nicole Fortner placed 1st in Veterinary Science competition; Avery Fox placed 5th in Research Poster competition. They had 5 places in the top 5 in Goosechase with 3 of those winning prizes, Amber Ryan, Makaila Johnson, and Kiah Robinson, and 2 won in Virtual Trivia: Amber Ryan and Nicole Fortner.
"HOSA used to be the abbreviation for 'Health Occupations Students of America' but recently stands for 'Future Health Professionals.' HOSA is an international student organization to promote opportunities to students desiring to work in the health care industry and enhance the quality of health care." said Ms. Jenkins
Just about every student who joined this international student organization did so because they intend on pursuing a career in a medical field.
"I joined HOSA because I wanted to know more in-depth about how the health care system works and whether I should pursue the medical field," said senior Nicole Fortner.
Fortner has been part of HOSA for the past two years now.
"I competed in two different topics. One individually and one with a team. The first one was Veterinary Science which is a competition on the knowledge of veterinary science and medicine. The second one was Community Awareness which is to spread awareness of an issue relating to health care," continued Fortner.
Amber Ryan has been part of the HOSA club for the entire length of high school. During competitions, she has focused mainly on CPR.
 "I joined HOSA to be part of a family and make friends but also to have my foot in the door to the medical field. CPR stands for Compression Pulmonary, we had to study for CPR, First Aid, and general knowledge. For Community Awareness, we did Drug Addiction. We talked about all sorts of Opioids and how they affect our lives," said Ryan.
"I wanted to join HOSA because I wanted to be able to meet new people and to improve my social skills with others around me. I also wanted to join to be able to be around more people that have the same interest in the medical field as me," said senior Makaila Johnson. Johnson has also been part of HOSA for the entirety of her high school career.
Due to the pandemic, HOSA is yet another club couldn't get the full experience in person because it was all done virtually. The hosts of the HOSA competition still were able to integrate other ways to perform the challenges for all the students that participated over the weekend.
"Competitions were different this year by not having as many activities as we would if we were in person, we didn't get to actually get to travel to Williamsburg for the weekend and all bond like we would have. But since we were virtual we had more free time to do a game called goose-chase against everyone who competed," said Johnson.
In the competition, the game "goose chase" was a chance to earn extra points by doing some crazy, fun, and exciting things to do to keep the competition fun.
"For HOSA, we did various things to earn points like telling where we're from, showing a picture of your socks, videoing a trickshot, screaming your favorite ice cream flavor, and HOSA conference trivia. It was fun that we did random things that weren't involved in school knowledge so everyone can play, " said Fortner.
Studying for the competitions can be just as challenging as any other sport or club, primarily because there's no "in-person" help. Even with this in mind, they were all extremely successful considering that the 6 students that participated have placed the school 6th place overall.
"For last year and this year being converted virtually from COVID, we attended live sessions of workshops, games, and trivia. I personally used Quizlet this year because of the global pandemic but also it has accurate information as studying cards from others previously or have specific information about the competition. HOSA competitions have no known book or collected info to study on," said Fortner.
After the competition – which is normally held in Williamsburg, but this year was held online – they announced the winners at an Awards Ceremony.
"The conference was held online but technically it was in Williamsburg and the ceremony is where we got to listen to all of the winners for each competition that was held at this year's conference and we got to watch the initiation of next years HOSA state leaders, " said Johnson.
Like most other clubs and organizations, HOSA has had to adapt and change with the times, as COVID influences everyone's lives. Despite this, they have not only continued to persevere, but thrive, even in these changing environments.
View Comments (8)
About the Contributor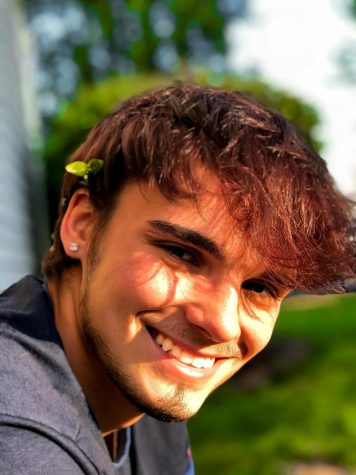 Xylan Wilson, Staff Reporter
Hey everyone! My name is Xylan Wilson, I am a senior, and this is my first time taking journalism. Throughout this semester, I plan on writing about entertainment,...