LHS Royalty Has Arrived: Introducing the 2020-2021 Homecoming Court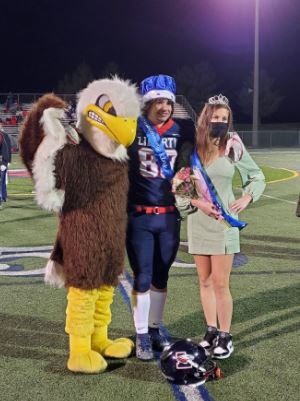 On Friday, April 2nd, Liberty football hosted the Bird Bowl against Fauquier football and held the Bird Bowl title for the 18th year in a row with a score of 22-0. In addition to a huge victory, this night also held senior nights for the LHS football team, the cheer team, the athletic trainers, the cross country team, and the marching band. Lastly, during halftime, LHS announced the Homecoming Courts for each class, along with the Homecoming King and Queen, Jordan Hicks and Daphne Daymude!
In case you weren't there for the announcements, we are pleased to introduce our 2020-2021 Homecoming Court.
Freshmen
Terry Knighting
Taylor Ritenour
Sophomores
Jamaya Shellington
Brennan Keller
Lauren Garber
Juniors
Nathalie Bonilla
Jacob Brown
Kiana Lewis
Seniors
Wyatt Hicks
Abigail Jones
Peyton Barett
Ashley Garber
Jordan Hicks
Daphne Daymude
Xylan Wilson
Michelle Borja