Brockhampton Make A Grand Return With Explosive Single, BUZZCUT
Brockhampton are back at it. After a hiatus of over 19 months, the California-based, self-proclaimed boyband are hitting the scene again with some new music. The timing couldn't be better for Brockhampton, frankly, and after almost 2 years fans have been begging for a new release.
BUZZCUT is the lead single stemming from their latest and greatest LP, ROADRUNNER: NEW LIGHT, NEW MACHINE. The song released on March 24, 2021, jointly under the band's label Question Everything and RCA Records. As mentioned, the song precedes the band's newest album, which saw release shortly after on April 9th. The track features a prominent guest verse from a Hip-Hop veteran; Detroit, Michigan's own Danny Brown.
Hopping right into the song itself, it opens relatively tranquil. You can hear what sounds like a siren with a flanger effect placed over it tucked under some sampled vocals, chanting "buzz buzz buzzcut buzz buzz buzzcut." Not long after we're hit with a couple deep, rich 808s, setting up the overall tone on the front end of the song. We're immediately thrown into a verse by the group's de-facto frontman, Kevin Abstract, who delivers one of the most potent and visceral verses of his career. It's a style of rap that hearkens back to 2017, when the group was still working on their Saturation trilogy of albums. Hip-Hop has always been at the core of Brockhampton's stylistic identity, but they haven't shied away from experimenting with other genres and influences in the past couple of years. BUZZCUT, for all intents and purposes, serves as a sort of return to form. Kevin cuts deep on his opening verse as he raps about struggles with ex-friends, his family, and his upbringing.
After Kevin's verse we're thrown straight into the second, performed by Danny Brown. The instrumental continues course as he begins the verse viciously; an energy he maintains throughout it's duration. Danny Brown's wordplay easily outclasses anything Brockhampton's put out in the last couple years. Not only is he concise and clever, but he's truly inventive with his creative use of niche, modern internet lingo. Overall, his verse is a welcome addition.
The song takes a drastic departure on the back end, with it transitioning from a catchy early 2000's inspired banger into a serene, infectious Neo-soul ballad. While only really taking up the last thirty or so seconds of the track, stars of this section Joba and Merlyn Wood really elevate the song with their closing performances. Their deliveries stand in stark contrast with one another, with Joba singing placidly while Merlyn yells aggressively into the microphone. It's a transition that I think really completes the song in that it would be less satisfying had it not been included.
It'd be criminal for me to review this song without touching on it's music video. The music video for BUZZCUT dropped on YouTube the same day the song did, and it brings the music to a whole new level. The music video is a callback to early-mid 2000's aesthetics and culture. From animations and effects that look like they were ripped straight from a Playstation 2 game, to outfits that look like they came straight off of a Backstreet Boys cover from the mid-oughts, the video is bursting at the seams with charm and character. It's akin to something you'd see on Adult Swim or MTV circa 2004, and it captures the essence of this period beautifully, while managing to interpolate it's own Hip-Hop infused, decidedly DIY flare. Seriously, this music video was practically meant to be played on an old cathode ray tube television.
I think BUZZCUT definitely cements Brockhampton's position in the forefront of flashy, experimental Hip-Hop once again. It does a good job capturing the rawness, grittiness, and overall authentic grime that made the group so popular in 2017. Not only that, but it cranks these qualities up to a whole new frequency.
BUZZCUT can be found on all major streaming platforms.
View Comments (8)
About the Contributor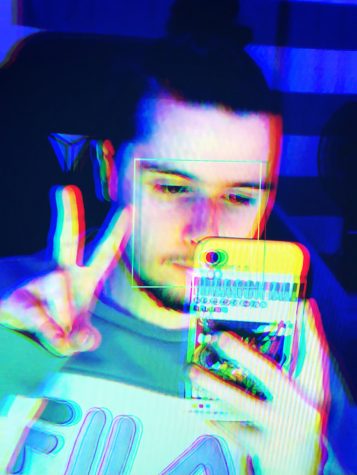 Braeden Meadows, Contributer
Braeden Meadows is a 2021 Graduate of Liberty High School and former Managing Editor for The Patriot Press. They are now a part-time journalist for upcomer.com,...