The College and Future Plans List: Where Are Liberty Seniors Headed?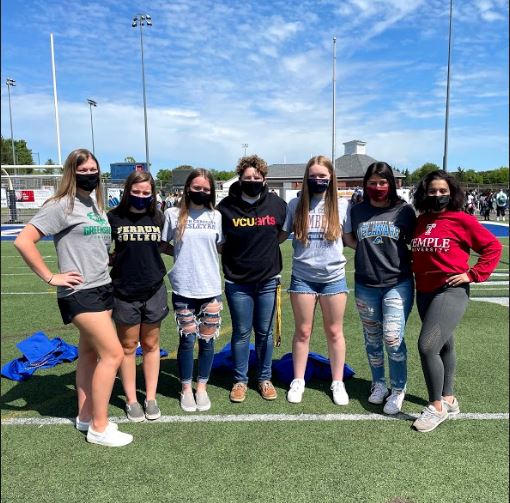 As the end of the school year approaches, seniors are preparing for graduation. Most of them already have their near future ahead of them mapped out. Whether they plan on attending college or a specific school tailored towards their interests, joining a branch of the military, or starting a new job, seniors are ready to start the next chapter of their lives.
This feature will be focused on maintaining an ongoing list of where seniors will attend school and what they plan on majoring in. It will also include plans involving military or work. Unfortunately, due to a lack of responses to gather data, this article is incomplete and does not include the names of every senior attending Liberty High School.
If a senior would like to see their name added to the list, they should send the reporter an email containing all of their information at [email protected] or leave a comment below on this article.
Adu Gyamfi, Theophilus – Northern Virginia Community College – Information Technology
Bailey, Dylan – Emory and Henry College – Football
Barret, Kevin – James Madison University – Music Education
Bates, Shaun – Lord Fairfax Community College
Beverley, Amber – University of Mary Washington – Nursing
Black, Kali – James Madison University – Marketing
Blue, Leilah – Visual Arts and Education
Borja, Arianah – Virginia Commonwealth University – Biology
Butler, Caitlyn – North Carolina Wesleyan College
Campos, Kaily – Lord Fairfax Community College – Nursing
Castro, Katie – Lord Fairfax Community College – Special Education
Clark, Sara – Hollins University – Theatre
Crane, Keely – Ithaca College – Broadcast Journalism
Daymude, Daphne – Bridgewater College – Health and Physical Education
Dubnowski, Max – University of Virginia
Duncan, Emma – George Mason University
Garber, Ashley – Brigham Young University – Music Education
Grabner, A. – Virginia Commonwealth University
Guox, Sheila – Lord Fairfax Community College – Nursing
Hadler, Skylar – Virginia Commonwealth University – Architectural Design
Harmon, Trenton – Marine Corps Recruiting Depot – Marine
Harp, Alicia – North Carolina Wesleyan College
Hernandez, Jerry – Lord Fairfax Community College – Engineering
Herzog, Olivia – James Madison University
Hicks, Jordan – West Virginia Wesleyan College – Football
Hicks, Wyatt – West Virginia Wesleyan College – Football
Hines, Riley – Ferrum College
Humphries, Hunter – West Virginia University – Cybersecurity
Johnson, AJ – West Virginia Wesleyan College – Football
Jones, Abigail – Christopher Newport University
Jones, Mekayla – Lord Fairfax Community College – Midwifery
Keller, Abby – Firefighting
Kraiwan, Lalana – Lord Fairfax Community College – Environmental Science
Kroetz, Hannah – George Mason University
Lewis, Jordyn – Richard Bland College of William & Mary – General Studies
Lichtey, Alex – The College of William & Mary
Markley, Emily – Washington College – Pre-Nursing
Meadows, Braeden – Montclair State University – Journalism
Moore, Adam – Millersville University – Meteorology
Murray, Bethany – George Mason University
Nickerson, Veronica – Greensboro College
Ott, Elizabeth – The College of William & Mary
Quiroz, Leslie – University of Delaware – International Affairs
Reyes, Melissa – Lord Fairfax Community College – Nursing
Reynolds, Jazmyn – Virginia Tech University – Human Biology
Rodman, Sam – Princeton University
Rodriguez, Princesa – Lord Fairfax Community College – Paramedic
Rodriguez, Yaritza – University of Virginia
Romero, David – University of Wisconsin-Madison
Ryan, Amber – Lord Fairfax Community College – Surgical Technology
Shipe, Keegan – University of Mary Washington – Human Biology
Smith, Taylor – Shenandoah University
Spangler, Cambria – University of Virginia
Stachitas, Samantha – James Madison University
Walker, Kendra – Temple University – Political Science
Wilkemeyer, Akasha – University of Wisconsin-Madison
Wingo, Lilly – Lord Fairfax Community College – Psychology
Woodson, Jordan – Monmouth University – Football
Yates, Andrew – The Ohio State University
View Comments (7)