With support and social media, Black Student Union keeps the conversation going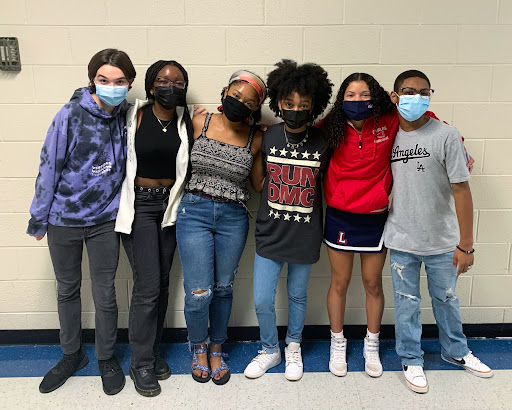 "Remember, people will judge you by your actions not your intentions. You may have a heart full of gold but so does a hard-boiled egg"-Maya Angelou.
 The above quote was at the end of The Black Student Union's (BSU) first LHS club meeting slideshow, selected by senior Samara Brooks.
 Brooks and her fellow co-president Olivia Stith, as well as their officers Bonnie Quansah, Christian Jordan, Kaylen Ulloa, and Kevin Eley are determined to stay true to this vision. The club is fully student run, and their determination shows. They have accumulated 137 followers on Instagram, and 117 followers on Twitter, even though the majority of their meetings last year took place online. Their Instagram (@lhs.bsu20) is filled with consistently aesthetic posts; such as intro cards to different officers, personal videos informing members of meetings, and educational posts on important holidays in African-American history such as Juneteenth. 
On Twitter (@LHSBSU2), they write and interact on posts of their own creation and ones they have retweeted, continuing to educate followers on African-American culture in the past and present. Readers can also find a photo gallery of their potluck from last year, which they will be doing again, as well as a "Fall Hangout", "Friendsgiving" and "Secret Santa."
 "We wanted to put it on a place that everyone looks at," said Quansah. "I feel like our generation uses social media more."
 "It is easier to follow an Instagram account than it is to be invited to a Google Classroom," said Jordan. 
But what's the purpose of all this networking, and or the purpose of the entire club?
 "[We want] to establish an atmosphere that contributes to the cultural, social, political, and educational advancement and success of black students," states the BSU Twitter bio.
Quansah and Jordan both believe that the club could have been made at any point but found the documentation of police brutality in popular media during 2020 made it a necessity.
"[Because of] the police brutality and the deaths that occured in 2020 because of it,  we thought it was a necessity," said Quansah. "We wanted a place people could talk about the issues that affected black people." 
The topic of race can be considered controversial to those trying to stay "neutral." Because of this, BSU leadership was worried about a potential lack of support from LHS staff. If the administration didn't support the club the members would have unionized on their own.
 "We would have probably done a strike, like demanded that they let us have this club," said Quansah.  
Luckily, it didn't come to that.
"Mrs. Cox will pop into meetings every now and then and likes some of our posts, so I know for sure the principal supports us," said Jordan. 
They have also had continuous support from both of their sponsors Mrs. Alicia Shrank and Ms. Tiffany Davenport. 
"They both have been instrumental to the foundation and organization of the club," said Jordan. 
Those interested in supporting The Black Student Union are invited to attend their meetings during One-Lunch. Dates and locations of meetings are generally posted on social media.