Prom preparation and planning is underway for LHS students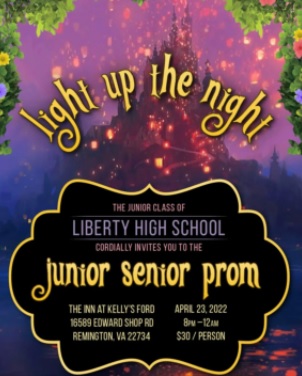 To many high school students, the junior-senior prom is one of the biggest nights for them. People make their plans and reservations months in advance to make sure that they have everything figured out before the big night. 
This year the theme for the prom is "Light up the Night." The tickets went on sale on April 4 and they are selling for $30 per person. The prom is on Saturday, April 23. 
The race to find the perfect dress and shoes has already begun with many of the students here.
"I am super excited for prom this year," said junior Sarah Hayes. "I spent about two and a half hours in one store looking for the perfect prom dress." 
It's not only the dress that matters, guys have to make sure that they get the proper tie to go with the dress. 
Students have begun making plans with their friends and family trying to get the perfect places for pictures, food, and get-togethers. People that have big friend groups have planned sleepovers to prepare for prom.
"My friends and I are going to get our nails done and have a sleepover the night before prom," said senior Sydney Gesiotto. 
The perfect place to take pictures is also an essential part of prom. Many students have decided on where the pictures are going to take place. Some decide whether they are going to a scenic location or snapping photos close to home. 
"I am going to take photos in Warrenton by the courthouse because it is a classic location, and it is close enough to the venue," said Ashlyn Leatherwood.
"For prom I am taking photos in my neighborhood because we have a gazebo that is big, pretty and surrounded by flowers," said Amara Collins. "It makes a great setting for photos."
Many past students didn't get to have their own prom due to Covid-19. This means that they have to get invited by their significant others if they want to go. One of these people is LHS class of 2021 graduate Collin Werth.
"I am really excited to be able to go to prom with my girlfriend Stephanie since I didn't get to have a prom my senior year at Liberty," said Werth. 
The dance doesn't start until eight o'clock and goes until 12, so most people are going to eat before. Students might have to make reservations in advance so they can make sure they are on time and not be stuck being hungry because all the food places were booked.
¨It's four days until prom and we still don't have dinner plans, I hope we figure it out soon or we won't have many options to work with,¨ says junior Emily Campbell.
Some may decide on a quicker idea and just eat fast food or a home-cooked meal.
  With many options out there many students have had to decide on a lot of things this past month. Now that it is closer to prom many students have gotten everything that they need in order and are ready to go to prom.