Sgt. Michael Aguilera helps Eagles find the right fit in the Marine Corps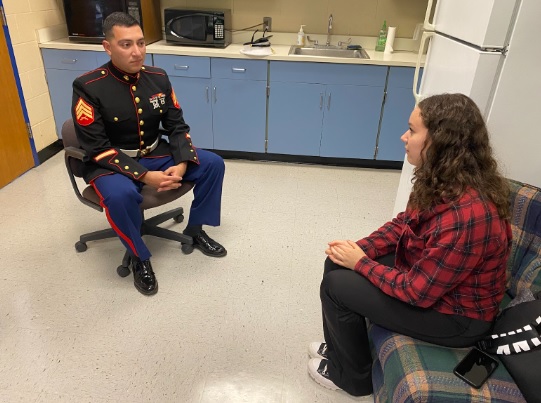 Many people tend to overlook the thought of joining and serving in the military. Some people write it off as a last resort option, while others have concerns regarding the intensity of training or being tasked with serving on the front lines in combat operations.
However, a lot of the perceptions people may have about serving in the military are often unfounded or exaggerated.
Liberty High School is a base for those looking to join the Army. We have a strong Army culture at the school and students travel from other parts of the county to attend the JROTC class offered here, since it is not offered at the other schools..
I sat down with the Marine Corps recruiter for Liberty High School and surrounding areas, Sgt. Michael Aguilera, to debunk some of these misconceptions and discuss why students should consider joining the Marine Corps over the other military branches.
 Sgt. Aguilera has worked with some students here at Liberty including Vir Kapur, Makayla Sawyer, Tayler Schaeffer, and Diana Avelar and they have all described their experiences in a positive light.
"I felt better with the Marines than anything else. I just went to the branch and felt welcomed. Sometimes you get a feeling with things and I got that feeling with the Marines," said senior Vir Kapur. 
For senior Makayla Sawyer, financial security and the variety of options that the Marine Corps provides were key in her decision to join.
"I will be financially stable for the rest of my life and that's what I care about. One day I want to buy a house, have a family, and I don't want to be struggling. Not that if I didn't join the military I would be struggling, but it would keep me stable more than anything else," said Sawyer.
She also spoke highly of her experience with Sgt. Aguilera.
"He is really about his business. He contacts me a lot and we have good conversations. He's great at his job," said Sawyer.
While joining the Marine Corps may not be for everybody, it is one way to ensure financial stability, avoid collecting student loan debt, and it offers a wide range of opportunities even after your time serving in the organization.
Q&A with Sergeant Michael Aguilera
Why did you decide to become a recruiter for the Marine Corps?
Well, first off, I decided to become a recruiter because joining the Marine Corps had a big impact on my life. I grew up in the Bronx in New York and it's pretty tough out there. I know what the Marines did for me and it changed my life. I know I want to impact the lives of others in the way that it impacted me.
What moved you to join the Marine Corps in the first place?
My mom was a single mother and raised three children on her own. She couldn't afford college. I'm the oldest, so I had to take the burden of deciding whether I wanted to go to college or not. I knew that I could go to college, try to take out a student loan, or look for scholarships. I didn't get any scholarships because I didn't take my SAT, so that's when I came to the decision that I was going to join the Marine Corps. I didn't want to take out student loans and I figured it would be a good way for me to serve my country honorably and I wanted a challenge. Being raised in the city, I knew I was going down a rabbit hole with the people I was hanging out with, so I decided that I needed to change my lifestyle and get out of New York City before I went down the wrong path.
Why should somebody consider joining the Marine Corps?
It depends on what you're looking for, but I think the challenge is really the biggest thing for us. If you are trying to push yourself to the limits, the Marine Corps will give you what you want as far as a challenge. There's also that pride of belonging. Being part of a brotherhood or sisterhood will bring you a long way. When I got married, almost everybody at my wedding was a Marine. It's because of all of those relationships that I've built over the years. I don't think any other branch can say that they build that bond and relationship that the Marine Corps does.
What is the biggest misconception you think people have about the Marines and the military in general?
I think a lot of times people think that we always go to war and that we're all infantry. That is incorrect. We have over 250 jobs in the Marine Corps alone and every other branch has more. We have anything from cybersecurity, intelligence, diesel mechanic, aviation mechanic, and so on and if you want to be in the infantry that is always an option as well. It's just up to you as to what you want to do and what you qualify for in the Marines and that will help align you with what you want to do later on. You can even be a musician in the Marine Corps. I actually have a trombone player that I recruited that is going to boot camp.
A lot of young people tend to be wary of the military. What would you say to them?
Everybody has their own ideas and their own plan. I had my own plan. I wanted to play lacrosse in college and become an archaeologist. If my mind was set to that, then my mind was set to that and nothing was going to change my mind. One day I woke up and decided that I wanted to be a Marine. So yes, people do look down but they're misinformed on what the Marine Corps can do to help them out and benefit them in the future. Just sitting down with a recruiter, exploring your options and seeing what the Marine Corps can do for you can really help you out for the future. My wife is using her G.I. Bill right now at the University of Mary Washington to get her nursing degree. She was in the Marine Corps for 4 years and now she is getting free college. That helps us out because we're married and raising a child. We don't have to worry about paying out of pocket expenses for her education.
What can someone expect when meeting with a recruiter to explore their options?
When we first sit down, either in my office or here at school – sometimes even at their house if the parents want me to meet them there – I just sit down with them and provide them with anything we have to offer that is of interest to them. I don't just throw random benefits at them. I really want to gauge that conversation and show them how the Marine Corps can really help them with what they are interested in, whether it's college, getting physically fit, or just a challenge. I show them how the Marine Corps can help them specifically.
What advice would you give to somebody who already knows that they want to join the Marine Corps?
Just start the process now. If you are interested in the Marine Corps and you are a rising senior, I recommend joining the program now so that you can prepare yourself mentally, physically, and emotionally. Develop yourself so that you can be successful in boot camp. One of the best things you can do is become a poolee and join the late-entry program, which you can be a part of for up to a year.
What are some things that someone joining the Marine Corps should expect?
You will have to take the ASVAB test as well as undergo a medical screening from doctors in Baltimore to make sure that you are a healthy individual – mentally and physically. We expect you to come out and workout with us which helps build that discipline and establishes a routine, which can be challenging in and of itself. You might not want to wake up in the morning, but you do it anyway because you made that promise. I wasn't that disciplined as a high schooler myself, so I get it, but this gets you in the routine of doing these things so that you can be successful in boot camp. There is an educational and physical element to it whether it's eating MREs, hiking, or going to the Marine Corps Museum. We really want to teach kids what it means to be a Marine as well as the history and traditions we have.