LHS Theatre to begin the Mr. Vest era with fall production of "Harvey"
The LHS Theater department will be presenting "Harvey" this November 17-20.  It is a comedy for all ages and with the help of co-director and senior Emmy Beach, will be our new theater teacher, Mr. Vest's first play at LHS. 
The play portrays a schizophrenic protagonist, Elwood P Dowd, who will be played by senior Jackson Wood.  Elwood has many friends around town and is a gentleman to many but he seems to have a much bigger friend that follows him everywhere he goes, Harvey.
Harvey isn't like any ordinary friend of Elwood. He is a 6-foot tall white rabbit and wherever Elwood goes, he follows. Elwood's family, however, has not taken a liking to his best friend.
Veta, played by senior Maia MacMahon, is Elwood's sister and is living with him due to the passing of their mother. Veta is trying to get her daughter, Myrtle Mae, played by junior Alanna Tapscott, involved with kids her age but can't seem to do so without Elwood bringing up his imaginary friend Harvey and scaring them off. At her wit's end, she decides to go to the sanitarium to finally put a stop to this madness but something very unexpected happens to her.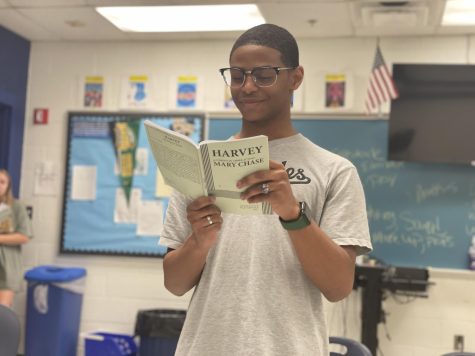 What inspired Mr. Vest to choose Harvey as this school's fall play? 
"Harvey is my favorite play," said Vest. "It's funny and I think it is something that speaks to mental health and how it should be taken seriously. It also allows you to tap into your inner child and not let go of your imagination, and theater is all about imagination and I think this will be a great way for my students to express that."
Mental health is highly expressed in this play, as well as the importance of friendship and loyalty. There are not many roles in "Harvey," so the casting for the play was difficult for many different reasons. 
"The only thing I was looking for was chemistry because this show is based on a lot of relationships so that was a big thing. Also, I want to say that they are having fun. There were a lot of people that were qualified for the roles, but thanks to Emmy, we figured that part out easily," said Vest.
Beach reiterates the importance of selecting the right cast for a great production of "Harvey."
"Yes, of course there were many struggles, so many people fit in so many different places so it was hard to pick, but [everyone] is very talented and [that makes] me happy," said Beach.   
 "Harvey" is also one of the last plays for a lot of the seniors that will be graduating soon. Senior Alex Huff, who will be playing Dr. Sanderson, is one of these senior.
"I think, now that I look deeper into it, Dr. Sanderson is pretty fitting for me considering the other characters that I have played and it's still sad to leave but it's nice to be able to perform still," said Huff.
Other casted roles include Karly Christensen as aunt Ethel, Kevin Eley as Wilson, Payton Meadows as Doctor Chumley, Roga Quiroga as Betty Chumley, and Logan Taylor as Judge Gaffney.
The shows on November 17-19 will be at 7 pm and the show on the 20th will be at 2 pm.
 For tickets to the play, there will be no pre-sale tickets and they will only be sold at the doors.