LHS competition cheer caps off stellar season with a third place at states
Liberty's competition cheer team won first place and was named district champions for 2022 on Wednesday, October 19. Then just two weeks later Liberty competition cheer was named the 2022 Northwestern regional runner-up. 
 They competed in the state competition at VCU on Saturday, November 5 as the regional runner-up. In the competition, Liberty cheerleading placed third at Richmond, Virginia's Siegel Center They were only .5 points away from the 2nd-place team with an overall score of 225.5.  
"I am very thankful for the experience with my teammates and coaches I think there were some doubts, but overall it was great to be going again," said senior Kendall Johnson
There were two rounds, and Liberty placed in the top three in the first round, allowing them to move to the second round, where they placed 3rd overall in the state. They were judged on their loudness, tumbling, stunting, cleanliness, and overall routine. 
"I'm very grateful that we have all these amazing human beings together as a family and as a team. I have been cheering since 6th grade and I've been cheering with the coaches forever. I love the community and environment of cheer," said sophomore Noelle Lily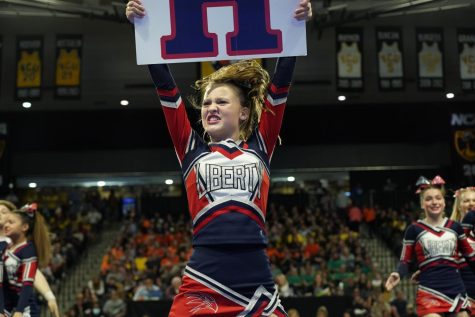 Prior to the competition, the team worked hard to improve their routine. They would begin their practice by rolling out the mats and stretching out for about five to ten minutes before jumping. Following their jumps, they would work on elite stunts and pyramids. They would then run the routine three to four times with water breaks in between.
"We added new things to spice it [the routine] up for states," said sophomore Christina Dovell.
Despite multiple states appearances, nerves still played a factor on the day of the competition.
"It was nerve-racking and exciting all at the same time," said senior Kendall Johnson. 
"Being at states is such an amazing opportunity and placing third with my favorite people was the best feeling ever! I am so proud of my team and wouldn't have wanted to spend it with anyone else," said senior Hailey Marquise