Once Upon A Broken Heart Returns Readers to Caraval Universe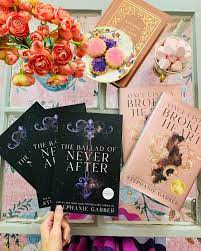 Author Stephanie Garber brings readers back to the world of Caraval with her new series "Once Upon A Broken Heart." 
The second book in this series is "The Ballad of Never After." This book is a continuation of the first book. On September 28, 2022, the author of these books announced that there would be a third installment in the series coming out in 2023.
In the first book, "Once Upon A Broken Heart," we meet Evangeline Fox, a new character from the Caraval series, and Jacks, also known as the Fated Prince of Hearts.
If readers don't know what a Fate is, they are demigods who ruled the Caraval universe for centuries before a witch trapped them all in a deck of cards.
When Evangeline Fox finds out that her stepsister Marisol Tourlamine and her boyfriend, Luc Navarro, are engaged, she is distraught. She goes looking for the church of The Prince of Hearts, Jack, believing Luc is under a love spell. When she finds that church, she goes in a prays to Jacks to help her stop the wedding of Luc and Marisol. When she is done with the prayer she made, she finds out that Jacks had been there in the church the entire time.
Evangeline doesn't recognize him as the very person she is praying to at first, and she is rude to him because he laughs at her prayer. Jack agrees to help Evangeline stop the wedding if she gives him three kisses that he can use whenever and wherever he chooses. She agrees and then goes to stop the wedding.
This deal leads to unforeseen consequences in Evangeline's life. As the story progresses the readers are introduced to a plethora of new characters. Eva begins a new friendship with Jack, against her better judgment, and starts to trust him. When a shocking revelation is revealed about herself and Jacks, Eva realizes just how dangerous making a deal with Fate, especially Jacks is. 
After the revelation that Jacks has betrayed her, Evangeline vows that she will never trust Jack again. Eva begins to try and undo the mess that Jacks made while also trying to get back the happily ever after that Jack stole from her. However, a new threat emerges in the form of a terrible curse. To put an end to the curse and save her life she has to trust Jack again.
As the story progresses Eva begins to learn more about Jack's past and who he was before he became the wicked Fate that he was now. The journey that Jack and Eva go on to break this spell has Evangeline questioning the very thing that she has always trusted, her heart. The person that Eva wants to hate more than anything is the one person that she can trust on this new journey. 
This book caterers to multiple types of readers. This would be a book readers might enjoy if they are a fan of fantasy, paranormal, and romance.
LHS students can find "Once Upon A Broken Heart" at both the Bealeton and Warrenton public libraries. After, read the new sequel in preparation of 2023 when the trilogy concludes.