Liberty High School has finally replaced the turf field. The new addition is poised to provide students and community members with an enhanced sports experience and a platform to cultivate unity and camaraderie.
The artificial turf is engineered with the latest technology to provide optimal playability, durability, and safety. 
The turf field project has also initiated discussions about sustainability. Athletic Director Otis Jones highlighted the advantages, stating, "Our new turf field will not only offer an exceptional surface for sports like soccer, football, and lacrosse but it's also designed to withstand heavy usage. Safety has been a paramount concern in its construction. The field was designed with safety considerations in mind.¨
As time passed the field got beat up and decayed.
¨The field is almost 20 years o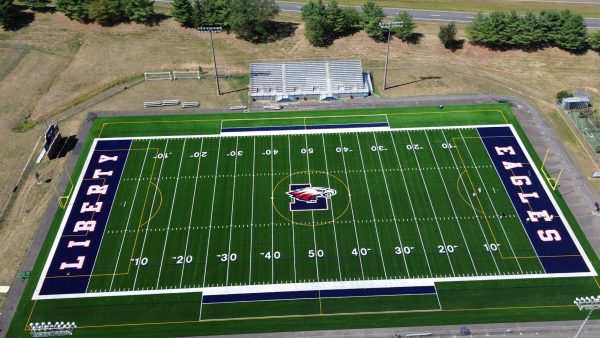 ld and needed to be replaced due to safety concerns¨ said Coach Jones
The turf field project was made possible through the county. The enthusiasm among students is skyrocketing.
"Having a new turf field like this is a dream come true for athletes. We can play with less likeness to get hurt, which will undoubtedly raise our level of performance." said sophomore Colt Loring.
¨I'm excited for the new field because the old one was ripped and it was easy to trip on.¨ said freshman Logan Pribble.
The field's impact on sports practices and games is expected to be transformative. Coach Odlum, head coach of football, explained, "I expected the field not to be done by the Kettle run game, but I still hope to win at theirs".
In an era where connections can be fleeting, Liberty High School's investment in a top-tier turf field signifies a steadfast commitment to fostering lasting relationships among students, staff, and coaches alike.
In addition to its role in sports, the turf field is slated to host a range of events that will bolster school spirit and community involvement, like pep rallies and fundraisers. The versatile space promises to be a hub of activity that brings people together.
As Fall sports dawns, the turf field stands poised to create lasting memories and unite the community in ways that transcend the realm of sports. With its innovative design, collaborative origins, and a broad spectrum of activities, the field is set to be a testament to the spirit of Liberty High School and the community it serves. The field is set to be the focal point of various sporting events and physical education classes. Liberty High School's new turf field not only symbolizes progress in sports infrastructure but also stands for dedication to improving athletic performance.
In a world that sometimes seems divided, the inauguration of the turf field is a tangible reminder of the power of shared dreams, hard work, and a commitment to fostering connections that endure. As the first whistle blows and the first match begins, the turf field will undoubtedly echo with the cheers and laughter of a united community, celebrating not only the present but the promising future ahead.