Reflecting on a night of community, connection, and shared excitement, Liberty High School recently played host to an engaging Back to School Open House that brought together students, parents, and staff. Even with the downpour of rain, the Open House provided a glimpse into the dynamic educational environment that defines Liberty. Through drenched clothing and giggling fits, teachers, staff, parents, and students of Liberty were able to withstand the storm and start the school year off with a bang.
Outside, in the LHS parking lot, Liberty's annual event gets students and parents ready to start the new school year. Students get to meet with their teachers, refresh themselves with a burger and some lemonade, and even get some LHS merch at the Booster booth.
The Open House is a favorite among both students and staff. Many agree that its unique format makes for a great night.
"I really like the way that we've structured it. We've been doing it outside for several years now and it has this kind of casual, laid back atmosphere. People can meet the teachers and can have a normal conversation," said Assistant Principal, Ms. Milburn.
With the sounds of staff and students chatting, burgers sizzling, and lemonade flowing, the Open House creates lasting memories for all.
"My favorite part of the Open House is always meeting parents who are new to the Liberty High School community," expressed Principal Mr. Cox. 
Liberty High School is continuously providing opportunities for all Liberty Eagles to give back to the LHS community. For some, that may mean handing out refreshments at the Open House.
"I really enjoy getting involved at Liberty through volunteering with SCA and NHS. There's a lot of opportunities that they have and I'm able to see younger students coming to these events and they remind me of when I was starting out at Liberty," said senior Michelle Weon.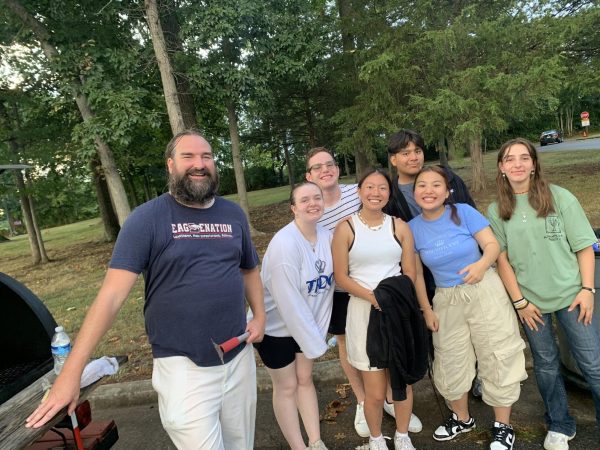 With the start of the 2023-2024 school year, the LHS staff are ready for a whole new year of education. Throughout the years Liberty's teachers have guided students to succeed in their class, and this year is no exception. Liberty's Open House allows teachers to talk with parents about expectations in the classroom.
"I expect my students to try, make mistakes, and be okay with that. They can't learn unless they make mistakes," said LHS math teacher Mrs. Laine.
Success at Liberty is across all subjects, and each and every teacher is devoted to helping their students flourish.
"I want everybody to be ready to learn, that's one of the most important things. I like commitment in the classroom," said LHS English teacher Mr. Schoen.
The Open House gives teachers a way to show parents their dedication towards helping not just their students, but also their families.
"It's always nice to have an event like that though; at the very least, we get a chance to show that we always are willing to work with parents, whether they had an opportunity on that day or some other time," said Mr. Schoen.
Liberty's administration is committed to cultivating an environment where students can be their best, both inside and outside the classroom. Through the Open House, parents are ensured that the LHS staff is committed to directing their child towards prosperity.
"We always want to make sure students have a successful year. The Open House is an opportunity for parents to meet their teachers so they know their child is on the right track for a successful school year," said LHS counselor Ms. Lillard.
As the school enters its 30th year of operation, all of Liberty's Eagles are gearing up to take to the skies in a new year of learning. Through the Open House, visitors get to experience the school's one-of-a-kind staff, extraordinary students, and get a glimpse of the exceptional educational journey that awaits students within its walls.