Since 2002, Liberty High School has been on a winning streak against Fauquier High School.
Igniting a fierce rivalry known as the "Bird Bowl." This longstanding competition between the two Virginia schools has captured the hearts of students, alumni, and the entire community. Over the years, the Bird Bowl has become more than just a football game; it symbolizes pride, tradition, and the unbreakable spirit of competition. "Well, it's the Bird Bowl" stated 1st year Head Coach, Kevin Odlum, "The players are ready to battle and I hope they're going to dominate on both sides of the ball."
Everybody is feeling the buildup and all around there is no pressure.
"No pressure, it's just another game." stated senior, Ka'von O'Bannion.
¨I don't feel much pressure, because I'm confident in my team", said senior, Jayden Ulloa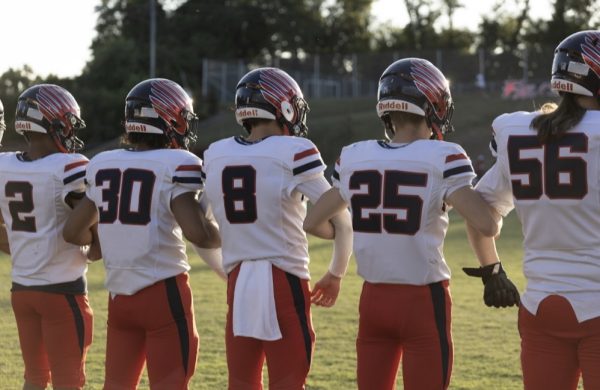 Some players like junior quarterback, Austin Mawyer, have more experience in the Bird Bowl than others. ¨I started as a freshman and it is a high-talent game so there's nerves but there's no pressure. I don't want the hype to get us unfocused¨
The history of Liberty High School's dominance over Fauquier High School dates back more than two decades. It all began in 2002 when Liberty's football team claimed victory against their cross-town rivals, setting the stage for an incredible journey. Since that memorable year, Liberty has consistently reigned supreme on the football field, maintaining an impressive 20-year winning streak.
Many players have entered their senior year and that means it's their last bird bowl. The emotions are mixed and many are sad.
¨It's kinda sad you know?" stated Ulloa.
"It's sad, but it makes me want to play harder. It is bittersweet and I want to go out with a bang.", said senior, Bristen Umberger.
¨I'm excited and want to come out with a win!",  said senior, Andrew Ryman.
For Liberty High School, the Bird Bowl isn't just about winning; it's about upholding a legacy of excellence. The Liberty Eagles take immense pride in their accomplishments, viewing the annual clash with Fauquier as an opportunity to reaffirm their dominance. This sense of tradition and the pursuit of glory have driven Liberty to outperform its rivals consistently.
The Bird Bowl extends its reach far beyond football. The game day atmosphere is electric, with fans from both sides turning out in large numbers to cheer for their team.
Some players like Ryman know what it's like at the Bird Bowl as a fan because he hasn't played football his whole high school career.¨ Watching is not the same, the energy is better as a player.¨, stated Ryman.
While the Bird Bowl primarily centers around football, it teaches valuable life lessons to student-athletes. The rivalry fosters qualities such as perseverance, sportsmanship, and teamwork. Regardless of the outcome, participants learn the importance of giving their best and displaying respect for their opponents.
As Liberty High School continues its winning streak against Fauquier, the Bird Bowl remains a cornerstone of the local sports scene and a cherished tradition. While the rivalry may ebb and flow, one thing is certain: the Bird Bowl will always be a symbol of the competitive spirit and camaraderie that define high school athletics.
The final score was 38-6, Liberty High School's dominance over Fauquier High School in the Bird Bowl rivalry has etched its place in the annals of local sports history. Post-game, they had a presentation to select a game MVP, which ended up being starting quarterback Austin Mawyer who threw for 308 yards behind his 4 passing touchdowns, he had rushed for 1 touchdown winning him his third MVP. Beyond the wins and losses, this rivalry represents the heart and soul of two communities, united by their love for the game and their quest for glory. As the Bird Bowl tradition lives on, it will continue to inspire generations of student-athletes and bring communities together to pursue excellence.