As students make the return to school, they reminisce over the warmth of their cozy beds and the privilege of waking up late. Everyone is reunited with their friends, classmates, and staff. People greet one another and catch up on how each person spent the summer. Well, this summer, ten students and two foreign language teachers from Fauquier County had the opportunity to travel to Spain!
Fauquier County Public Schools enjoys a partnership, which is the reason many students are afforded an opportunity to venture to Spain and experience the lifestyle and culture of the nation. They also receive an educational experience where they are able to learn about the history of various places and explore the architecture. Additionally, they are also given an opportunity to experience life as an exchange student, where they stay with host families for a week.
The Spanish teachers at Liberty High School and Fauquier High School, Mrs. Yajaira Jaraba and Mrs. Pamela Chovinck, respectively, joined students for the annual trip to the nation that carries such a profound legacy on the world today.
The students stayed in Spain for a total of thirteen days with ten other students. Four out of the ten students that went on the trip were from Liberty High School. This was a particularly noteworthy feat for Liberty High School, as students rarely make the trip. Mrs. Jaraba worked hard last year to advertise the trip to every student possible, which was one of the reasons it was made possible and she will continue to advertise for next year's trip! Jaraba hopes that in the future more students will consider partaking in the trip. All the students that attended the trip speak highly of the breathtaking experience and believe that other students should consider it as well.      
The trip began on Friday, May 26, with students departing from Dulles International Airport. The day of departure was very emotional for everyone, as they said their goodbyes. They were finally able to board the plane at 4:35 P.M. after a long wait.
Students arrived at the Madrid Barajas Airport at around 6:20 A.M. the following day. When they arrived they set off to La Salle School in Palencia and arrived at 10:30 A.M., where they met with their host families. The students from Virginia were warmly greeted with a welcome party thrown by the host families. At the party, Liberty students presented to their new classmates. When the presentation was finished, all of the students from Liberty shared a cultural interchange with the Spaniards, exchanging dance moves, music, and food.
The students stayed with their host families from May 28 to June 3 in Palencia. During this time, they had in-person experience with the students in Spain and learned about their language and culture. They attended school with their new classmates and made friends quickly. Many were shocked at how family-oriented the students in Spain were and how their school operated. Students in Palencia have the option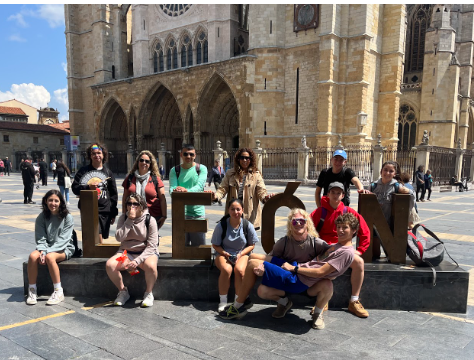 to leave campus for lunch, unlike students at Liberty. The host families also provided the students with homemade traditional Spanish food. The students went on multiple excursions, touring Palencia, Valladolid, and León. Students were even able to attend two concerts together, with supervision, and all of them described it as a  phenomenal experience.                                                     
June 4 was a bittersweet day for students, as they ate breakfast for the last time with their host families. The families shared their final moments with the exchange students by throwing a goodbye party where they offered a variety of traditional dishes. With tears filling their eyes, they finally departed and met with their coach driver to set off for Segovia on a guided visit. Afterward, they left for Madrid, where many students recounted their experiences.
"It was a really great experience and we made a lot of great connections. It was obviously really sad to leave everybody but it's also nice that a lot of them are coming to America," said senior Cole Hoffman.
"The highlight of the trip [for me] is meeting everyone. Everyone was so friendly there," said junior Ayden Demko  "It's also great to meet and make new friends."
Upon their arrival in Madrid, they met with their travel conductor at Hotel Europa. They participated on a guided tour with the accompaniment of an escort. Afterward, they enjoyed a lavish dinner buffet at Restaurante Topolino to end the day.
On the second day of their stay in Madrid, they commenced with breakfast at the hotel and a long day filled with amusement ahead of them. They toured El Retiro Park and Palacio Real. This was also the day when students were able to show off their cooking skills in a private cooking class. In the cooking class, they learned how to create an assortment of traditional dishes.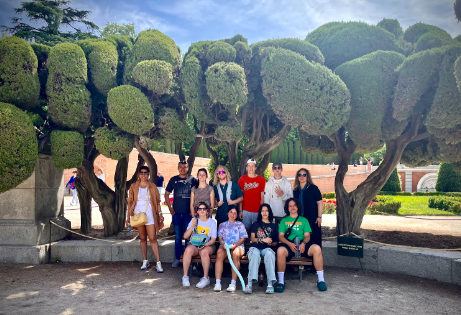 On the third day of their stay in Madrid, they toured the Reina Sofia Museum. After sightseeing at the museum, the afternoon was given to the students to go shopping or for more sightseeing around the city. To end the day, they attended a flamenco show and had dinner at La Quimera. La Quimera provided many traditional dishes, including Spain's National dish, paella.
On the last day of the Spain excursion, everyone had mixed feelings about leaving the country and concluding their trip. They arrived at the Madrid Barajas Airport at 8:30 A.M. and then later at Washington Dulles International Airport at 3:05 P.M. Every student that had the opportunity to visit Spain was incredibly filled with joy upon reuniting with their families and were ready to share their experiences with them.
Liberty High School Spanish teacher, Yajaira Jaraba, shared that her favorite part of the trip was connecting with her students in a new way, and seeing the way the students could learn about and experience a different culture through first-hand experience.
"I recommend this trip to every single student, especially the ones that want to work on their social skills. This is definitely an experience you need to have," said Mrs. Jaraba. "It takes you out of your comfort zone to meet new people in a different country, with a new culture you haven't experienced before."
This educational experience was able to help students at Liberty appreciate the history and culture of Spain in the same way that Spaniards do. Everyone was able to make new connections. "Mrs. Jaraba left with a new friend from Spain. It was beautiful to share an opportunity with a teacher that I don't work with and build a relationship with her," said Mrs. Jaraba about Mrs. Chovinck of Fauquier High School.
Every person who went on the trip came back with knowledge and learning experience about the people, architecture, history, and culture of Spain. They even got to learn many of the legends and backstories of the historic sites they visited. Some of the students have actually reversed the role and will now be hosts for the Spanish students coming to the United States through their school in Palencia this autumn.