BOOM! Eagle Athletes Explode Into the Record Books
The varsity field hockey team's season is one amazing story that must be told. From breaking records to winning nearly every game, these girls have done it all.
Throwing it back to the very beginning of the season, the girls had to put in a lot of offseason work to reach the goals that they did by the end of the season.
"Our preseason work consisted of being in the weight room on Mondays and Wednesdays, then stick work on Tuesdays and Thursdays. With our team working together early in the season, it built great friendships and help the team get in shape," said junior forward Abby Keller.
Throughout the season, another key part of thriving throughout the season is great leadership on the team. This season, the captains selectected were juniors Abby Keller and Daphne Daymude and seniors Jordan Cabanban and Emma Miller. These four girls lead the team during every practice and every game in any way that they could.
"The captains of our team always keep us on track. We, as a team, are all good friends and sometimes we could get off track during practices, but our leaders on the field know how to keep practicing serious yet fun," said junior defender Jazmyn Reynolds.
With winning game after game during the season, these ladies were able to have an undefeated season, with at that point being 15-0. In addition, they came first in their district and also defeated Kettle Run with a score of 5-0 in the district championship to give them the title of district champs.
"After defeating Kettle Run in the district championship, I was so ecstatic. I had no words whatsoever and I just hugged my teammates and cried. I have never felt more proud and so much joy," said Keller.
With being first in their district, Liberty's field hockey was able to secure a spot in the regional semifinals. In that game, they girls were able to take the win over Broad Run High School with a score of 1-0 to carry them off into the regional championship.
"When we defeated Broad Run in the semifinals, I was so proud of us. Considering that this had not been done in a long time, it was one of the best feelings ever," said Daymude.
Going into the regional championship game, these girls held a record of 18-0. With this winning record, the team held the record for most wins in any sport out of all Fauquier County schools. With this record attached to their hip, along with many others, the girls were ready to give it their all in the regional championship against Heritage High School. After a hard-fought game, the girls received their first loss with a score of 1-2.
However, since the girls were able to make it into the regional championship, they automatically were guaranteed a spot in the state tournament. Amongst eight teams, the girls were set to play Chancellor High School, the defending state champs, in the state quarterfinal. After a hard-fought game in the cold, the girls took their second loss of the season with a score of 0-6. With them losing this game, it had put an end to their season.
Even with their season ending with a final record of 18-2, this group of 19 girls was able to accomplish so many goals and receive so many accolades this season. This team holds the most wins above any other Liberty field hockey team in the past and holds the most winds for any sport within the whole county. Also, they hold the record for most consecutive wins, winning 18 straight games in a row.
To start in the district, Daymude was announced as first team all-district forward along with being the Northwestern Player of the Year. 
Moving into the region, Daymude was announced first team all-region forward also along with being voted as the Region D player of the year. Throughout the whole season, Daymude has scored a total of 36 goals.
"With being honored with District and Region Player of the Year, I was very surprised. However, it has been a goal of mine throughout this whole season," said Daymude.
Along with Daymude, many girls got recognized in the district and region. To begin with, head coach Katie Norman was chosen as the 2019 Northwestern District Coach of the Year. Along with her, many of the players were recognized in the district. Juniors Daymude and Gretchen Thomas were first team forwards, seniors Miller and Cabanban are first team midfielders, and juniors Reynolds and Skyler Hadler are first team defenders. 
For second team, Keller was second team forward and junior Keely Crane was second team goalie. Also with Crane, she holds the record for most shutouts in a season  with a total of 11 shutouts, allowing only 16 goals throughout the season. In her last game of the season against Chancellor, she had a total of 23 saves out of 29 shots in that one game.
With their 2019 season ending, their story has come to an end. Overall, the season had been a ride of happiness and every girl cannot wait to carry these goals and accomplishments into next season.
Liberty's football team has been working hard to maintain their amazing season. With their regular season ending in 10-0, these boys hold the first place spot in the district and are the lone unbeaten team remaining in the district. On November 1st, Liberty was able to take the win against John Handley High School with a score of 40-27. This win named the boys the 2019 Northwestern District Champions.
"We always knew this was going to be our best year and our best shot at winning a banner. We started off the season slow but now both sides of the ball are playing very well," junior Keegan Shipe.
Liberty has not been 10-0 going into the final week of the season since 2004.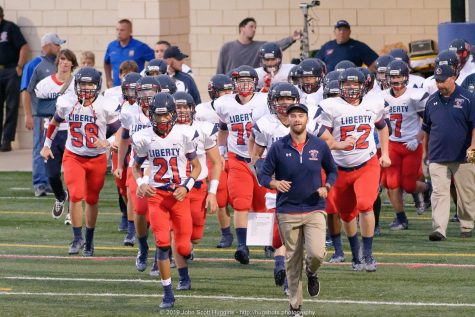 "It feels great to be 10-0. We have worked hard this offseason knowing that this year could be special. Going undefeated in the regular season is huge for our football program. We of course have our eyes set on more than just an undefeated regular season, but we want to make it deep into the playoffs," said senior right guard Joshua James. 
"So far this season has been pretty good. We have had our ups and downs, but we still manage to keep our record. We have improved a lot, especially skill wise. As a team in a whole we all bond more now," said senior Linebacker Saud Ismael. 
On Friday, November 8th, the boys played Fauquier High School and beat the Falcons in a blow out with a score of 42-12. The eagles won the Bird Bowl for the 17th year in a row. Records are being broken this season. Senior Justin Lawson won the Bird Bowl MVP at Fauquier.
"This season I have met my goals, and as a team our goal was to go 10-0, and we made it. Our ultimate goal is to make it to states, but we have to take baby steps first. Starting with winning the Northwestern District title. As a team we have met our short term goal, and we are still working hard on our long term goal. I broke Wyatt Teller's all time tackle record for Liberty High School. Wyatt's record was 358.5 and I beat with a record of 360.5 on Friday the 8th," said senior linebacker Freddie Harris.
The boys played the Loudoun County Raiders on Friday the 15th. In their first regional playoff game. The Eagles beat the Raiders with a score of 21-14. Now advancing to the second round of regional playoffs to play the Tuscarora Huskies. 
First team, second team, and honorable mentions for all district were released on Thursday, November 14th. Fist team Players were Johnathan Kuhler (center), Joshua James (offensive line), Tre'Von White (receiver), Jordan Hicks (tight end), Jordan Woodson (defensive tackle), Freddie Harris ( linebacker), and Keegan Shipe (defensive all purpose).
"I think it is a great achievement because this is my second time getting it but it makes me feel good knowing that I am the best at what I love to do, but no matter what I have to keep getting better," said Jordan Woodson.
Second team players were Dylan Bailey (quarterback), Mason Gay (running back), Justin Lawson (reciever and defensive back), Wyatt Hicks (reciever), Michael Baldwin (defensive back), and AJ Johnson (defensive back).
"It is just an honor and a blessing I was able to make second team, it just shows all the hard work I have put in this season and how much I have worked. I am still not satisfied, I am still going to keep grinding," said junior Wyatt Hicks.
Honorable Mentions were Justin Lawson (kick returner), Keegan Shipe (defensive back), and Tre'Von White (punt returner). 
The Eagles ended their season with a loss to the Tuscarora Huskies with a score of 53-22.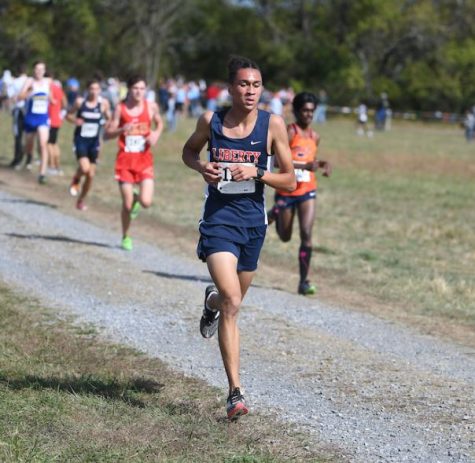 Also accomplishing goals and breaking records this season is junior Sam Rodman.
Sam placed 10th at the cross country state meet on Saturday, November 16th. He placed 10th out of 102 runners with a time of 16:08 Same earned all-state in Class 4 state cross country meet. 
Congratulations to everyone this season on achieving goals and breaking records!
View Comments (14)
About the Contributor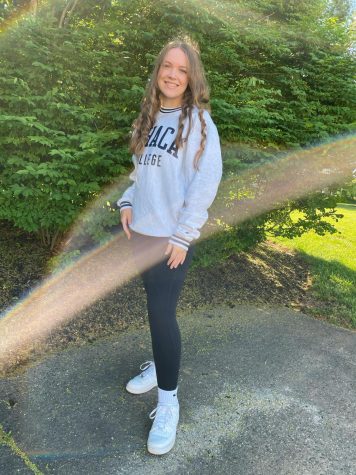 Keely Crane, Editor-in-Chief
Hi, my name is Keely Crane, I am in twelfth grade, I am a journalism VI, and I am the Editor-in-Chief! I have been involved in Patriot Press since my freshman...