Wrapping Up Fall Sports
Wrapping up the fall sports season, many of Liberty's sports teams this year has exceeded past expectations. With many sports team ending with winning seasons or even undefeated, Liberty's fall sports teams were ready to conquer their seasons.
Starting with competition cheer, they secured a spot in regionals, held at Parkview High School, early in the season when the team placed first at the NW District Mini Competition held here at Liberty on September 25th. At regionals, the girls were able to place third in the region while facing very tough competition. This season at regionals, multiple 5A schools were competing against Liberty, including Broad Run High School, who had won 5A states last year, which makes for very tough competition. Also, on October 23rd, the girls placed second at the district tournament held at Millbrook High School. From before then and there on out, the girls have won some and lost some competitions and they have been working super hard to keep up their good season.
"It has been a crazy season. We have won some and lost some. It has been different from the past seasons because people are starting to cheer like we do which most people used to not cheer like that. Our district and region is one of the hardest in the state; we compete against teams who compete in All Star cheerleading. We are very strong in our cheer with the way we are loud, tight, clean, and spirited, which a lot of teams do not bring to the judges. I cannot wait to see what this season holds for us," said senior Zoe Lowe.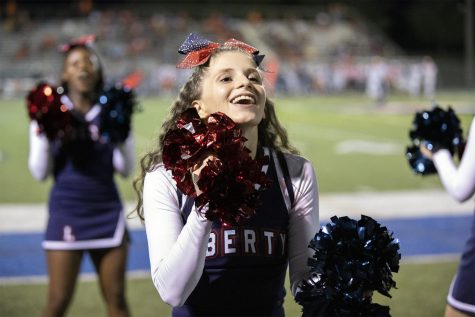 This season for golf, many players have been achieving big things. Throughout the season, the golf team has won a match against Culpeper High School and Rappahannock High School. Also, they have came in second place in a few other matches.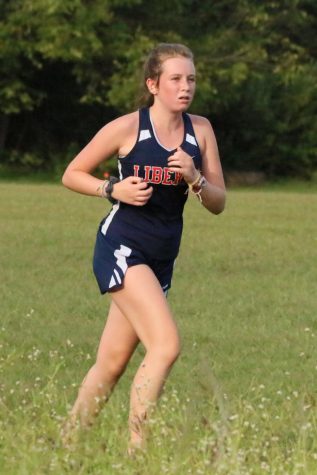 Individually for the team, senior Nathan Lilly qualified for regionals and senior Julia Gleason and junior Emily Markley were able to represent Liberty in regionals for girls.
"For this season, we have definitely been more successful as a team, and individually, than we have been in the past," said Markley. 
With cross country, the team has been running their hearts out. In their last invitational before the district tournament, the Third Battle Invitational, both Liberty boys and girls were making big things happen with the boys scoring a total of 765 points and the girls totaling 405 points. Junior Samuel Rodman placed 12th out of 266 runners at this invitational with a time of 16:06.4. With this time, it made him the top Fauquier County runner at this large event.
For the rest of the boys, many placed: Conner Rogers (152nd, 17:44), Owen Rogers (155th, 17:46), Matthew Anderson (222nd, 18:84), and Micah Carrol (232nd, 18:49).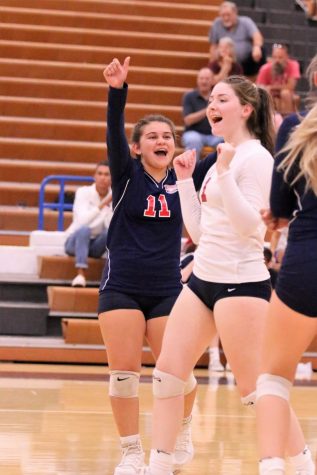 Also, many girls placed at this event: Maya Turner (21st, 21:31), Kayla Lopez (44th, 22:18), Natalie Taylor (58th, 28:38), Sage Laine (170th, 25:14), and Aubrey Schwier (205th, 26:20).
At the Northwestern District meet held at Central High School, Rodman was the 2019 individual champion, running 3.1 miles with a time of 15:47.1. His time was a total of 13.1 seconds faster than the runner-up. 
Along with Rodman, many Liberty boys placed at the district meet: Anderson (16th, 17:21.1), Conner Rogers (25th, 17:35.7), Owen Rogers (34th, 17:53.3), Carroll (49th, 18:38.0), Evan Worley (52nd, 18:46.5),  and Peter Rummel (56th, 18:59.2).
For the girls, Turner was the top runner for Liberty with a time of 21:22.7, coming in 30th place. Along with Turner, many of Liberty's girls placed: Alaina Marek (40th, 22:20.2), Lopez (43rd, 23:16.5), Lilly Wingo (50th, 23:25.0), Schwier (69th, 28:32.9), and Roxy Hernandez (71st, 29:46.8).
"The team has bonded really well this season considering it is much bigger than it usually is in the past. We have been much more competitive this year, especially for a smaller program, and I am really excited for this postseason," said Rodman.
With a final regular season record of 7-12, the girls varsity volleyball team has made huge improvements from previous seasons. With last season's record being 1-18, the girls beat their number of wins against Brentsville High School, where they won three sets and received their second win. From there on out, the girls received their other five wins, including the first win, against: Orange county twice, Brentsville, Eastern View, and Culpeper high schools. 
On October 28th, the girls faced Millbrook High School in the first round of district tournament and despite playing a hard game, Millbrook took the victory which ended the lady eagles' season.
"Even though we might not have a winning record, I think this season has been the best in recent Liberty history. All of the girls are so close and positive towards each other and we have been successful in playing as a team, unlike previous years. In the future, there are some things to be worked on and changed and everyone still has growing to do, but with this season being my last, I am glad to say I am leaving my high school volleyball career smiling," said senior DS/L Madison Daniels.
View Comments (7)
About the Contributor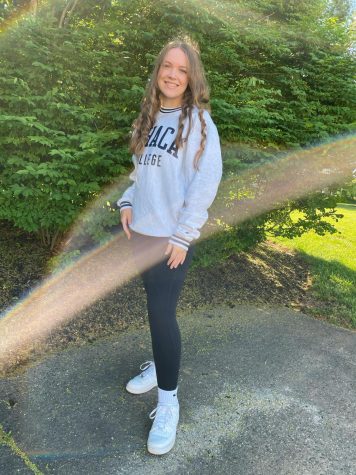 Keely Crane, Editor-in-Chief
Hi, my name is Keely Crane, I am in twelfth grade, I am a journalism VI, and I am the Editor-in-Chief! I have been involved in Patriot Press since my freshman...