Wrestlers Stay Focused All Year
Winter is quickly approaching and that means wrestling is back in action. The team is welcoming new wrestlers on the team and returning wrestlers too.
There are wrestling camps all over the summer to help wrestlers get in shape and stay in shape for the season. These camps also help them get better on what need to work on.
Coaches have big hopes and goals for this season. To win matches and work hard sounds easy, but it's really not. It takes preparation to accomplish goals.
"I want to start the wrestling season successfully with the team.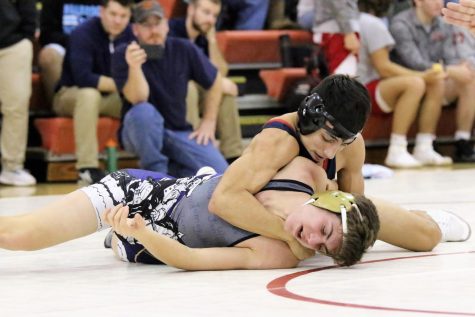 This season, the wrestling team is going to do their best to get this year's state championship. I want to teach students how to be successful in life and wrestling," said wrestling coach Joseph Divello.
"My goal this year is to win the state champions again and hopefully get another shiny ring," said junior Mason Barrett.
"My goal this year is to at least make it to regionals," said sophomore Devin Burrows. 
"My goal as a senior is to get top three in the state and to get a team state title," said senior Caleb Swinson.
There are about 25 to 30 Liberty High School students that try out for wrestling each year. Wrestling is a challenging sport to do and not a lot of students try it. It's a great sport to get in shape.
Even though they work hard, they still have fun times with the wrestling team. They are like family. They  travel together, work together, and they always have each others backs.
"When we travel with 20/20 vision, all the wrestling teams stay in a hotel and we all hang out we have fun together like family," said Barrett. 
"When I travel to other schools with my wrestling friends, we listen to music on the bus and have a good time," said senior Robert Grayson.
"I have fun when we travel to other places with the team and make it to states," said Barrett.
"I really enjoy when I hang out with my wrestling friends during practice and the coaches," said senior Austin Harris.
"I really like when the whole wrestling would go on trips with the team when we go to states. It is really exciting to be with the boys and spending nights together in a hotel," said Swinson.
Since wrestling is a physically intensive sport, wrestlers must prepare for the season carefully and train consistently to be able to be ready for the season.
"I would do lots of running for sure, lots of water too, and balance my meals," said Swinson.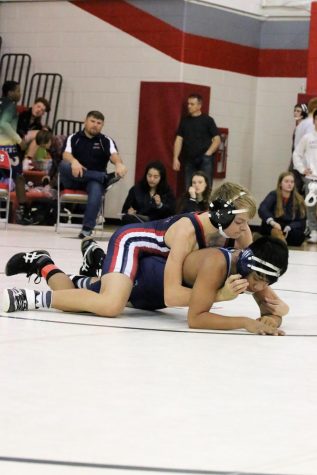 "I always run miles and come to the wrestling camps over the summer at Liberty. I balance what I eat everyday to stay active and in shape, which is one of the most important things to do in wrestling," said Barrett
"I do a lot of conditioning and I work hard to help me get ready for the season," said Harris.
Students decide to join wrestling for many different reasons, whether it is to keep in shape or it is a sport they really enjoy.
"My friends got me into wrestling so I tried it out and I ended up really liking it," said Swinson.
"My best friend got me into doing wrestling back in middle school and I really enjoyed it. We have been doing it for seven years," said Harris.
"My dad made me do wrestling and I thank him for it because I really like it and makes me strong with all the hard workouts coach gives us," said Barrett.
Everyone is very excited for this wrestling season and everyone is looking forward to their upcoming matches. The whole team hopes for them to make it to the state championship and they are ready to work hard to accomplish their goals this year.
View Comments (1)