The Patriot Press News Team Joins YouTube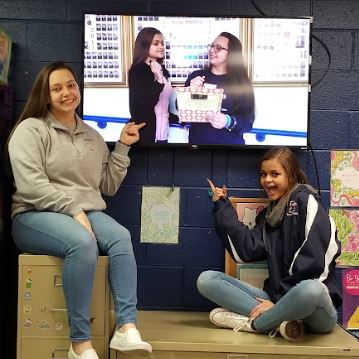 The Patriot Press News Team now has a YouTube Channel. The members of Ms. Miller's Journalism third block class have previously only written the newspaper and parent newsletters. This year, they have created a YouTube channel called Patriot Press News Team. 
The channel has videos related to current events and announcements within the school, along with some ongoing segments starring certain students. 
Some series included in the beginning were "3 in 3 with Mr. Cox," where each week unique facets of Liberty are put in the spotlight, "Book Banter with Claire," where the Copy Editor-in Chief talked with students about the books they like, and "Netflix Discoveries," where Dylan Covington reviewed movies one can find on Netflix.
The person who sorted and scheduled all of these videos in the early stages was Media Manager Dylan Covington. Every student taking Journalism this semester has starred in a video and helped film and direct behind the scenes for particular segments. Each student had ideas for filming and with a proper schedule, those ideas have been executed by the whole team.
"I have been in "Meet the Patriot Press News Team," all of my Book Banters, and some episodes of "3 in 3." I want to be able to feature more students so I am part of recording our school and how it stands apart from any other high school," said senior Claire Fetgatter.
"I have been in a couple of episodes of "3 in 3." I have mainly edited the videos we have filmed, and I'm the resident expert on Videoshop now. I love filming and editing the videos rather than being in them," said junior Julia Hoffman. 
"I'm featured in the "Meet the Patriot Press News Team," "Class of 2019 Senior Superlative Results," "3 in 3," "Scott MacFarlane talks Journalism with Patriot Press News Team," and "Trick or Treat Night," said junior Jasmine Beverly.
 "I've been in "Meet the Patriot Press News Team," "Scott MacFarlane talks Journalism with the Patriot Press News Team" and in "3 in 3," said junior Madison Daniels.
 "I have participated in a video about recycling and how to view the newspaper online. I worked on a short video on climate change and a "3 in 3" with Madison," said freshman Hannah Kauffman. 
"I have been making videos that expand on my editorials a lot and get people interested in the upcoming issue of the Patriot Press," added Kauffman.
The newspaper staff has encountered the difficulties of filming videos, and each of them have hurdles they overcome every time they participate in a video. 
"One of the most difficult parts of the video making process is that the camera intimidates people. I've worked hard to figure out how to act around the camera, specifically when to look at the camera and when to look at the people you are interviewing. You're supposed to record a conversation, not a stiff newscast. Both I and the guests in my Book Banter videos have to make sure we don't clam up while filming, but in the end, we can always edit out awkward parts and viewers will understand,," said Fetgatter. 
"The most difficult part about making videos is figuring out what to say on camera and preparing yourself, especially if you have little time to record the video," said sophomore Carlos Ferrufino.
 "It can be hard to set up the camera and make sure the video won't be crooked. Sometimes I forget what I plan to say or I don't speak clearly," said Daniels. 
"The most difficult part about making a video for me would be keeping my nerves hidden and staying focused at the same time. When we record in the hallways, often people will walk by and stare, which causes a distraction. Also, before recording, we have to create a script to go off of and questions to ask whoever we are interviewing or whatever our video is about," said Beverly. 
"The most difficult thing to do is trying to keep track of writing three articles and a video, so I have had to learn to pace things out. The new master schedule has certainly helped me do that," said Kauffman. 
Despite the challenges, the newspaper staff sees the impact they are making by filming videos. They have found the good aspects of creating and orchestrating videos.
"I'm also in the History Club. I see these videos as a record of the present. In future years, people can see our videos and get a glimpse of the life students had this year. It feels right that we started this channel on the school's 25th anniversary. Before, photographs in the yearbook and newspaper were the only places people could see students frozen in time. Now we're taking an extra step towards immortalizing our experiences," said Fetgatter. 
"I like using timelapses to incorporate cool videos into my climate change video I'm trying to make," said Kauffman.
 "I find it a lot of fun to go out there and talk about things, even though we have a lot more tasks to deal with. It can be worthwhile," said Ferrufino. 
 "Making videos is a whole new thing this class is doing. I am very proud of how we have taken on a new challenge and have accomplished so much already," said Hoffman. 
The first video you make is either going to be smooth and easy to produce, or you didn't have the best time. 
"The first video I made was scary. I was very nervous to record. Going on YouTube for not only the whole school to see, but anyone can look up you and see you on camera," said junior Zoe Lowe. 
"The first video I made was stressful. The time the first Book Banter was filmed, we were trying to use a camcorder from Ms. Devello's classroom and a USB microphone that I bought a while ago when I wanted to start a podcast. Our normal microphones leftover from the morning announcements didn't work, and I found out my microphone could only work if it was plugged into a computer. In the end, we were able to make a video from Julia's backup recording on her phone and all was well. Thankfully, we have what we need to make a video now so there is a lot less stress when we film," said Fetgatter. 
 "My first video was the "Class of 2019 Senior Superlative Results" with Zoe Lowe. It was a lot of fun. Zoe and I had to reshoot certain clips over and over because we would either be laughing to much or pronounce a few of the senior names wrong," said Beverly. 
 Mr. Cox was the one to execute the idea of making the YouTube channel and Ms. Miller was all for it. She is always there to help with anything they need help with. 
"I contribute to the videos by planning, giving my opinions, and ideas. My favorite segments are the ones where my journalists seem happy to be on camera. The sound quality and camera presence of journalist could always improve. I think our channel will improve overtime," said journalism teacher Ms. Miller. 
Find all of our YouTube videos on our channel, Patriot Press News Team.
View Comments (3)