The 90s Are Making a Comeback
Every few years new fashion trends come in and take over every social media star's feed, which as an influencer, one thing they influence is appearance. 
Being in 2019, a lot of them are wearing old clothes that were popular before teens and most young adults were born. Now they have spread to more local stores making a lot of teens start to wear them and get interested. 
By so many people wearing these trends lately, some things have changed. High-waisted jeans are now referred to as "mom jeans" and tartan skirts are now just "plaid skirts." 
Also some clothes that weren't considered fashionable back then are now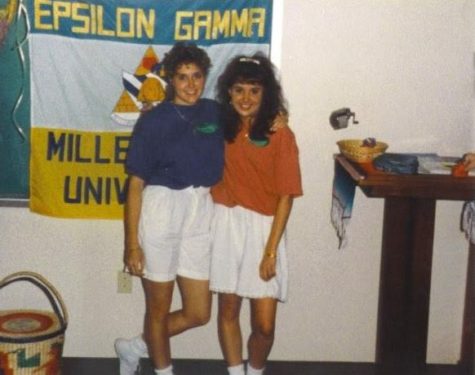 being used. These days, fanny packs and overalls are worn as a fashion choice and not just for work and convenience.
Most trends returning are from the 90's and it's three main style types known as dark and grunge, trendy and soft, and neon and bright. They all have very specific similarities and differences.
Grunge has more dark tones and is full of the color black and chains, also big tee shirts and buckled belts. Anything with big jewelry and skater trends including skateboard brand tee shirts like Thrasher and Santa Cruz and flannels over it. This can be the same for both boys and girls going for this style. 
Soft can also be known as "simple" or "trendy." This style consists more of pastel colors and basic styles from the 90s. For girls, tube tops, jean skirts, paperbag shorts, moms jeans, overalls, stripes and other colorful patterns are back.
 "I would describe my style as a mix of trends. I'm inspired by Ariana Grande and what I see on Instagram feeds," said sophomore Correne Gillette.
 For boys, mostly beach, button-up, and patterned shirts, sweaters, khakis and windbreakers. 
 Neon is its own category because of how popular it has become lately. Neon styles were at its prime back in the 90s, and now in 2019 it is making a comeback. Influencers wear neon and make it seem like it never went out of style. The main colors are neon green and hot pink. Most people wear them in shirts, bodysuits, shoes, and matching sets. 
Major accessories coming back include butterfly hair clips, chokers, mini backpacks, buckled belts, small tinted sunglasses, scrunchies, bucket hats, anklets, and bandanas. 
Most known 90s brands that are newly popular again are Tommy Hilfigre, Vans, Fila, Birkenstocks and Champion. 
Tv shows may be a reason for these trends return. The shows "Stranger Things" and "Everything Sucks" are new shows that are set in the 80s and 90s and show clothes and entertainment from that time, which may have inspired the teens watching to dress like them.
Not just clothes are coming back from the 90s, indie pop music is also back. Big artists now are Lana Del Rey, Boy Pablo, and The 1975. 
Some hairstyles like bobs, bangs, half-up half-down, pigtails and hair scrunchies are coming back along with everything. 
Other trends are boys painting their nails again and people making friendship bracelets.
 "When I went on a trip with my church group this summer everyone started making friendship bracelets and I haven't stopped wearing mine yet," said sophomore Grace Page. 
People seem to really enjoy this wave of 90s returning and not letting it go anytime soon, however, after that a new round of trends will be rolling in again. 
View Comments (8)