The Quinceañera Endures as a Meaningful Rite of Passage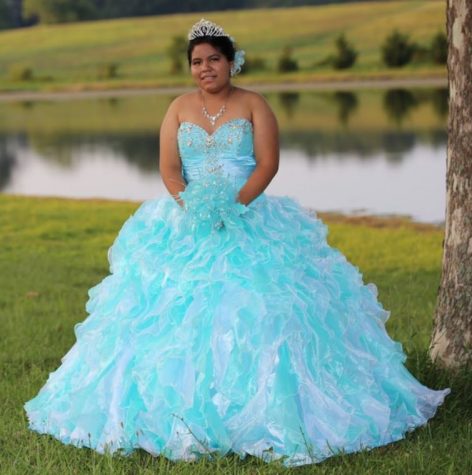 At the age of 15, every Hispanic girl has the opportunity to have a Quinceañera. A Quinceañera is a special party that is thrown for a girl that comes of age in Hispanic culture. Quinceañeras are usually celebrated by Mexicans, Cubans, Puerto Ricans, Central Americans, and South Americans. A Quinceañera can be referred to as a Quince Años, a Quinces, Quinceanero, or a Fiesta Rosa.
Quinceañeras have many parts to them. Quinceañeras are mainly known for all the different traditions they include, one being where the Quinceañera picks a special group of people to be in what is called the Court of Honor. Usually the people that are chosen are the Quinceañeras closest friends, her brothers, sisters, cousins, and all the special people in her life and the people who she wants to share her special day with.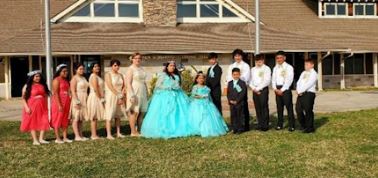 "I didn't have a Court of Honor because I just wanted a small party with just my family. I wanted to be able to talk to everyone in my family and not just focus on dances," said sophomore Katie Castro.
"I chose my court with family and friends I am close with," said senior Wendy Velasquez.
The court can be all girls who are called Damas, or all boys who are called Chambelanes, or a combination of both. The Quinceañera traditionally wears a ballgown of color and style of her choice. Her Damas typically wear matching formal gowns that are different from the color the Quinceañera is wearing. The Chambelanes all wear suits with the Quinceañeras choice of vests or suspenders, with matching ties that are the color of the Damas dresses. There is one Chambelan that is chosen to be the Quinceañeras escort, he is called the "Chambelan de Honor."
When it comes to actually planning a Quinceañera there is a lot of work that goes into it.
One of the first things a family that wants to plan a Quinceañera should consider is where it would be held and how the day will unfold. Quinceañeras are typically held in a banquet hall or can be held in the family's home. Traditionally, before the actual party, a Quinceañera has a private mass with her close friends and family.  
"I had to look up ideas on how we could do my makeup, hair, and get my nails done. I also had to look for my court and that was a lot of work," said sophomore Kaily Campos.
Quinceañeras include many different traditions. One tradition is the Quinceañera's grand entrance, which is when the Quinceañera walks into her venue for the first time. She is announced by her MC/DJ.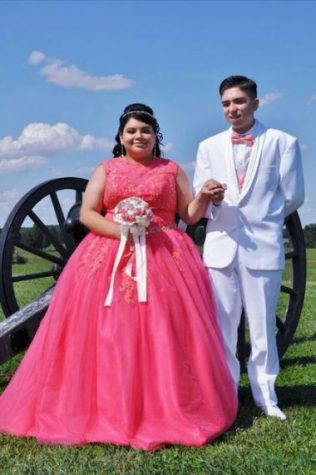 Before she walks into her venue her Court of Honor is called out first. Typically, the court gets into their positions for the Waltz or Valz that they are going to dance. When the Quinceañera enters, everyone has to stand as a sign of respect. She then gets into position to start her dance.
"During my grand entrance I felt almost like a robot. I tried to stay calm, look forward, and playing my waltz steps back in my head and I felt like I couldn't breathe," said freshman Katherine Contreras. 
Quinceañeras include many special ceremonies. One ceremony is the Last Doll. This is when the Quinceañera is given a special doll that looks like her on her special day. It symbolizes that the Quinceañera is officially a young woman and that the doll is officially her last toy. Another very special ceremony is the coronation is when the Quinceañera is given a crown and officially declared a princess to everybody that is present. The shoe ceremony is where the Quinceañeras father presents her with a pair of heels officially meaning she is not a little girl anymore.
The dances are a very important part of Quinceañeras. They are not a requirement for every party, but they do make the night more fun and special. There are many dances that a Quinceañera does. The first one is the Waltz/Vals. It is a special slow dance that is done typically right after the Grand Entrance. The Quinceañera usually has to choose the song a couple months ahead, so that their choreographer can add steps to it. 
The Waltz can be a very simple dance or it can be a bit more extravagant, depending on the steps. 
The Father daughter dance is one of the most special parts of a Quinceañera. It signifies the birthday girl's first dance as a young woman with her father. This dance is supposed to be slow and meaningful. It gives the father and daughter a special moment to reflect over the memories that were produced through those 15 years.
The last dance is the surprise dance; this dance is meant to be fun and sometimes wild. The Quinceañera picks her choice of songs that can be mashes together to make a remix she and her Court can dance to. Songs could be in a variety of genres in English and Spanish. The genres vary from bachata, merengue, salsa, to pop, and rap. The surprise dance is meant to be fun and memorable for the Quinceañera and her Court of Honor.
"The most special thing about my Quinceañera was that I got to experience what it feels like to have one," said junior Elizabeth Padilla-Delgado.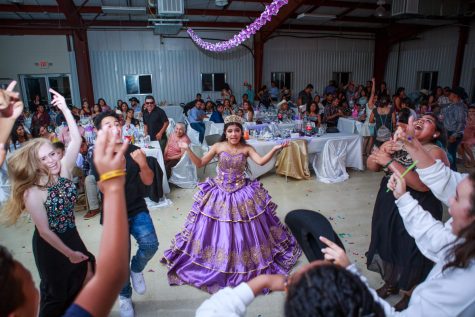 "My favorite part was the surprise dance. It was exciting because I could tell that none of the guests were expecting it. It was one of my favorite dances to rehearse. It took about one year to prepare for the dance, get a live band, and put together my court," said junior Kimberly Mendoza.
View Comments (4)