Brockhampton's GINGER: Sentimental and Delicate
A journey through trauma, nostalgia, and everything in between.
At the core of any group, there's two things that act as the quintessential aspects of creating great music. One is the connection, or the emotional bond that each member has with one another, and the other: Dynamic, or the musical connection that each contribution upholds to make an intrinsically good (or bad) final product. With these precepts in mind, it can be observed with little uncertainty that Texas-founded and self-proclaimed boyband Brockhampton represent these values on an exceptionally competent level.
Brockhampton hails from San Marcos, Texas. Its founding members, namely Kevin Abstract, Ameer Vann, Joba, Matt Champion, and Merlyn Wood, all met as teenagers, attending Woodlands High School in Southeast Texas. In 2010, Abstract made a post on KanyeToThe, (At the time known as KanyeLive,) a Kanye West fan forum that peaked in 2013, asking if anybody wanted to form a band. The original post got over 30 responses, and two years later in 2012 the group AliveSinceForever was formed, and they released their debut project, The ASF EP. 
In 2014, ASF disbanded and rebranded as Brockhampton. There were several new members to boot, now including producers, visual artists, a photographer, and even an in-house manager, several of whom had been recruited from that same KanyeLive thread from years prior. On the 24th of March, 2014, they released their debut project under Brockhampton, All-American Trash. As any good group's debut should, it makes an effort to highlight the individual talents of each member. 
The group followed up All-American Trash with their critically acclaimed Saturation trilogy of albums, which skyrocketed their careers to new heights and expanded their reach beyond their wildest expectations. The release of Saturation III was soon followed by the departure of founding member Ameer Vann, after allegations of abuse and misconduct arose. Subsequently, Brockampton's fourth studio album, Puppy, was scrapped, and after many delays and much anticipation, they finally released their fourth project Iridescence on September 21, 2018. It was met with mixed reviews from critics and fans alike.
It's been almost a year since Vann's departure and Iridescence, and Brockhampton has come back into the fray with their newest project, titled Ginger. Many fans of the group hoped that this would be a return to form, as many felt that Iridescence was rushed due to the sudden need to alter or remove content involving or including Vann from the album. Fortunately, Ginger is not only a return to form, but a meticulously crafted emotional rollercoaster full of memorable and evocative moments across the board. 
One thing is clear when listening to Ginger: The boys are really going through it. Ginger stands out as Brockhampton's sappiest, most sensitive outing to date, and somehow for all the right reasons. These guys have been through a lot over the past year. After losing not only a group member but a friend in Vann's departure, things have been rough. Nobody in the group is currently on speaking terms with Vann, namely Abstract, who speaks about him extensively in his third solo project, Arizona Baby, released independently several months prior to Ginger. Abstract says on the track "Corpus Christi", "I wonder if Ameer think about me, or what he think about me. See when I think about me, I barely think about me. I think about the people that surround me, and how I let 'em down. I'm doing that right now by even talking about this."
Ginger kicks off with the somber yet energetic "No Halo." Much like the aforementioned All-American Trash, No Halo is an excellent showcase of each members individual skills, and arguably does it better than the former in almost every way. Impressive, considering No Halo is only 4 minutes, compared to the entire 38 minute runtime of AAT. No Halo also seemingly acts as a vessel for each member to let all of their bottled-up emotions out in front of the microphone, and it, by way of being so genuine, makes for a stellar opening to an album as sentimentally delicate as Ginger. 
Dom McLennon, for example, has one of the more standout verses on this track. He raps strenuously, "They sealed my mouth and said the only way to breathe is to scream. Pop the stitches from society and fall to my knees".
On a more subdued note, Joba melancholically sings about stumbling into church intoxicated and talking to himself, searching desperately for a sense of purpose.
The second track, "Sugar" is opened by a gorgeous harmony performed by alternative singer Ryan Beatty, who pops up several times throughout Ginger's 44 minute runtime. This track tells several stories, discussing things such as hollow, empty youthful relationships, but is also contrasted by more courteous topics like desiring the company of a romantic partner. Matt Champion reflects on a time when he would sneak out of the house and listen to OutKast in the Texas heat. 
Sugar is followed up by "Boy Bye," a much more playful, boastful track with a hint of introspection. It makes a nice contrast to the tracks preceding it. Next is "Heaven Belongs To You," which is a collaboration with English rapper Slowthai, and he's the only vocalist on this track. Slowthai brings with him a sound that is in stark contrast with the rest of the album, but a assertive disposition that is welcome in an otherwise noticeably moody tracklist.
"St. Percy" is refreshingly confident, and has one of the most ear-catching beats producers Jabari Manwa and Romil Hemnani have ever cooked for a Brockhampton album period. It's catchy and braggadocious, and is one of the more memorable cuts on Ginger. "If You Pray Right" carries a very similar tone. Religion is the prominent theme going into this one, with members rapping about how their religious upbringings were restrictive, and the prejudice they had to bear witness to and experience. Joba really shines on this track, as his verse is notably bouncy and his bars are both clever and merciless. 
"Dearly Departed," at its core, is about loss and the subsequent trauma stemming from it. Sonically, its very different than anything we've heard thus far. It's a slow-paced, almost gospel-inspired introspective piece. Ameer Vann is assumably mentioned several times on this track, including a bit on Dom's verse where he alludes to Ameer setting up one of his friends to get jumped. Matt and Joba also touch on losing their grandparents and other role models throughout their lives.
The eighth track, "I Been Born Again" sees yet another interesting beat, and — surprise — Romil and Jabari are also behind this one. It's probably the most solid rap track on Ginger, with each member who appears bringing a solid, well thought out verse to the table and delivering lines with the utmost fortitude.
The title track "Ginger" is the best track by a landslide. It sees everyone expressing understanding in the humanity in each other — that everyone has things they have to deal with in their own lives. The melody on this track is truly not only standout, but beautiful in a way that every track preceding it- and by extension, succeeding it- is unable to replicate. Vocalist and producer Bearface really shines on this one as well, his verse extraordinarily symbolic yet touching. He sings, "But I couldn't lie, you swear and you cry. Your teeth rotting while, they fall onto mine. Pouring bleach on the white, won't bring them to life, Pliers twist to the right, pull out your mind."
The album wraps up on the tracks "Big Boy" — a darker, rebellious diatribe on the expected behavior and masculinity of being grown up, and "Love Me For Life," — a punchy rap track that sounds almost like something out of a 2016 Brockhampton cut. It all finally closes on "Victor Roberts." New collaborator Victor Roberts is the main vocalist on this track, along with another appearance from both Beatty and Bearface. This one takes a look back on traumatic childhoods littered with drugs, abuse, police, and betrayal. Not the expected closer for a Brockhampton album, but a solid one nonetheless. 
Ginger is, without a doubt, Brockhampton's most narratively cohesive outing thus far. The hardships that the group has faced in the past year has, consequently, lead to their best music yet. Whether that be a good or bad thing, what can be said for sure is that the boys are back on the right track. Everything that goes into each song, every bass kick, every synth, everything feels like it has an essential role in making each track sound as complete as they do.
So, should you listen to it? Well, if you like Brockhampton at all, then yes. If you like music at all, then it's also a yes. Ginger has something for everyone. Whether you're into RnB, Punk, Acoustic, Rap, or any combination of the above then Brockhampton has already put their own twist on it, and Ginger is no exception to this rule. 
View Comments (2)
About the Contributor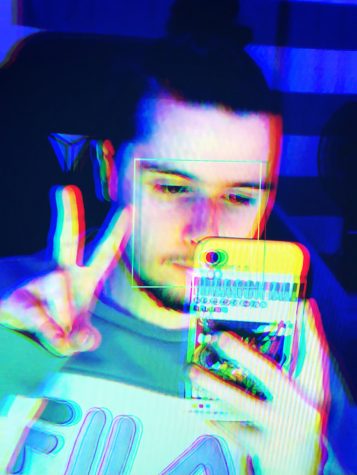 Braeden Meadows, Contributer
Braeden Meadows is a 2021 Graduate of Liberty High School and former Managing Editor for The Patriot Press. They are now a part-time journalist for upcomer.com,...