Boys Basketball Banging Buckets
Here at Liberty High School, the varsity boys basketball team is a little over half way through their 2019-2020 season. The boys are proving in games to be working hard and making a great impact, as there record is the best they have currently seen in contrast to the past few years. The team's record is currently 8-6 with 6 regular season games to go. The team went a 4 game consecutive win streak, picking up their 4th win against Culpeper with the final score of 65-56. That made a 3-0 run in the Class 4 Northern-western District play. This is due to the hard work the boys have been putting in the gym and is proven by their performance on the court. 
Like every sport, personal and team goals were set in the beginning of the season to help lead the boys to success. Each individual setting different goals and then using them to put towards their game and skill to work together as a team. 
"My goal is for our team to make a run in the playoffs this year and possibly even go to states. We work hard everyday in practice to try to achieve it," said senior Bryan Barnes.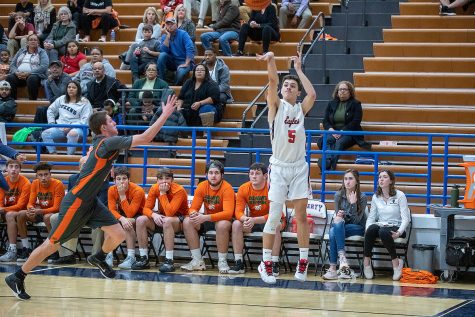 For some of the upperclassmen guys, goals have exceeded the thought of only high school basketball, taking them into a higher realm of college basketball. Like Senior Derrick Brooks Jr who averages about 15 points a game, and junior guard Russell Morton.
"My personal goal is to hopefully pick up an offer shortly after the season. So I have to continue to keep putting in the work during and after practice," said junior Russell Morton. 
"I wanna make it out. So I am putting up more shots and giving a hustle environment. If we all continue to put the work in at practices and games we will succeed by working hard and consistently," said senior Derrick Brooks Jr. 
Goals are easily accomplished with leadership. Leaders of the team showing that motivation and determination benefit the team positively. Leadership is not always expected from all, but is always appreciated from every teammate. 
"I wouldn't say I was surprised, but I was impressed by the leadership that junior Russell Morton, sophomore Coy Shepard and senior Sean Doores displayed while they were injured," said head Coach Pat Frazer. 
Basketball being a very interactive sport, injuries are not uncommon. Depending upon the injury, injuries can definitely be a setback to not only the individual, but the team as well. The team seems to be seeing an uncommon trend of slight injuries this season. Yet, they are refusing to let that get in the way of their goals to succeed. 
"When I got injured it hurt me a little, but I know God does everything for a reason so I just use it to get better everyday," said Morton.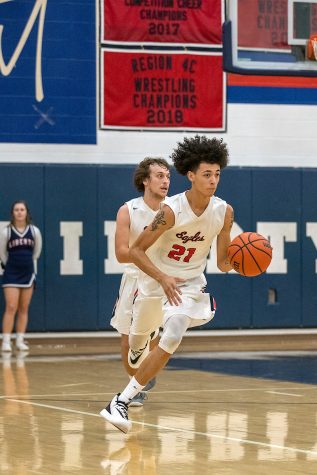 "We have had a lot of injuries this year, but other guys have stepped up a lot and taken advantage of their opportunities. This will only make us stronger come tournament time," said Coach Frazer. 
Boys will be boys and when working to succeed with one another, relationships and bonds get formed. For some of the players, the bonds and memories created have a positive impact and is actually there favorite part of basketball. 
"My favorite part of basketball is seeing the team everyday and watching the team grow not only on the court, but off the court as well. We have become family," said senior Sean Doores. 
 For others, that wow moment they have experienced has become their favorite memory of the season so far. With much more of the season to go, Coach Frazer says he is hoping to find that wow moment during the District Tournament. 
"My favorite part of the season is winning games with some of my closest friends. It's a great feeling and seeing the elevation in my game is thrilling," said Brooks. 
The team's next game will be held on Wednesday, January the 22nd against Warren County High School, where the boys expect to pick up another win to improve their record to 9-6. 
On game days, the boys go to one lunch and watch film to help them get a better visual sneak peek on what to be expecting. 
 "On game days I try to stay relaxed. All chill vibes before, and making sure that we stay loose," said senior Tre'von White. 
With the season shortly coming to an end, the team is working hard everyday in practice and in games to prepare for playoffs. 
"I'm feeling good overall about this season. It's the best record we've had in a few years and were getting better each game preparing for the playoffs," said Barnes. 
View Comments (10)