Good Luck, Have Fun With bbno$'s Newest Album
bbno$ explores new outlooks while keeping that familiar tune that fans love. good luck have fun will have you wanting more.
December 14, 2020
bbno$'s new album Good Luck, Have Fun was made with one thing in mind: to have fun. With combinations of genres that defy expectations for his fans, this album will make you feel like you're living life carefree, despite today's depressing reality. With inspirations from 1980's groove, 2000's punk rock, and modern hip-hop, it's hard not to tap your feet to the beat.
Alex "bbno$" Gumuchian took the underground hip-hop world by storm in late 2017, with hits such as Benihana and Boomin, and hes climbed the ranks of the internet and become a sensation ever since. You can read more about bbno$'s come up here. Shortly before it's release, bbno$ teased and announced the release of an album in the coming weeks. Over the next few days he released the cover, which is arguably just as bizarre as the music itself. Him standing over a baby doll in a blanket in straw, with a gold controller chain on its lap.
Released on October 9th, 2020, Good Luck, Have Fun was one of bbno$'s biggest hits on release, being some of his most successful tracks since LaLaLa in 2019. The album also features similar artists such as TrippyThaKid, Crosby, and close friend and frequent collaborator Yung Gravy. He also partners up with long-time producer Lentra (and his artist alter-ego [email protected]). The album also branches out to different genres, with the song "On One" featuring Chinese rapper Blow Fever, with the albums instrumental's taking inspiration from other cultures, with the inclusion of instruments such as bongos or pan flutes, while still maintaining the hip-hop beat and heavy 808's we're all familiar with. the album features 13 tracks, with pre-released songs included such as jack money bean, astrology, backwards, and imma. 
"6548- That's my money PIN, Don't flex fake pape', Check me take these wins"
From the very first track, rgb money, it becomes clear that bbno$ does it different. RGB money is a reference to Canadian dollars, as Canada is his home country. Despite his name, (bbno$ – baby no money) rgb money is all about one thing: money. Baby softens the blow of his obvious flexing by making the lyrics so over-the-top that its almost comical, with lyrics of "eating 40k steak off a gold plate" and his "wallet is a rainbow" with all the multi-colored cash inside. While rgb money might not be the strongest song to start out with on the album, it is certainly one of the better tracks in this collection.
The second track, astrology, is one of the tracks released before the album, originally released on July 17th, 2020. It features similar sounds that bbno$ fans are used to. While astrology is one of the first songs on the album, it may be considered one of the weaker songs to be included. At just under 2 minutes long, it's mainly repetitive lyrics, without his usual charm that is present on other songs. The third track, admit it is, by contrast, a change of pace. Featuring TrippyThaKid, admit it is all about bbno$ – and how he's the best. Arrogance is common in tracks by him and similar artists in his circle. While it's apparent that his lyrics can come off as conceited, (and sometimes outright cocky), bbno$ ensures fans in some of his other songs that his main goal is to entertain, and not to worry about the contents of the lyrics itself. Simply put, he knows nothing he says is true, but that doesn't matter to him. keep up, the fourth song, follows suit, and is not much different than earlier works, also featuring a guest appearance from Trippy.
Featuring Yung Gravy, jack money bean sounds like something you'd think of when hanging out with a friend. With fantasy influences from the pan flute instrumental to references to fairy tales, it's hard not to tap your feet along with it. The next song, mememe, follows in the footsteps of the comical-boastful mix of his previous work.
"How come all this conversation? Me, me, me, me
…Watched Marley & Me and I did not shed a tear
I'm a tough guy, you wimp"
One criticism you could bring to the table is a majority of the songs quite similar. While songs like astrology and imma do sound similar to his older work, the album combats that sameness with the inclusion of vastly different sounds, like a woodwind combined with synth sounds on mahogany, and bubbly-feeling whistles on the appropriately named Bubbles. This could be due to his producer, Lentra, producing almost all of his songs, as Lentra's production style is incredibly unique to bbno$'s music, making his beats easy to pick out among the manufactured rap music popular today. The latter half of the album reminds listeners while bbno$ certainly does have his own style, he isn't afraid to push the boundaries of his brand. Backwards and imma incorporate a faster beat with harder hitting drums, unlike baby's usual slow and rhythmic flow. While the second half of the album is full of different sounds, only a few stick out as truly unique.
mahogany revolves around bbno$'s admiration to his wealth, describing his dashboard as mahogany, a usually luxurious and expensive wood. Despite his name, his recent popularity has surged his wealth from making music and doing shows, frequently referring to his own name as "a contradiction" or "a paradox." Despite this, he is very adamant and open about how he spends and uses his money responsibly.
The next track, on one, sticks out profoundly among his other work, mainly for the sole reason of the feature from aforementioned Chinese rapper Blow Fever. While most people think Blow Fever's verse is too different to include, the verse is a perfect inclusion for many reasons. In early 2017, bbno$ hit mainstream stardom in China, before becoming widely known in the US and Canada. He's very comfortable with his Chinese fans, as he often does shows and tours in Chinese cities. The inclusion of Blow Fever is a nod to his roots, and the country and fans that gave him his first glimmers of the limelight. The track man in the mirror is a look into bbno$'s thoughts about himself, and how he's proud of who hes become and the success that hes found with his work. He portrays the image of self reflection too, wondering if he's in too deep, and pondering the longevity of his success.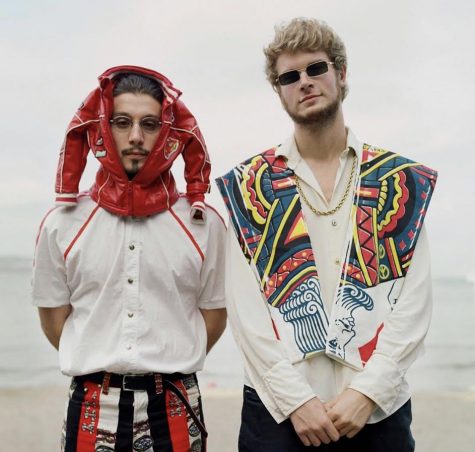 "I got good insurance, so I'm calling GEICO
Man, I be so cheap, I get my groceries from Costco
Favorite Sesame Street character is Elmo"
The lyrics to the song "feeling good", the last track on the album, may seem bizarre, but that's exactly what he wants you to think. With heavy electric guitar and fast drums, "feeling good" is a song of pure positive pop-rock energy. Lyrics that don't make much sense, and a rhythm that is hyper and wild. Good Luck, Have Fun is an album that doesn't take itself seriously. No deeper meaning in the lyrics, or generic rap music overproduced for a quick buck. And that's what bbno$ is all about, and its reflected in this album. Weird, unique beats, with lyrics that aren't supposed to make you think too hard. As the title suggests, everything is in the name of having fun.
He isn't slowing down either, with a single called wawawa set to release on the 11th.
good luck have fun is available on all major streaming platforms.